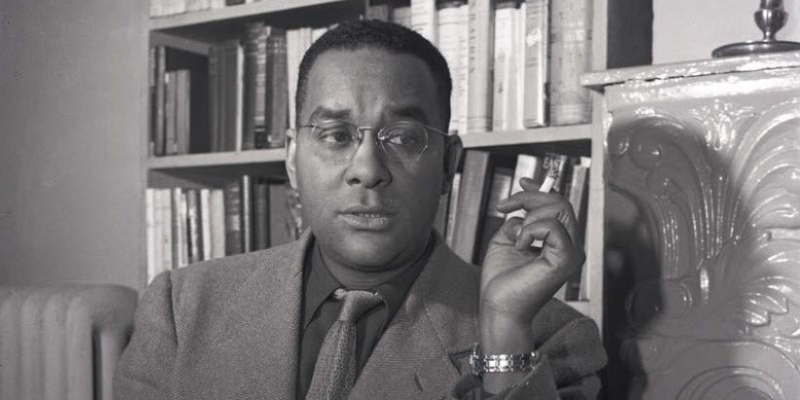 Thursday, November 11th, 2021
Richard Wright Waxes Poetic about Paris
Cover image: Wright in his Paris living room (c. 1949) - detail
Fair Use claim
My husband Tom unearthed an amazing find as he was researching Richard Wright for our Black History in and around the Luxembourg Garden walking tour - a roughly five minute segment recorded by Richard Wright for New York Public Radio. In it, Wright waxes poetic about the beauty and virtues of living in Paris.
I contacted New York Public Radio to inquire about the recording and received the following information from Andy Lanset, Director of Archives:
The recording is part of the New York City Municipal Archives WNYC collection of lacquer discs and originally aired on WNYC during the first WNYC Art Festival in held in October 1950. It was part of a program called "The Art World of Paris" and included (according to the old catalog card entry) interview segments with "Jacques Jesal, Director of Museums in France, and Ausibe Sabkin, sculptor."
Lanset was not able to tell me who approached Wright about participating in the show or whether he was paid to do the recording.
I learned from the WNYC Website that their archive department is digitizing and making over 1300 hours of historic WNYC recordings accessible through funding from the National Endowment for the Humanities.
I have listened to this recording several times. To hear Wright say that he "never had a moment of sorrow for having lived in France" and to hear him describe Paris as a "work of art" only begins to help the listener understand why WNYC entitled it "Richard Wright's Love Letter to Paris."
Wright goes on to praise the landscape and architecture of the city and observe that no part of town is left neglected, regardless of the wealth (or lack thereof) of the inhabitants. He espouses the qualities of French artists and talks about how deeply the atmosphere of the city has affected him.
He goes on to say that in this atmosphere, there is "no race tension or conflict," and that he "never heard a Frenchman tell anybody to 'Go back to where you came from.'" He ends by saying that "Soit raisonable" ("Be reasonable") is the French motto.
One has to wonder what Wright would say about living in France today!
Read WNYC's article and listen to the recording here: https://www.wnyc.org/story/192767-richard-wright/