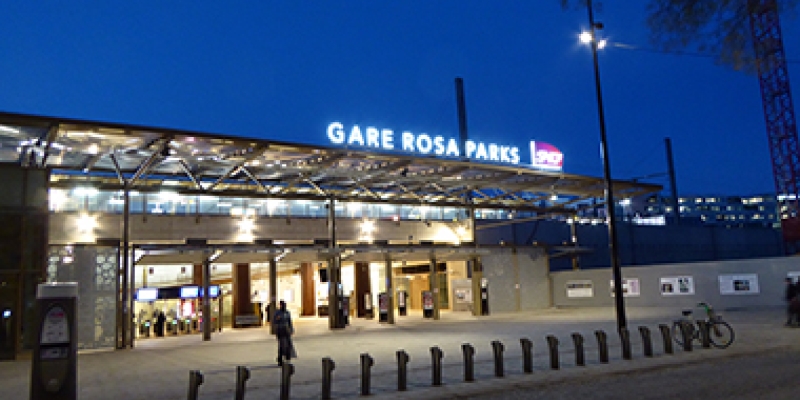 Thursday, October 18th, 2018
Paris Public Transportation Stations Named for Persons of African Descent
Earlier this year, the public was asked to vote on the name of a new station that is being built in the suburb of Bagneux to extend Line 4 of the Paris metro system. One of the proposed names was Nina Simone.
Simone was one of two women whose names were being considered. The other was Lucie Aubrac, a participant in the French Resistance during World War II.
Aubrac won the "contest" and the new metro station will be called Bagneux-Lucie Aubrac. It will open for service in 2021.
Had Simone been selected, she would have been the fifth person and the third woman of African descent for whom public transportation stations in the Paris area are named. The others are Ella Fitzgerald, Rosa Parks, Alexandre Dumas, and Félix Eboué.


All these stations are located on the eastern side of Paris. See the red circles on the map below.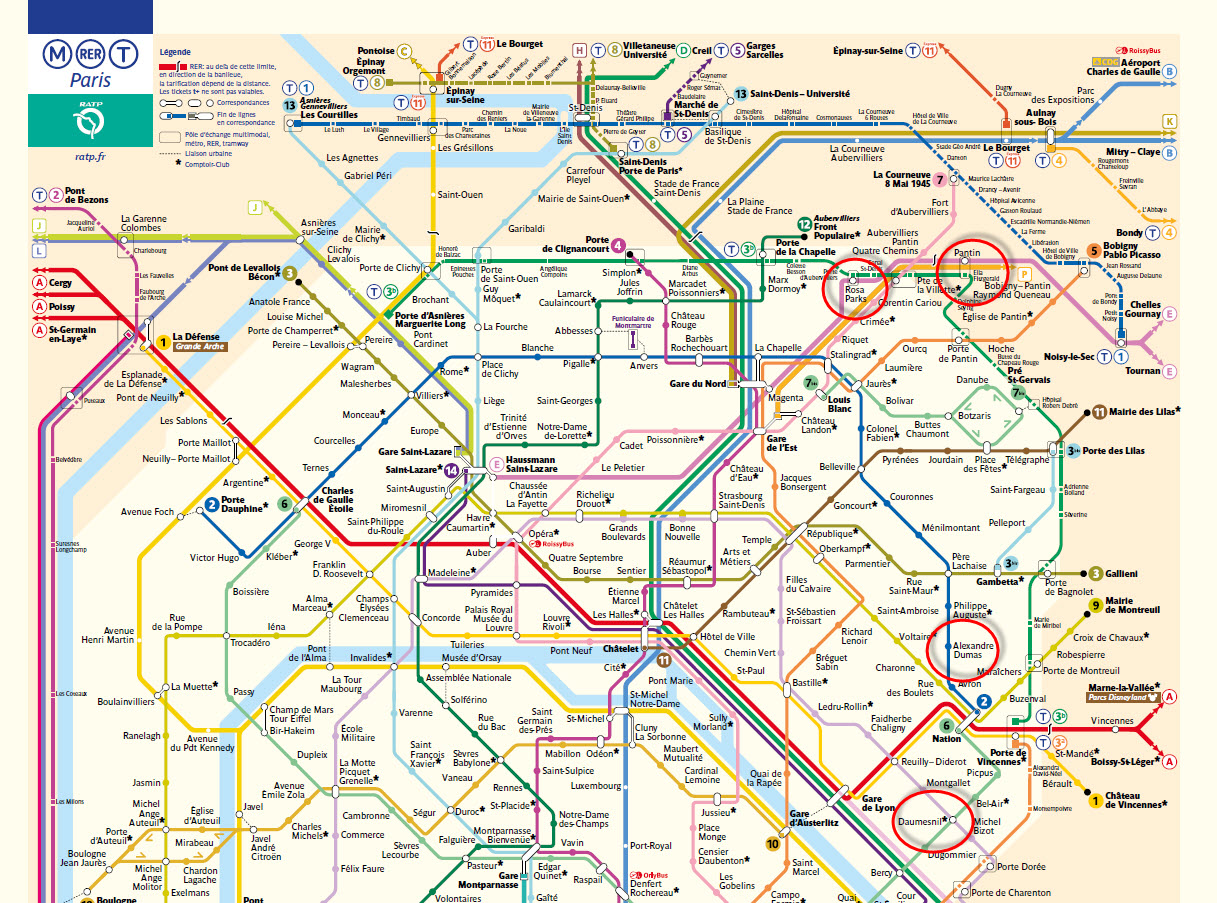 Partial map of Paris public transportation (rail)
Women are notoriously underrepresented when it comes to the names of Paris thoroughfares and metro stations. When the RATP (Régie Autonome des Transports Parisiens - the state-owned public transport operator) constructed the tram line 3b, the City of Paris won a hard-fought battle to have nine of the 18 stops named after women. Ella Fitzgerald and Rosa Parks are among them.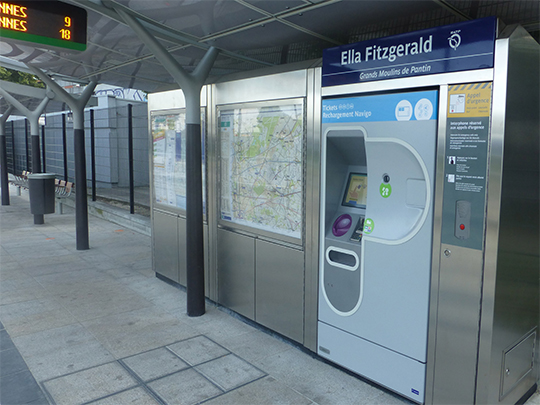 Ella Fitzgerald Station on Tram Line 3b
©Entrée to Black Paris
Rosa Parks Station on Tram Line 3b
©Entrée to Black Paris
The tram was put into service in December 2012. It serves the periphery of the 18th, 19th, and 20th arrondissements.
Rosa Parks also has an RER station named after her. Opened in December 2015, it is the anchor for the new Rosa Parks-MacDonald quartier, which is quickly becoming a cultural hub for the 19th arrondissement in northeast Paris. It is on Line E.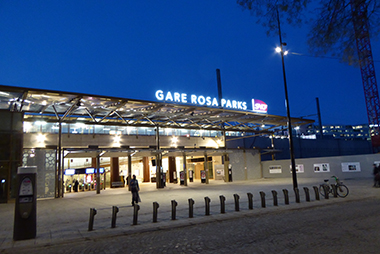 Gare Rosa Parks at twilight
©Entrée to Black Paris
The Alexandre Dumas station is on Line 2 of the Paris metro system. It is located on the border of the 11th and 20th arrondissements, near the street that is also named after Dumas. Originally called "Bagnolet," the station was put into service in 1903. It was renamed in 1970 to avoid confusion with the newly constructed "Porte de Bagnolet" station on Line 3.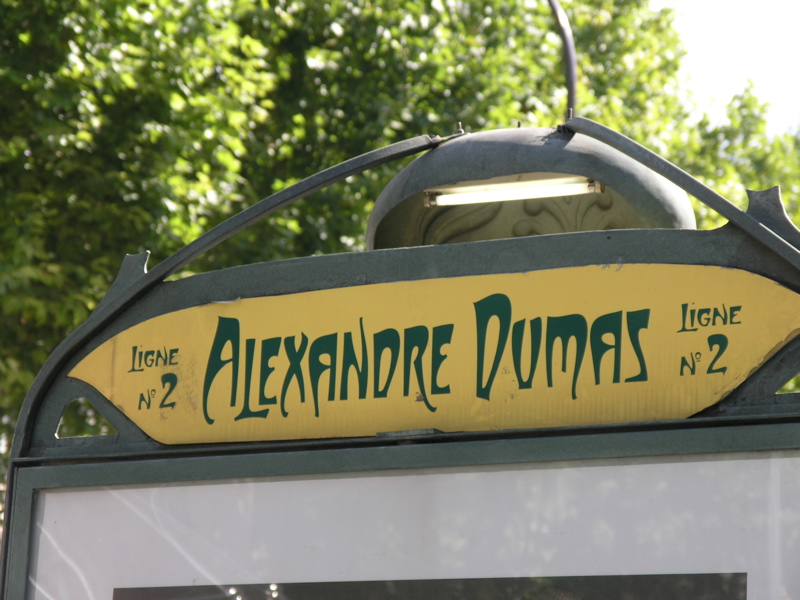 Metro Alexandre Dumas - Line 2
Kevin Armstrong - Creative Commons License
Source: Wikimedia Commons
"Félix Eboué" is a subtitle for the metro stop called Daumesnil, which was put into service in 1909. The station originally took its name from Place Daumesnil, under which it was constructed. In 1946, the place was renamed for Eboué, the colonial administrator from French Guiana who supported General de Gaulle and the Free French Forces during World War II. The name of the station was consequently subtitled "Félix Eboué."
The Daumesnil (Félix Eboué) station is on Lines 6 and 8. It is located in the 12th arrondissement.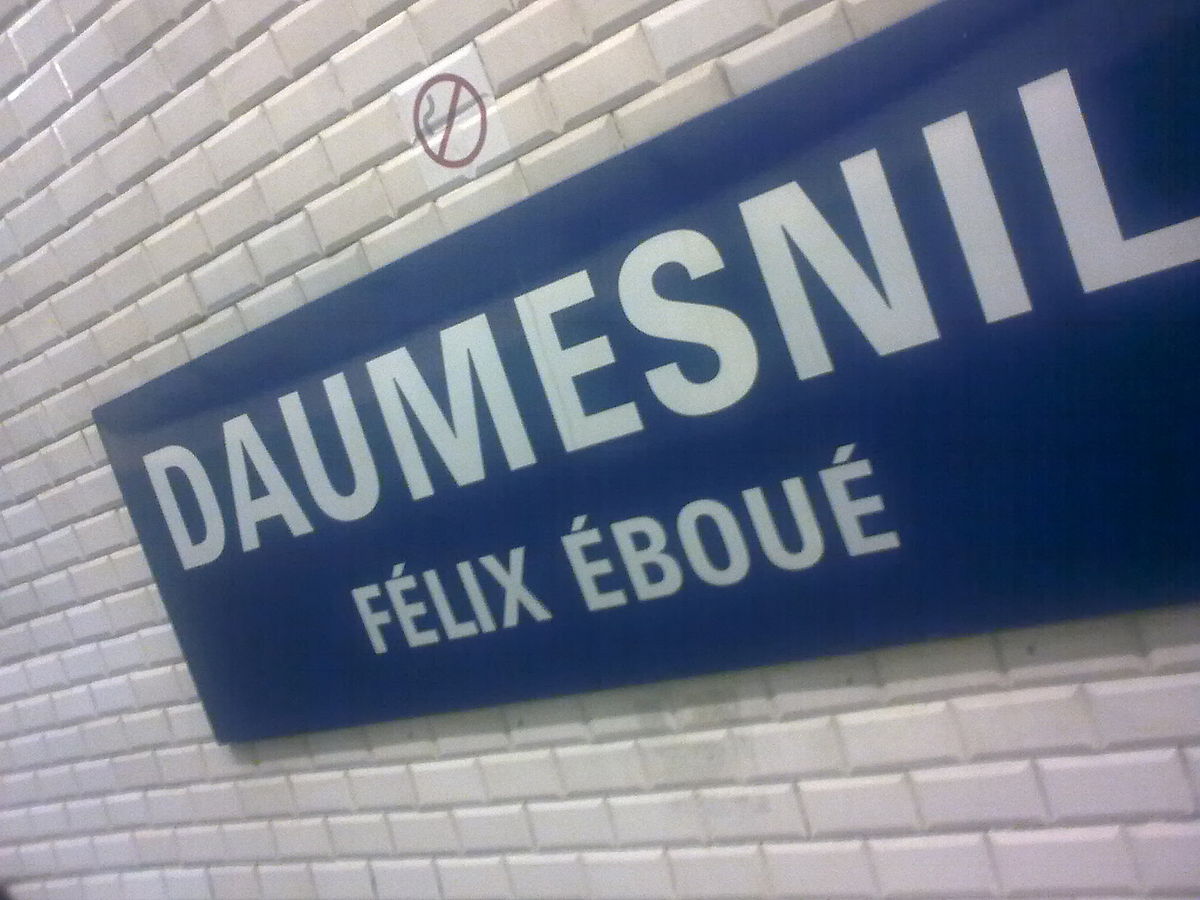 Sign in Daumesnil (Félix Eboué) metro station
Public domain
Source: Wikimedia Commons