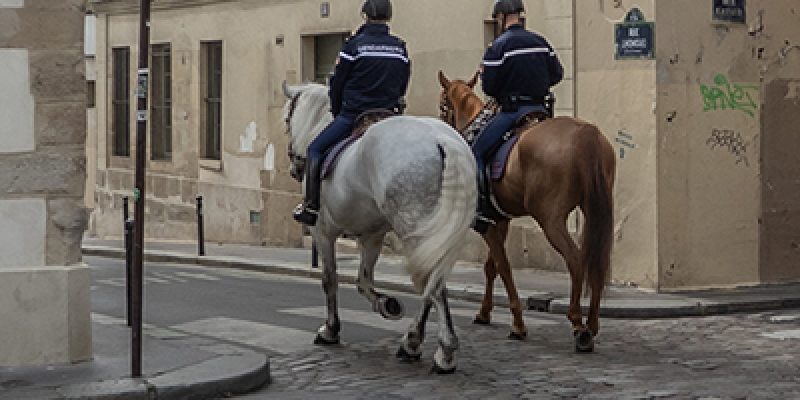 Thursday, April 16th, 2020
Paris Lock Down - Second Extension
Cover image: Gendarmerie patrolling the 5th arrondissement
Image by Entrée to Black Paris
France's confinement period has been extended until May 11, 2020.
As of April 15, France has suffered 15,729 deaths out of 103,573 known cases of COVID-19. The number of persons in intensive care has decreased each day for five days.
On April 13, President Macron addressed the nation for the fourth time since the pandemic reached France. He announced the strengthening of the government's economic bailout plan, the budget for which will be increased from 45 billion euros to 100 billion euros. Small and medium-sized businesses in difficulty as well as the most impoverished of individuals and families will benefit from subsidies, exemptions, and other financial support measures.
This includes an allocation of 1250 euros for artisans and self-employed persons.
The government is already planning for the progressive reopening of nursery, primary, and secondary schools. The president stated that this is a priority because too many children in working-class neighborhoods and in the countryside are being deprived of their education because they do not have access to digital technology and their parents are less able to help them with their schoolwork at home.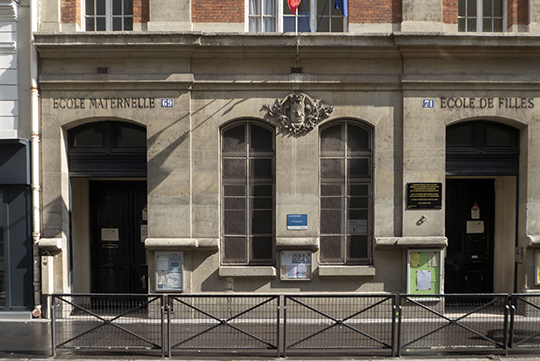 Kindergarten and Elementary School - 14th arrondissement
© Entrée to Black Paris
Rearrangement of school interiors and modification of class schedules are planned to maximally protect the health of teachers and students.
While the summer vacation schedule will not be changed, the Minister of Education has announced that special support will be provided over the summer for students who need assistance to prepare for advancing to the next grade in the fall.
The post office is helping in this endeavor by delivering documents that teachers have sent to students who have no Internet access.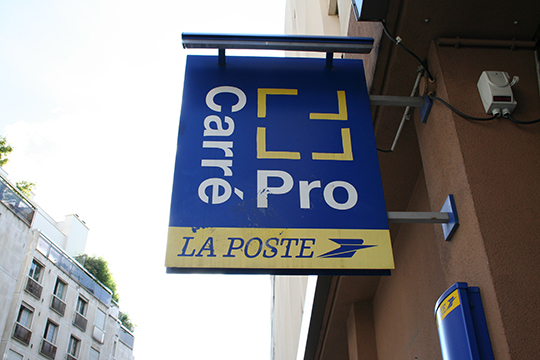 Post office signage
© Entrée to Black Paris
The French television station France 4 has been broadcasting pedagogic courses for children of all levels since March 23. Programming specific to grade levels is scheduled for younger children in the mornings and for middle and high school children in the afternoon.
Cafés, restaurants, theaters, cinemas, museums and other businesses related to travel and tourism are to remain closed until further notice.
President Macron indicated that by May 11, it will be possible to test any person presenting symptoms of corona virus. He also indicated that the national government, in collaboration with France's city governments, plans to make a face mask available to every French resident by that date.
The elderly and physically compromised are encouraged to remain on lock down after May 11.
The public assistance-hospital system is renewing its request for volunteers who are not health care workers to assist during the de-confinement period and to conduct neighborhood surveys.
France's borders will remain closed to non-European countries until further notice. Orly Airport has been completely closed since April 1, 2020 and several terminals have been closed at Roissy-Charles de Gaulle since March 30, 2020.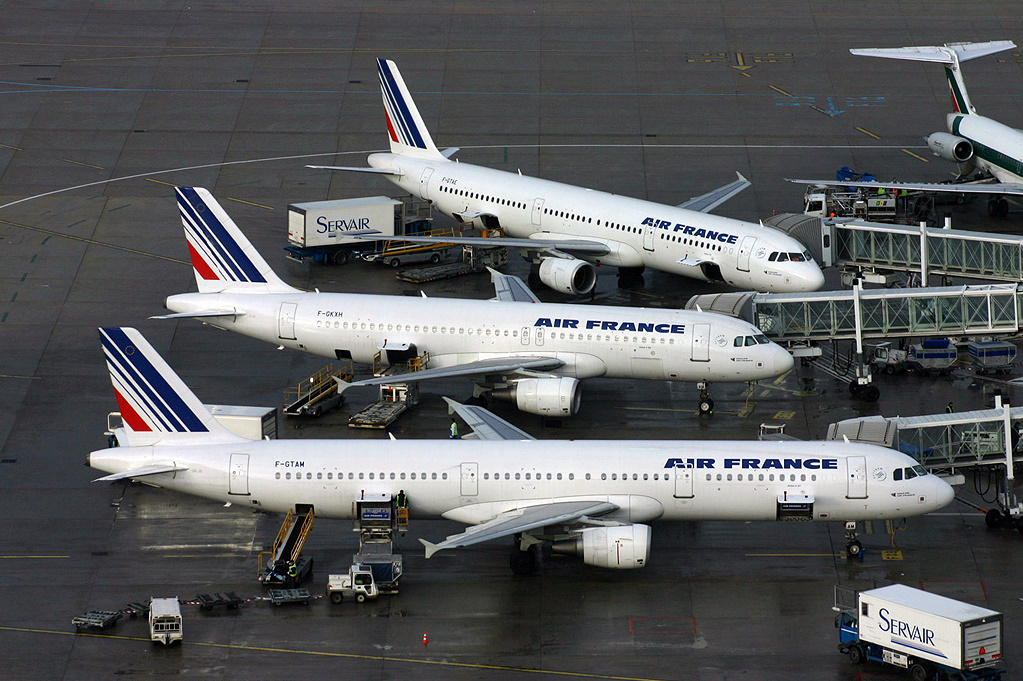 Air France aircraft at Roissy-Charles de Gaulle Airport
Public domain
The opening of the Tour de France has been postponed to August 29, 2020, with the finale scheduled for the Champs Elysées in Paris on September 20, 2020. Numerous concerts scheduled for late spring or summer have been postponed or cancelled.
The sale of seeds, vegetable plants and edible herbs has been declared "essential" and garden centers and plant nurseries are reopening to accommodate the demand.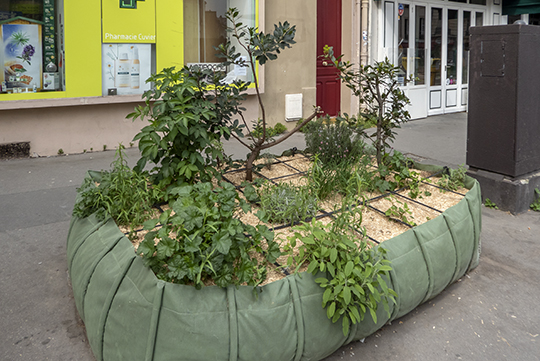 Sidewalk herb garden
© Entrée to Black Paris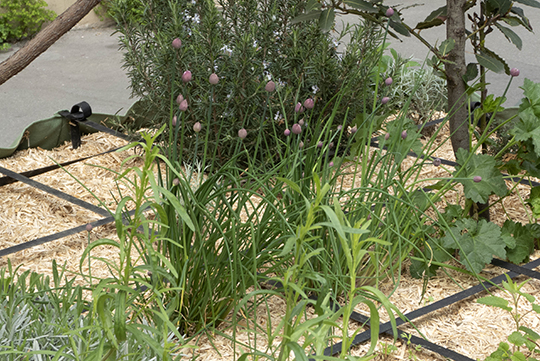 Chives waiting to flower
© Entrée to Black Paris

Three local distribution centers make 5000 sack lunches each day. These are distributed by the Diocese of Paris to the needy at 20 parishes throughout the city every day at 12 noon.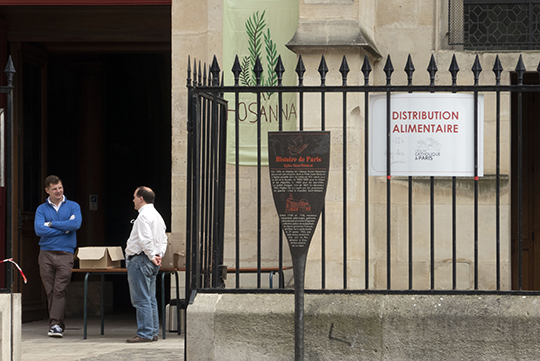 Food distribution at Saint Médard church
© Entrée to Black Paris
Confinement rules have been relaxed for those wanting to leave their residence to adopt a pet. France's animal shelters are filled to capacity and the SPA and similar organizations hope that this measure will prevent the need to euthanize animals.
Disneyland Paris has opened a new online platform called Disneyland Paris à la Maison (Disneyland Paris at Home) as a way to help families amuse themselves while at home.
Restaurant delivery services such as Delivroo and Uber Eats continue to deliver meals and other edibles, avoiding direct contact with customers. Items delivered include breads, pastries, and ice cream!
Neighborhood grocery and frozen food stores are protecting workers and customers with physical barriers and stricter rules for shopping.
The Franprix Noë mini-supermarket on rue Mouffetard requires you to use hand sanitizer that it supplies upon entering the store and requires you to purchase anything you touch.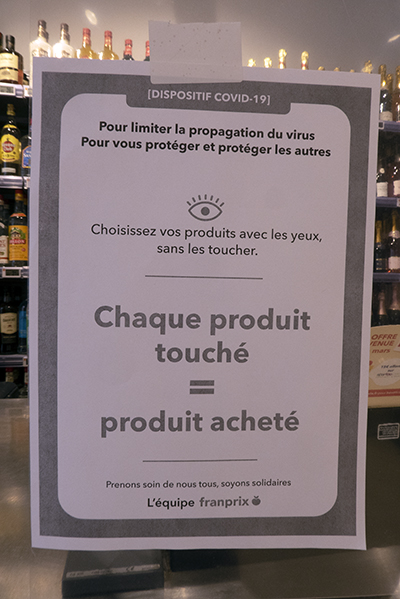 Franprix Noë - "You touch, you buy" policy
© Entrée to Black Paris
Most stores now have plexiglass shields in place to protect cashiers.
Plexiglas shield at Picard Surgelé
© Entrée to Black Paris
In the 5th arrondissement, mounted national police patrol the streets to enforce confinement restrictions.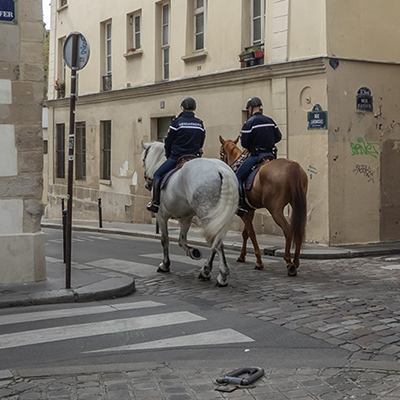 Mounted gendarmerie
© Entrée to Black Paris
And Mother Nature continues to dazzle residents with a glorious spring.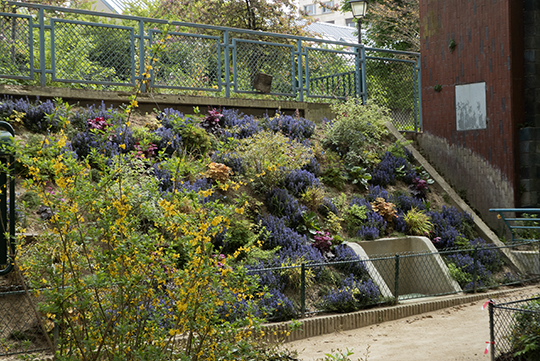 Flower bed at Square Théodore-Monod
© Entrée to Black Paris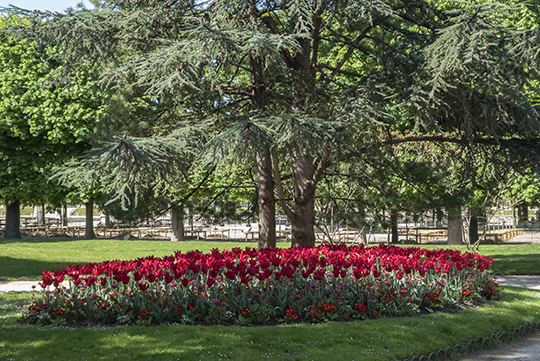 Red tulips at the Luxembourg Garden
© Entrée to Black Paris



Le Faune dansant and tulip bed
© Entrée to Black Paris

Continue to keep yourself and others safe by staying close to home!