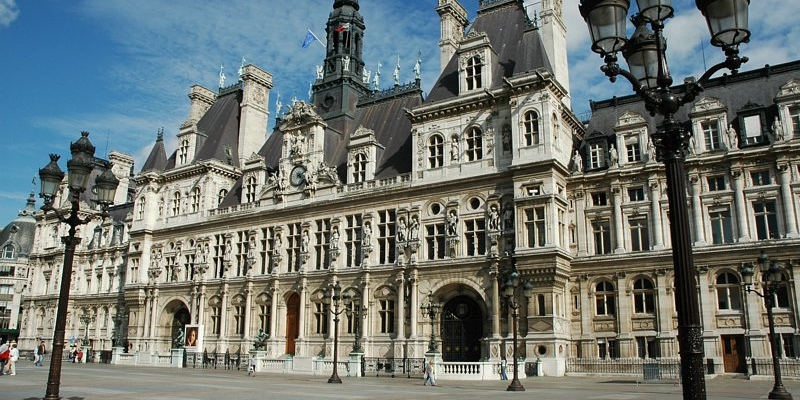 Thursday, April 23rd, 2020
Paris Lock Down - What the Mayor's Office is Doing
Cover image: Hôtel de Ville (Paris' City Hall)
Photo by Rolldi - CC-BY-SA 4.0
Though the death toll in France has surpassed 20,000, the number of hospitalized persons and the number of persons in intensive care is decreasing daily.
The post office plans to reopen 10,000 branches by the end of April and increase mail delivery to 4 times per week.
A progressive return to the classroom is still planned for students across France, beginning with the youngest grade levels on May 11. The following week, middle school and high school students are slated to return, and by May 25, all schools will be reopened. The maximum number of students per class will be reduced to fifteen (15).
The government is studying the possibility of allowing restaurants, bars, and cafés to reopen on June 15.
This week, Entrée to Black Paris turns its attention to what the City of Paris is doing to combat the pandemic.
By the end of April, the city plans to make 500,000 face masks available to the elderly, individuals with chronic illnesses, and pregnant women. Distribution will take place at pharmacies throughout the city.
Saint Médard pharmacy
© Discover Paris!
An additional 1.7 million masks are projected to be distributed to other Paris residents by mid-May.
The city launched a massive testing campaign at elder care facilities on April 6. As of April 20, 2,810 tests have been performed on residents and caregivers.
Paris' non-potable water supply, which is normally used to clean streets, water green spaces, and feed fountains, has been shut off due to the presence of traces of virus found in test samples. Potable water is now being used for street cleaning and keeping parks and gardens flourishing. Fountains are no longer running.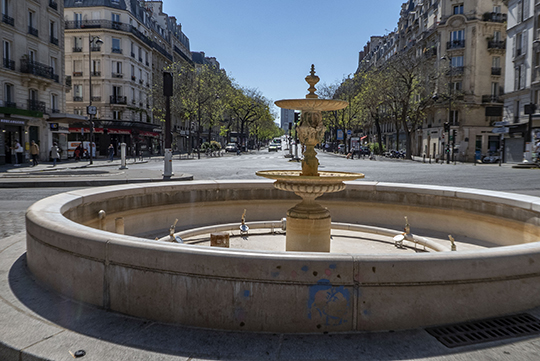 Dry Fountain - rue de Bazeilles
© Entrée to Black Paris

Garbage collection is being maintained.
Anyone having difficulty paying rent during the crisis is encouraged to contact his/her landlord immediately so that adjustments to payments can be made. For residents of public housing, a variety of measures have been implemented to assist those in financial need.
For the homeless, the city is working with the Aurora Association to assemble sack lunches at locations in the 3rd, 14th, and 18th arrondissements. Partnerships with the Salvation Army and the Paris Diocese of the Catholic Church facilitate the distribution of these lunches to the needy across town. An additional 4400 lunches are distributed at 10 "solidarity" restaurants as well as delivered to people on the streets who do not frequent these restaurants.
Shelter for the homeless is being provided at four gymnasiums that were opened for overwintering in 2019. One of these is dedicated to sheltering unaccompanied youth. These facilities will remain open until May 31.
Two additional gymnasiums were opened for refugees who were displaced from their camp in the Paris suburb of Aubervilliers on March 24.
Two shelters dedicated to persons who are COVID-19 positive have been opened - one for single men and one for single women and families.
All public toilets and public baths are open for use during the crisis.

The city is providing childcare for all persons on the front lines of the crisis and has made certain subterranean parking lots free for health care providers.

The town halls for the city's 20 arrondissements remain open to handle urgent matters only.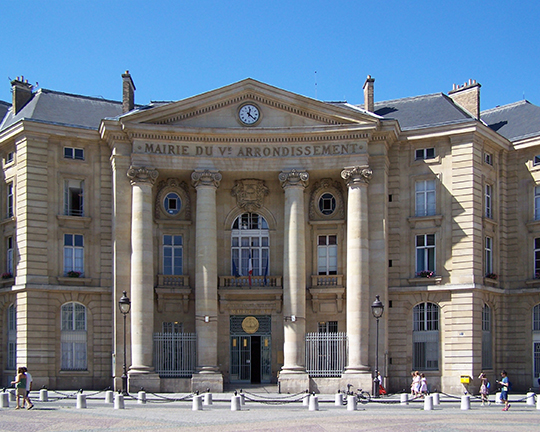 Mairie of the 5th arrondissement
Photo by LPLT
CC-BY-SA 3.0
The mayor's office plans to make hand sanitizer gels permanently available at public places throughout the city once the lock down is lifted. For young children, who risk ingesting the gel or suffering skin irritation from using it, soap dispensers will be made available.
Someone in the 5th arrondissement had a similar idea. The Wallace fountain shown below streams potable water. Someone has helpfully tied a bar of soap to the fountain.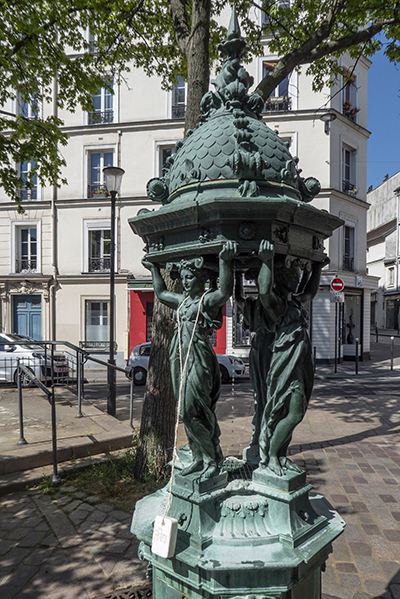 Wallace Fountain with soap bar
© Entrée to Black Paris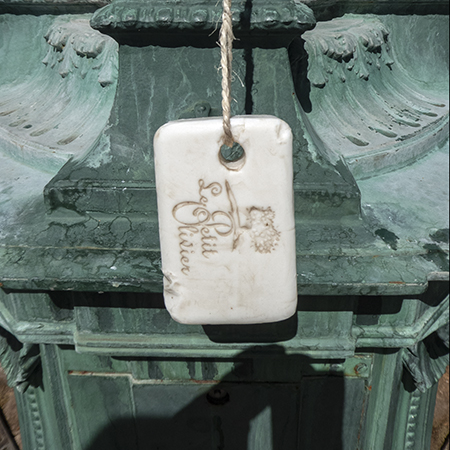 Le Petit Olivier soap bar
© Entree to Black Paris

The City of Paris Web site has posted a page that presents photographs of areas around town that are completely devoid of people. View it here:
Restez Chez Vous, Paris Vous Attend (Stay Home, Paris Awaits You)
And I'm sharing a few images of my favorite place in Paris - the Luxembourg Garden. They were taken from the street, as the garden remains closed during the lock down. Fortunately, it is not too far from home!
We were able to take these photos during the one-hour liberty for promenades that is allowed during lock down.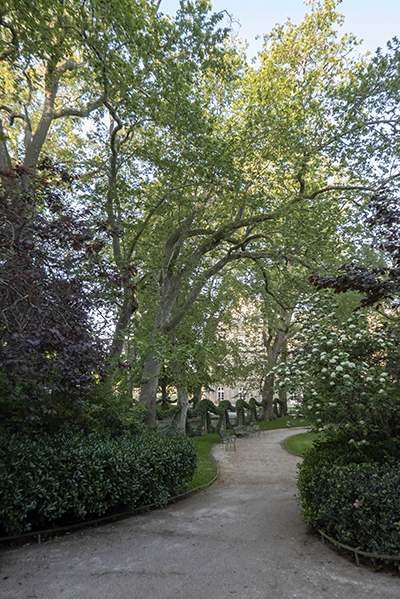 Garden Path
© Entree to Black Paris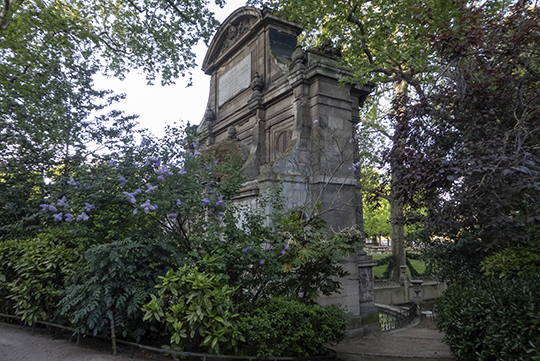 Back of Medicis Fountain
© Entree to Black Paris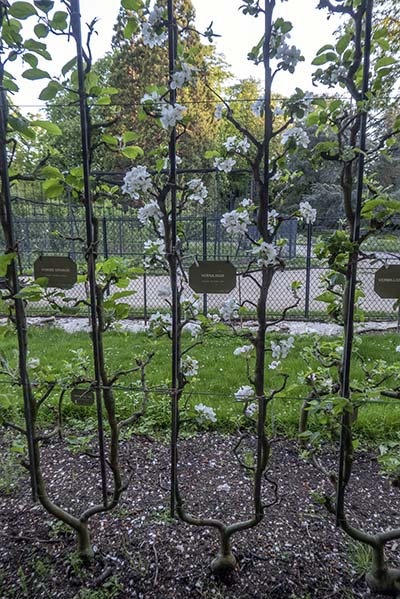 Espaliered Apple Trees
© Entree to Black Paris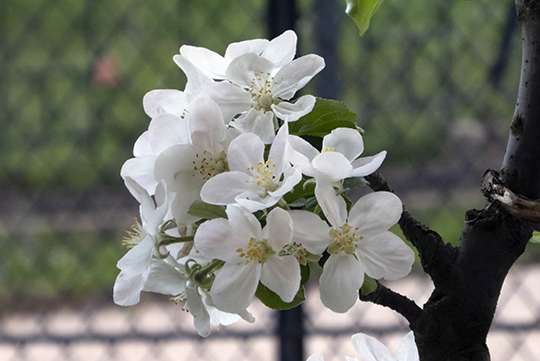 Vernajoux Apple Blossoms
© Entree to Black Paris
I hope you're enjoying spring, even as you stay close to home!