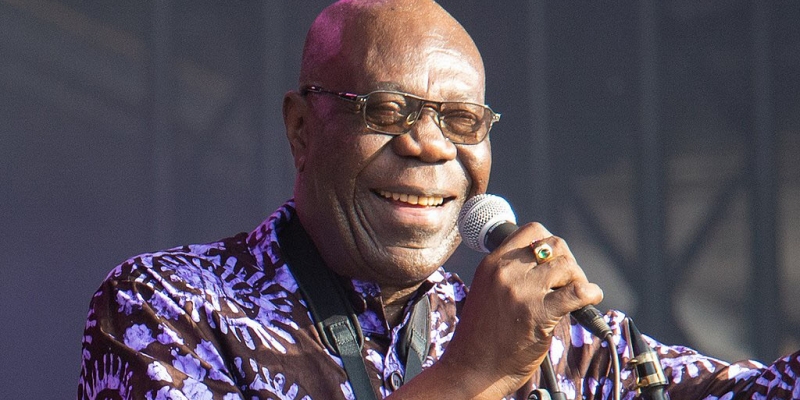 Thursday, March 26th, 2020
Paris Lock Down Continues
Cover image: Manu Dibango at the Festival Les Escales, Saint-Nazaire, France in July 2019 (detail)
France entered its second week of "confinement" on Tuesday, March 24 and a public health emergency was officially declared on that day.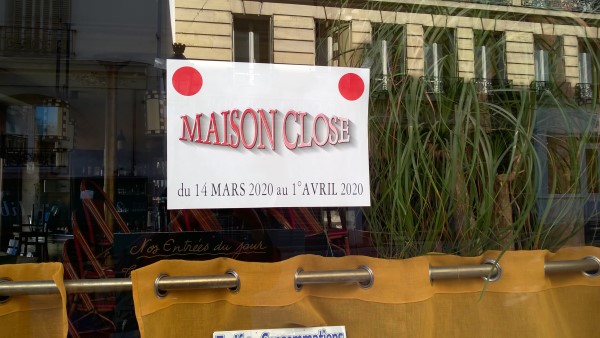 Cafe sign indicates projected opening date of April 1
© Entrée to Black Paris
The government's newly appointed scientific council has advised prolonging the isolation period to six weeks instead of the two weeks initially mandated, but the Macron administration has not yet made such a pronouncement.
Since the lock down went into effect on March 17, people have come onto their balconies and terraces at 8 PM every evening to acknowledge and applaud the health care professionals who are working to stem the spread of the virus and tend to those who have contracted it.
The following new restrictive measures have been announced:
Outings with children or for solitary exercise are limited to a distance of 1 km from home, for only one hour, and for only one time per day.
The fine for those found guilty of breaking the rules of confinement more than once within a two-week period is fixed at 1500 euros. Those found guilty of breaking the rules four times within a month will be fined up to 3700 euros and subject to imprisonment for six months.
Open-air markets are no longer allowed to operate. The mayors of certain villages can override this restriction if such markets are the only means for citizens to acquire fresh foods.
President Macron addressed the nation on the evening of Wednesday, March 25 to announce a massive monetary investment in France's hospitals and salary increases for its medical professionals. He also announced the launch of Operation Resilience, which will engage France's army in the fight against the pandemic. He spoke from Mulhouse, a city in eastern France that is particularly affected by the virus.
In some areas, a curfew has been imposed by local or regional governmental authorities. The Paris suburban towns of Colombes and Asnières now observe a curfew between 10 PM and 5 AM and the town of Puteaux has annouced a curfew between 10:30 PM and 5 AM.
Trains for intercity travel are running at 7% of normal service and any individual train is only allowed to transport a maximum of 50% of its passenger capacity. Passengers must have a "legitimate reason" for their travel.
Public transportation in Paris and Ile de France remain severely curtailed. The metro and RER are only running between 6 AM and 10 PM, with 30% to 50% of trains in service. Fifty-four metro stations will remain closed beginning on Thursday, March 26.
People are still able to drive places for the same reasons authorized for pedestrians and those taking public transportation. They are not restricted to driving alone. However, each person in a vehicle is required to have a signed declaration that indicates the reason for her or his outing.
Taxis are still operational.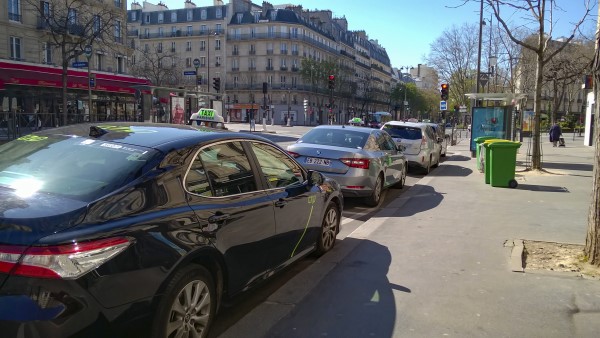 Taxi stand on avenue des Gobelins
© Entrée to Black Paris
The virus-related deaths that have been reported by the government represent those occurring in hospitals. Deaths occurring in elderly care facilities have not yet been taken into account.
Cameroonian saxophone player Manu Dibango is the first celebrity to die from COVID-19. He passed away in a hospital near Paris on March 24 at the age of 86.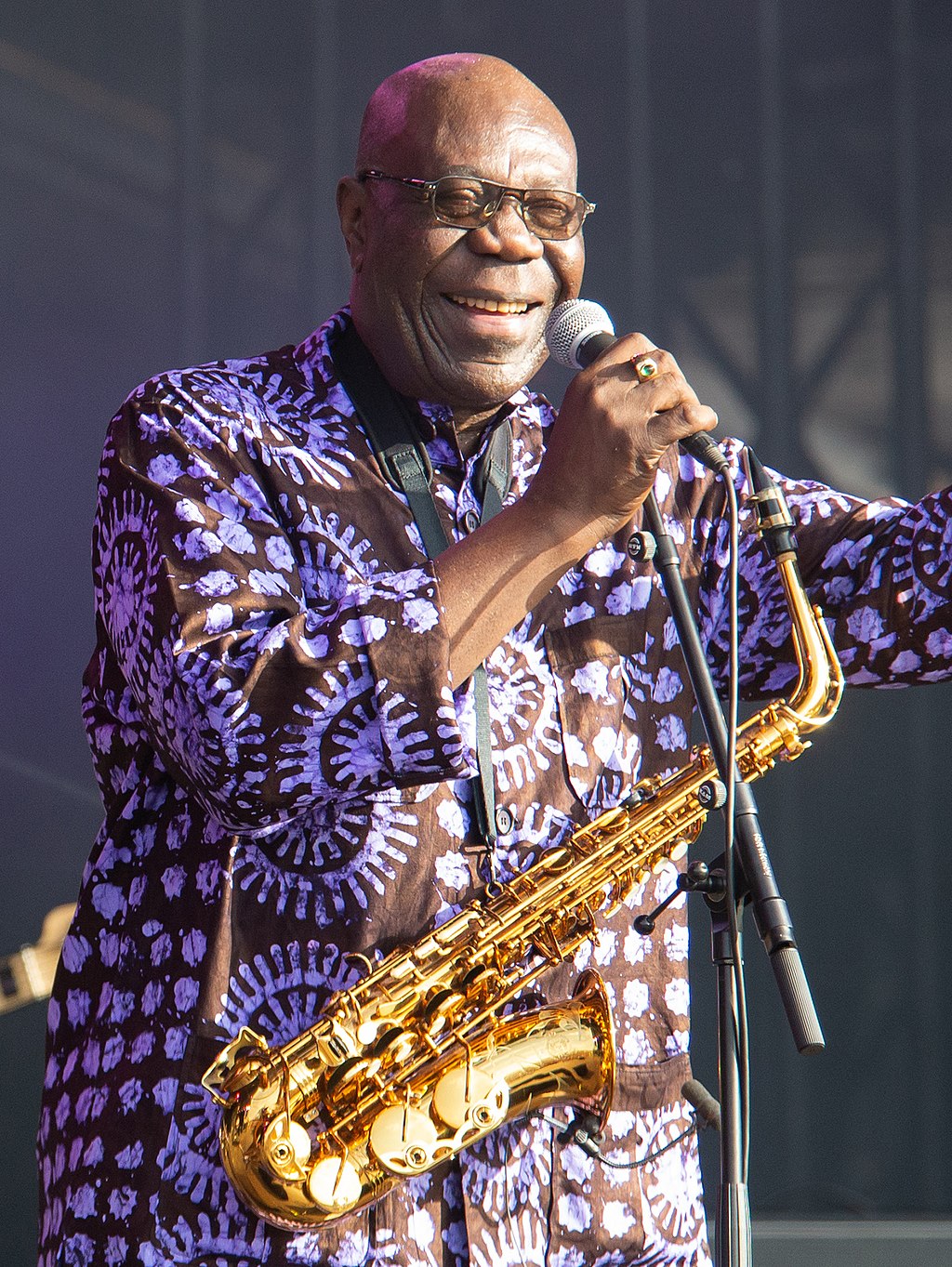 Manu Dibango at the Festival Les Escales, Saint-Nazaire, France in July 2019
Photo by Selbymay; Source: Wikimedia Commons
CC-BY-SA 4.0
I went to the post office on Saturday and learned that all post offices are now closed on weekends. They remain open during the week. Mail is being distributed four days a week and this is to be reduced to three days a week on March 30.

After I found the post office closed, I took the opportunity to stroll around my quartier for a half-hour or so.
The Epée de Bois Health Center is located one block from the post office. Doctors there (and at the four additional health centers in Paris) are seeing patients who have no virus symptoms in the morning and persons suspected to have contracted the virus in the afternoon. This allows people with other medical needs to be assured of receiving attention while minimizing their risk of infection.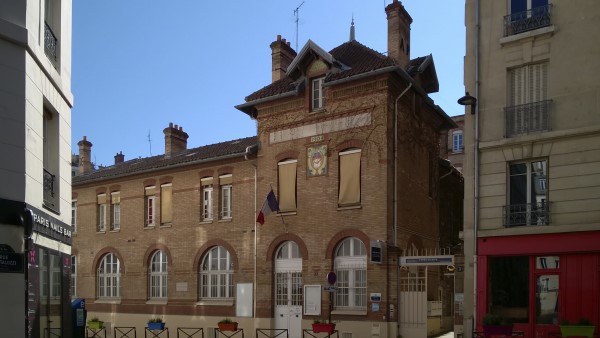 Centre de Santé Epée de Bois
© Entrée to Black Paris
The streets are virtually devoid of traffic.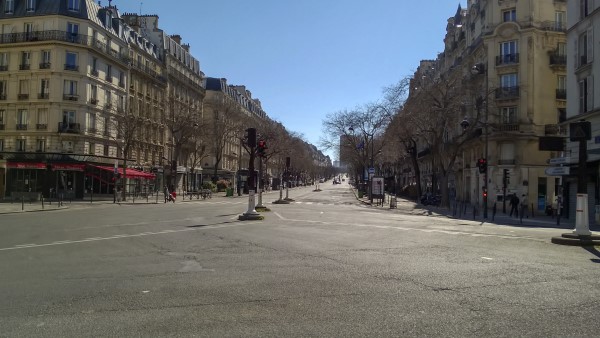 Intersection of avenue des Gobelins, rue Monge, and rue Claude Bernard at midday
© Entrée to Black Paris

Bus service is 30% of normal and the buses are mostly empty.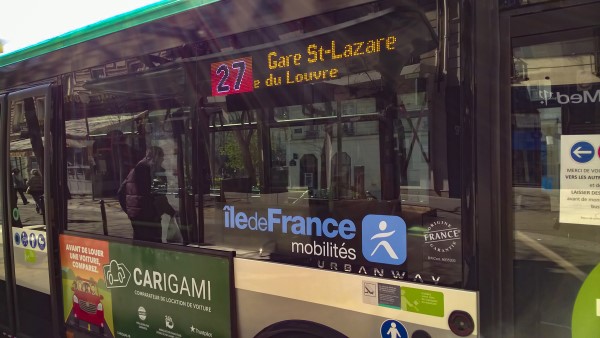 Bus 27
© Entrée to Black Paris

People are keeping their distance when they shop for provisions.

Queue at Carrefour supermarket on boulevard Saint Marcel
© Entrée to Black Paris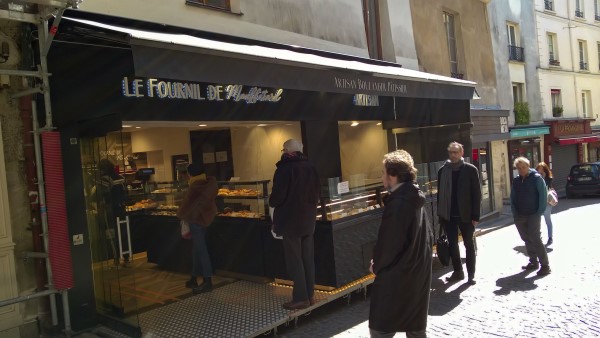 Queue at rue Mouffetard bakery
© Entrée to Black Paris

Pharmacies remain open. The Saint-Médard pharmacy has signs posted to indicate that there are no masks available and that purchases of hand sanitizing gel are limited to one 50 ml container per person. Yet another sign indicates that only one person at a time is allowed inside.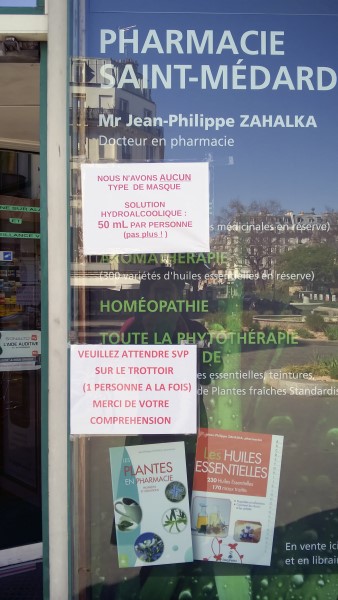 Pharmacie Saint-Médard
© Entrée to Black Paris

Cafés and restaurants remain closed but take-out service and home delivery are still available.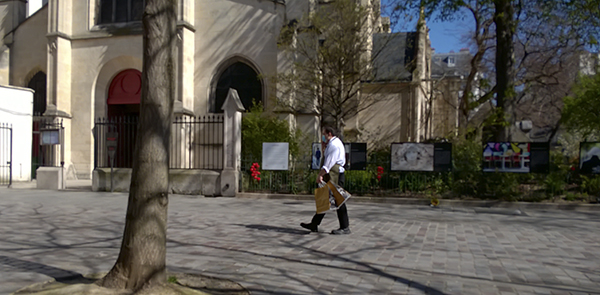 Food delivery in progress
© Entrée to Black Paris

On my way home, I was reminded that spring has arrived!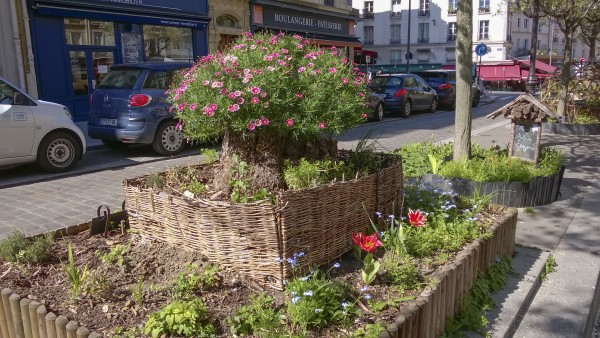 Raised Garden Bed on rue de Bazeilles
© Entrée to Black Paris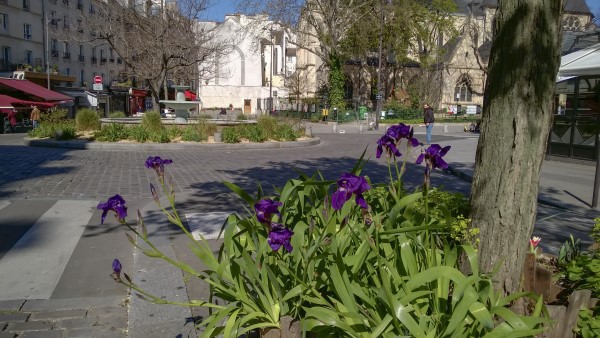 Irises on rue de Bazeilles
© Entrée to Black Paris

Come back next week for the latest information on the lock down. In the interim, stay safe and appreciate the season.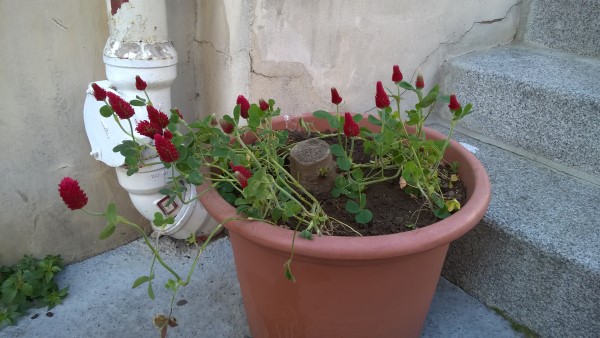 Crimson Clover on rue Lhomond sidewalk
© Entrée to Black Paris

Click on the following link to enjoy a video of Manu Dibango's most famous recording, "Soul Makossa" (1972): Soul Makossa video - YouTube
REST IN PEACE, MANU.