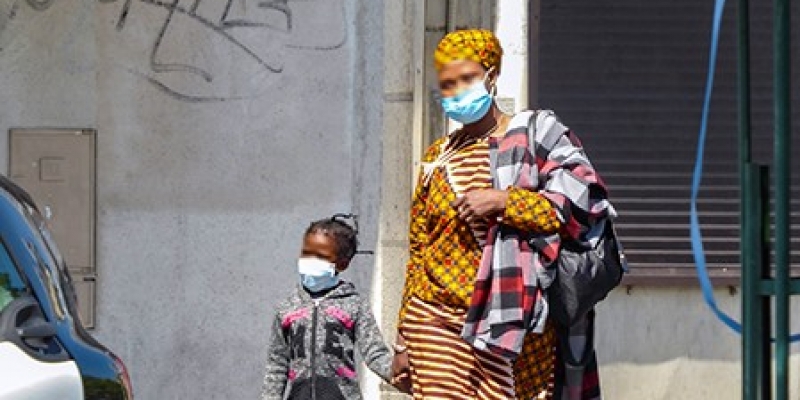 Thursday, May 7th, 2020
Paris Lock Down - Closer to Deconfinement
Cover image: Mother and child strolling (detail)
© Entrée to Black Paris
It's almost here!
As May 11 approaches, France is stepping up its preparation for de-confinement.
To date, 52,736 persons have left French hospitals cured of the infection. The number of COVID-19 patients being treated in intensive care has decreased for 27 consecutive days.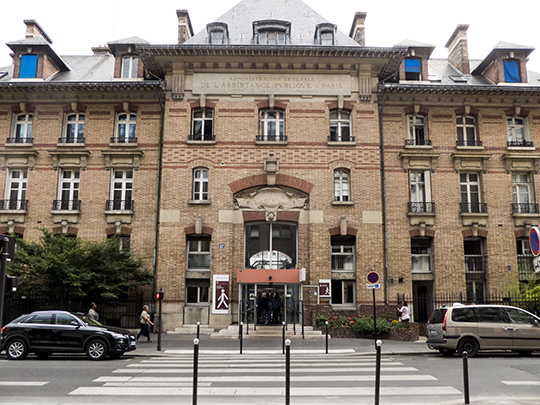 Hôpital Cochin
© Discover Paris!
France's Ministry of Solidarity and Health has created a "weather map" of the country, which indicates - department by department and day by day - the degree to which lock down restrictions can be safely lifted. Since the map was first published on April 30, the area where de-confinement will be "normal" has grown consistently larger. The Paris area and most of the northeast corner of the country remain in the "red zone," so de-confinement will proceed much more slowly in this geographical region.
The country awaits information about each department's ability to test for COVID-19 infection. Beginning Thursday, May 7, this criterion will be taken into account as the map is revised each day.
The gradual reopening of nursery schools, kindergarten, and elementary schools is still planned to begin on May 11, where conditions permit. The rhythm of instruction will change, with classes being held either 2-3 days per week or for a full week every other week.
Parents are not obligated to send their children to school during the de-confinement period.
Since April 20, the government has been implementing a plan to purchase and distribute computers and Internet connections for economically disadvantaged families so that students can continue their education should they not be able to return to school.
High school students are now slated to return to school in June. Universities will not open again before summer.
Museums, bookstores, and art galleries will be able to reopen on May 11, with strict enforcement of social distancing and other precautionary measures.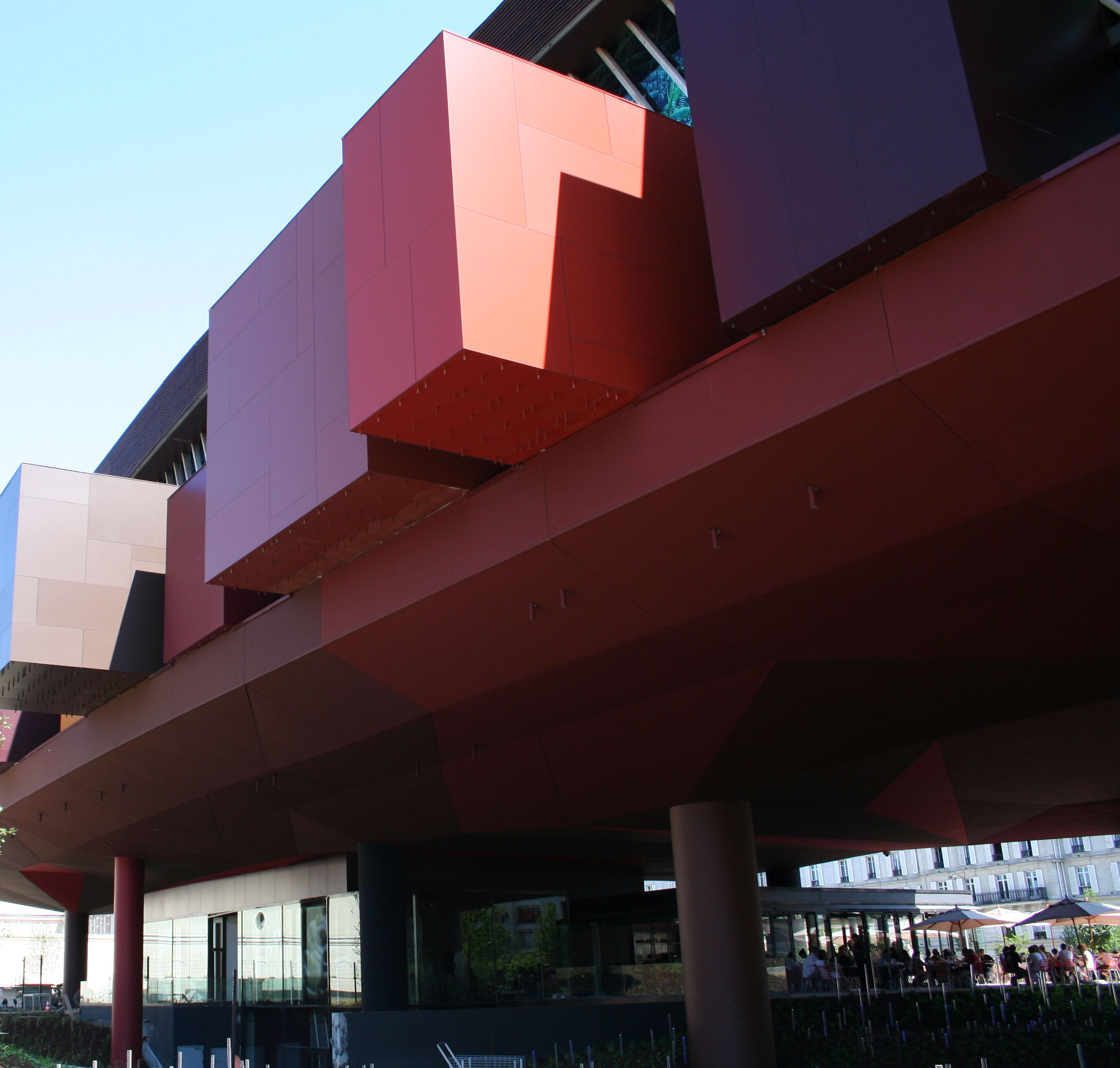 Musée du quai Branly Jacques Chirac
© Discover Paris!
Beaches are to remain closed until June 1. Festivals and other gatherings of 5000 or more persons will not be allowed before September.
On Thursday afternoon, May 7, Prime Minister Edouard Philippe will address the nation with details.
In Paris, free, reusable masks will be made available to residents at pharmacies beginning on May 7. In addition, 500,000 surgical masks will be distributed to persons in fragile physical condition at town halls across the city.
Persons who have paid for public transportation passes will also receive free masks.

Other masks are being made available for sale.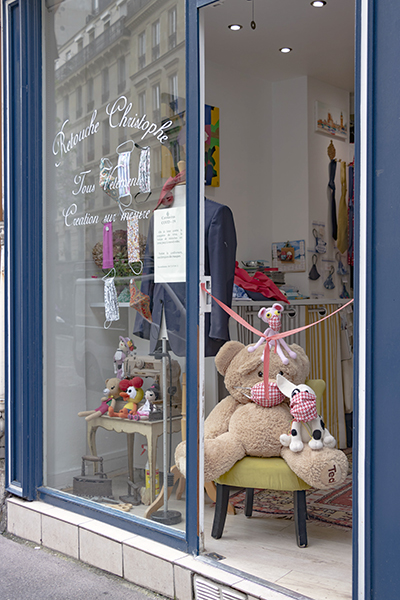 Custom-made masks by Retouche Christophe - an alterations shop in the 5th arrondissement
© Entrée to Black Paris
Large commercial centers such as Les Halles will not reopen on May 11, but department stores such as Galeries Lafayette and Printemps will be allowed to do so.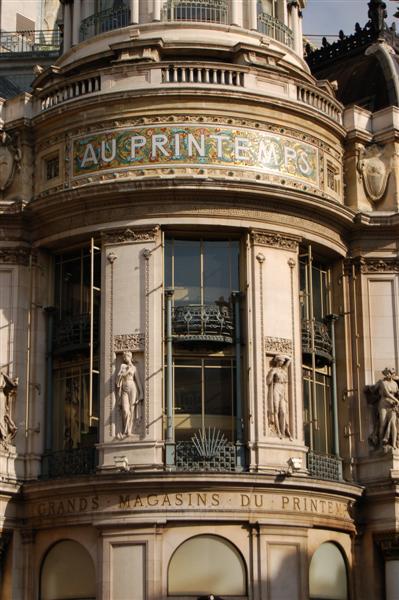 Printemps Haussmann
Image by Tuscon Knox
CC-SA-BY 3.0, 2.5, 2.0, 1.0
Source: Wikimedia Commons
Restaurants are becoming more active. Certain establishments have been supporting hospital personnel by providing free meals since the beginning of the lock down.
Le Bel Ordinaire is one of them. They not only support the health care workers at the Pitié-Salpêtrière and Bichat hospitals, but also distribute fresh produce, seafood, meat, and poultry from their suppliers that local residents can purchase online and cook at home.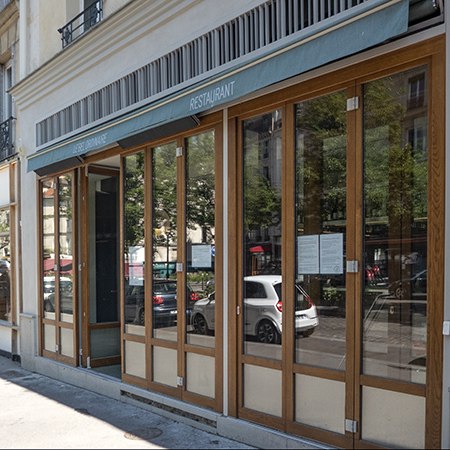 Le Bel Ordinaire
© Entrée to Black Paris
Increasing numbers of restaurants are now offering take-out. Customers are not allowed inside the restaurant. Rather, orders are placed at the door and delivered there as well.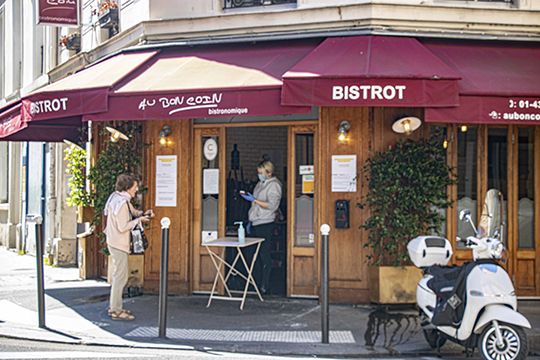 Ordering Take-Out Food at Au Bon Coin
© Entrée to Black Paris
It also seems that more people are on the streets - perhaps in part because of the wonderful weather we've had recently.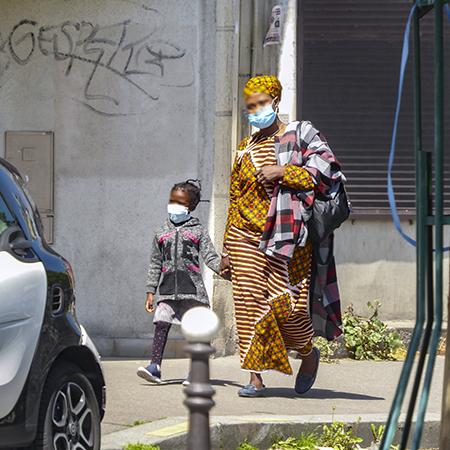 Mother and child strolling
© Entrée to Black Paris
The Paris Tourist Office is reaching out to travel and tourism companies (including Entrée to Black Paris) with questions about how it can best assist these businesses to re-launch once the lock down is lifted.
Unfortunately, there is no news yet regarding the re-establishment of regular international flights between the U.S. and France.
We took advantage of yesterday's particularly warm temperature to venture over to Place Louis Armstrong in the 13th arrondissement, a site that is within our allowed 1 km radius for daily exercise.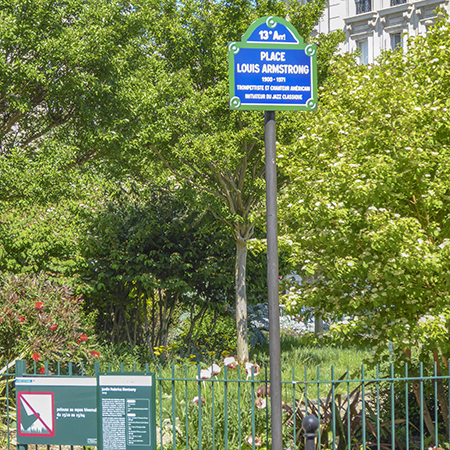 Place Louis Armstrong
© Entrée to Black Paris
The garden there still has a few flowers blooming.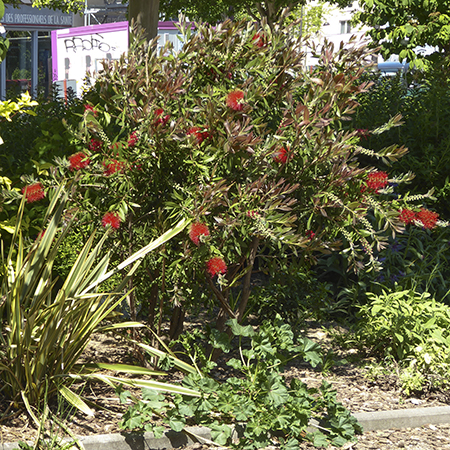 Red Callistemon at Place Louis Armstrong
© Entrée to Black Paris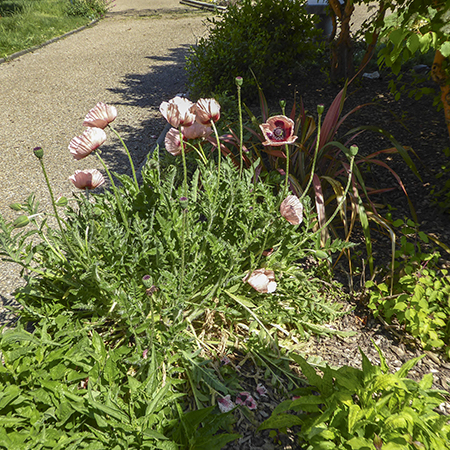 Poppies at Place Louis Armstrong
© Entrée to Black Paris
Next week, I'll bring you news of the first few days of de-confinement. In the meantime, I encourage you to continue to stay close to home and remain vigilant - wherever you are in the world - so that your local restrictions can be eased as soon as possible!