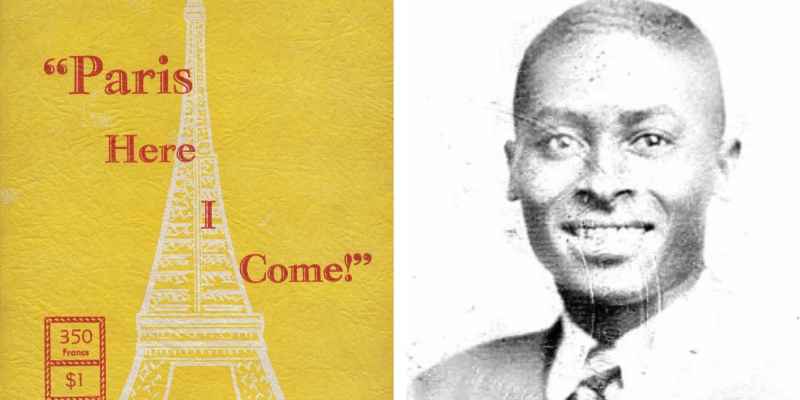 Thursday, February 10th, 2022
"Paris Here I Come" by Ollie Stewart
Cover image: Paris Here I Come book cover and 1940 visa photo of Ollie Stewart
Collage by Entrée to Black Paris

On February 1, 2022, Marsha Simms and Savannah Wood took our "Black History in and around the Luxembourg Garden" walk. They graciously allowed us to post their photo on Facebook.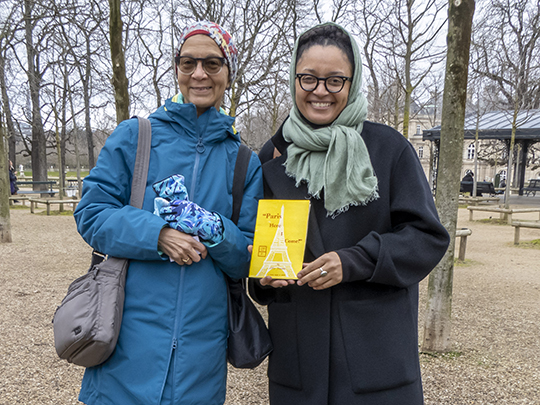 Marsha Simms (left) and Savannah Wood (right) at the Luxembourg Garden
© Entrée to Black Paris
Ms. Wood is the director of Afro Charities, a U.S. nonprofit organization that "builds bridges across generations and socioeconomic divides through artistic and educational projects inspired by the AFRO American Newspapers' archives." The book she is holding in the photo above -- "Paris Here I Come!" by Ollie Stewart -- was published by the Afro-American Company in 1953.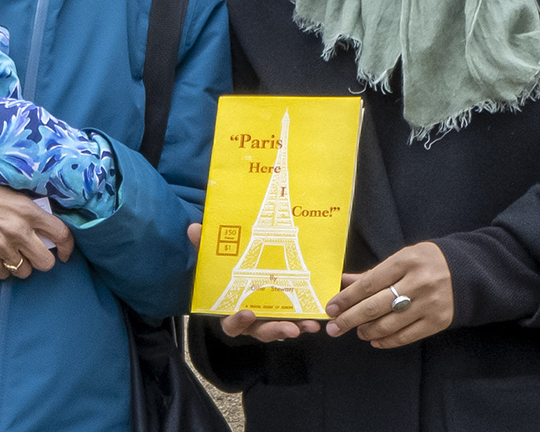 "Paris Here I Come!"
© Entrée to Black Paris

Ms. Wood was kind enough to give Tom a copy of the book, whose subtitle is "A Travel Guide to Europe." Thirty pages long with no illustrations, it is a quick and fascinating read.
Ollie Stewart signed on as a journalist for the Afro-American in New York in 1940 and received his first foreign assignment in 1941. He covered WWII for the paper beginning in 1942, including the Liberation of Paris.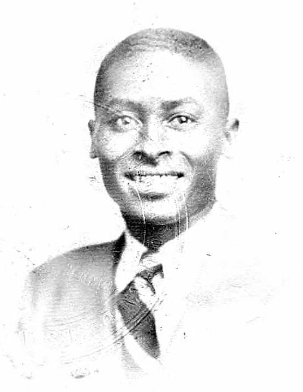 Ollie Stewart - visa photo
Source: World War II on Deadline
Fair use claim
Post-war life in the U.S. that remained steeped in racism proved intolerable to him, and he relocated to Paris in 1949 and wrote weekly columns for the Afro-American until he returned to the U.S. in 1977.
In May 1952, Stewart wrote a three-part article series called "So You Plan to Go to Europe" for the paper. It seems likely that "Paris Here I Come!" was inspired by the series, especially since the last seven pages in the book present information about "Other Countries," including the rest of France, Italy, Germany, and England.
Stewart's writing is unpretentious and breezy, and as a seasoned traveler in Europe, he speaks with authority on each topic he addresses. He begins with advice on how to obtain a passport, provides extensive travel tips on packing, changing money, and what to expect during the transatlantic voyage by ship, and then dives into what to expect upon arrival in Paris.
About a third of the way into the book, he describes the types of activities one can enjoy in Paris and gives advice on appropriate comportment for various circumstances, including tipping.
I found several of his statements to be amusing:
"Even if this is your first trip and you're scared to death, try to act casual about the whole thing."
"The French you learned in school didn't scoot past your ears like this."
"If you can't read the menu, you will at least be able to read the check. Figures are figures the world over."
"Unless there is a traffic light you never stop at an intersection. You go faster, if anything."
He also gave sage advice:
"If they [the French] seem slow or indifferent to your wishes, remember that they are in their own country; you are the foreigner. And it will not help Franco-American relations if you criticize everything that's not like the 'good ol USA.'"
I was surprised to read in one section that Stewart offered personal services for travelers -- things like answering questions and guiding them around town -- at no charge. In this section, he put his proverbial foot down, saying that this activity had placed a severe strain on his financial resources and that he would only continue to offer services to those who would cover his expenses.
Savannah Wood is interested in finding individuals who have seen or used Stewart's travel guide. Contact me at paris [at] entreetoblackparis [dot] com if you would like to connect with her.
Read about Ollie Stewart here.