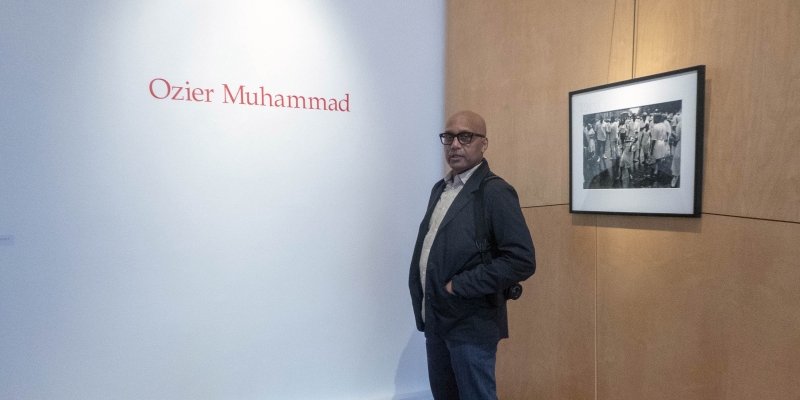 Thursday, March 24th, 2022
Ozier Muhammad - Beyond Reportage
Cover image: Ozier Muhammad at his Paris photo exhibition
© Entrée to Black Paris
I had the pleasure and privilege of spending the better part of an hour talking with Ozier Muhammad when I visited his exhibition at the Galerie Sophie Scheidecker last week.
We arranged to meet in the early afternoon and had the space pretty much to ourselves. I got to listen to this Pulitzer Prize-winning photographer tell the fascinating story of the unfolding of his education and career, as well as have him present many of the works on display in the show.
Though it was the first time we ever met, I felt as though I were reuniting with an old friend.
The display in the first room of the two-room exhibition consists of a variety of images (many in black & white) from various stories that Muhammad was assigned to cover over the years. Two that I particularly appreciated were Emotions Rise at Levee Wall, taken during the Memorial Day commemoration of the breech of the Industrial Canal levee in New Orleans during Hurricane Katrina, and APP Supporters of Felae, taken in Lagos during the first democratic election held in Nigeria since the 1993 coup.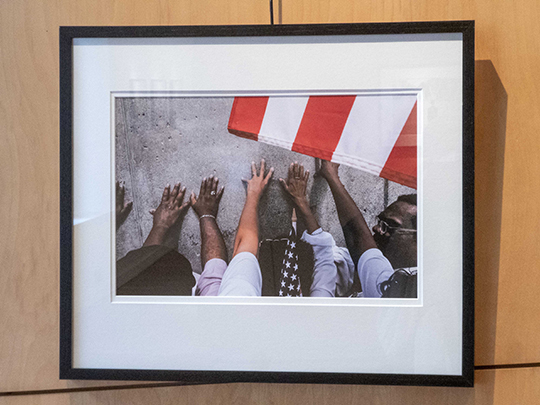 Emotions Rise at Levee Wall, 2005
Inkjet print
Image of framed photo © Entrée to Black Paris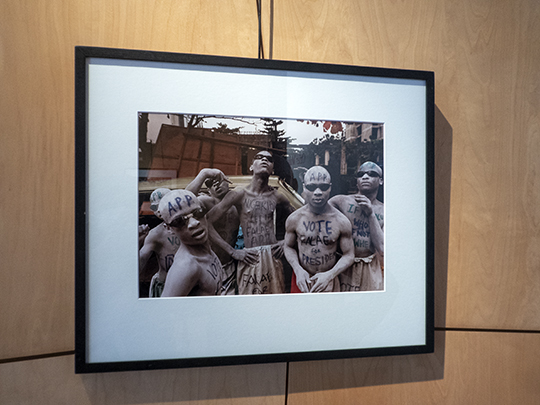 APP Supporters of Felae, 1999
Digital inkjet print
Image of framed photo © Entrée to Black Paris
Two of the photos in this room depict scenes from Harlem, where Muhammad and his wife, Lisa Redd, currently reside.
The second room of the exhibition is devoted to Muhammad's photo portraits of several children who were orphaned as a result of the 2010 earthquake in Haïti. All of these works are in color.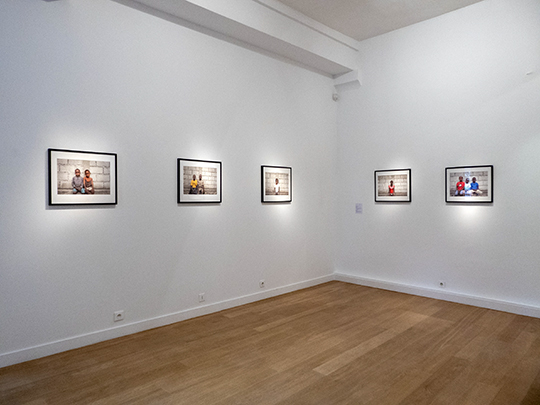 Photos of Haitian orphans - 1
© Entrée to Black Paris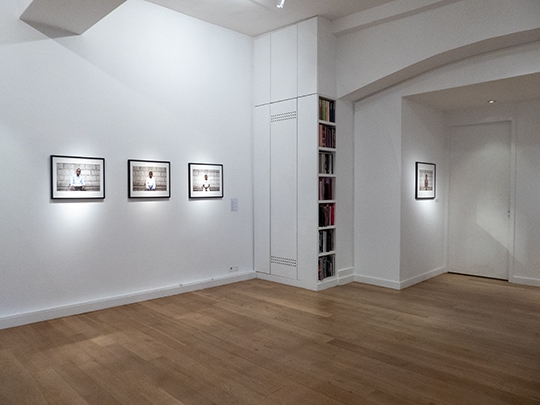 Photos of Haitian orphans - 2
© Entrée to Black Paris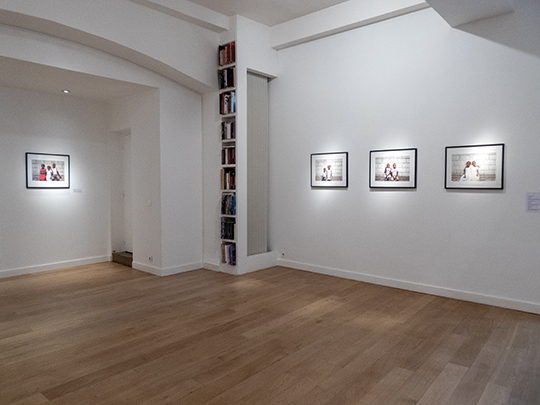 Photos of Haitian orphans - 3
© Entrée to Black Paris
Muhammad covered this story when he worked for the New York Times. He recounted how he and the rest of the journalist team could not fly into Port au Prince after the quake because the few airstrips that were functional were reserved for flights devoted to rescue missions.
Several days after entering Port au Prince, Muhammad learned of orphans being housed at a camp in the nearby town of Croix des Bouquet. He ventured there and found that though there was much destruction in the area, some structures had at least partially survived. He chose to photograph the children against a standing wall - a physical representation that not everything was crumbling around them. He photographed siblings together.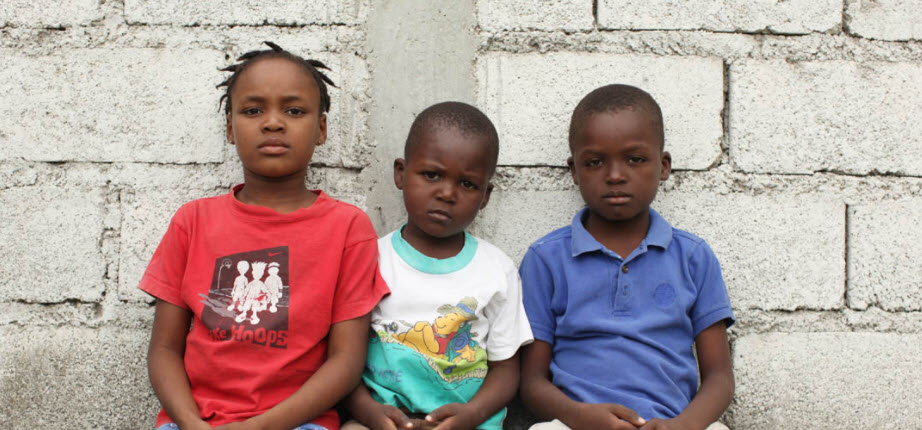 Haitian Children Orphaned after the Earthquake, 2010
Digital inkjet print
Image of detail of framed photo © Entrée to Black Paris
The facial expressions of the children in these photos say everything you'd want to know about their situation.
I asked if there might be a way that this photo series could be used as a way to reunite the children (who are now adults) who inhabited this camp. Muhammad did not know if they were able to stay connected after the adoption agencies who came to Haïti in the aftermath of the quake finished their work, whether individually or through an organization of some kind.
After walking through this room with Muhammad, I asked him whether he considers his photography to be art. He responded that he always strives to show works that go "beyond reportage" - that say something meaningful, indeed inspiring, about the human condition. Though he has taken thousands of photos as a photojournalist to document horrific conditions of war, natural disaster, and other forms of tragedy , there are relatively few that meet this self-imposed criterion for exhibition.
Ozier Muhammad is on display through March 26, 2022 at:
Galerie Sophie Scheidecker
14 bis, rue des Minimes
75003 Paris
Telephone: 01.42.74.26.94
Internet: https://www.galerie-sophiescheidecker.com
Metro: Chemin Vert (Line 8)
Learn more about him here: http://oziermuhammad.com/background/.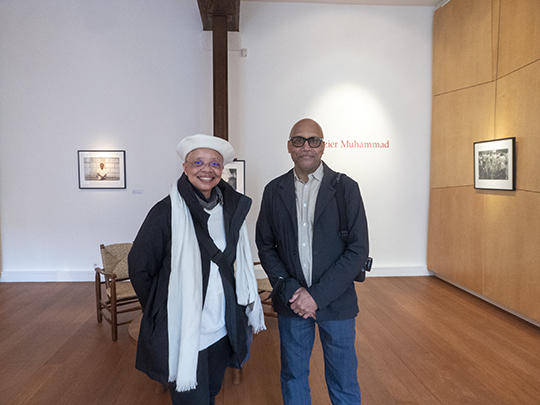 Monique Y. Wells and Ozier Muhammad
© Entrée to Black Paris