Thursday, June 18th, 2020
On Truth & Out-Rage
Cover image: Manifestation contre les violences policières II (detail)
© Roseline Armange

This is the second part of a three-part poem called "Out-Rage," submitted by Dr. Roseline Armange (Lucy Jane)*.
************
Telling the Truth:
An Out-Rage of feelings
Off are my feelings
Off is my brain
My feelings are burning
Burning in the cities
My feelings are walking in the cities!
My feelings are outraging at the police station
My feelings are outraging at your house
My feelings are outraging in the middle of the wind, the middle of the sunset
Bleeding of millions of years of silences, traumas and abuse of racial power.
My feelings are bleeding, dancing in your streets until the sun comes down
My feelings will remain in your cities until the Sun rises again
Until peace rises again
Until justice rises again.
An endless process
Tired, I am!
Tired of justice? Never I will.
It is:
An Out-Rage of my mind
An Out-Rage that has no words
What can I say when the world is falling apart
When race is the common denominator of revealing the deepest truth of those who race has made them entitled for.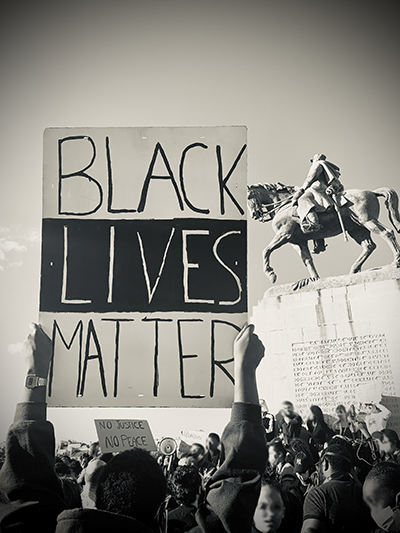 Manifestation contre les violences policières II
© Roseline Armange
An entitlement of the modern world.
An entitlement for the Human race
As if, there was one race, one culture, one tongue, one skin.
Feeling of entitlement, a political concept that find its psychological roots in the idea of special deservingness by the virtue of magnanimous phantasmagoric beliefs.
"I am that I am - they thought -
"I am that I am by essence of my divine theocracy, the pureness of my skin tone!" - they inscribed.
Thus, the feeling of being God - a bipolar syndrome in constant crisis. Ideation of a collective Western Grandeur
Engendering holes, wounds, and hatred.
Distorting cultural harmony
Twiddling social harmony
Blazing racial harmony
Harassing peacemaker
Harassing peacebuilder
Abusing power
Entitled! right?
To think right, right?
Entitled to say:
"I was protecting myself, he was potentially a murderer, so I shot."
"He looked at me in a certain way, so I shot."
"It is because we are divinely pure, your race is ugly."
"It is because, you know what I mean, we need to control them, they are savage by nature!"
"It is, maybe, because I have an issue with myself: the ignorance of my White race that is my humanity falling apart from an ideological history that I felt entitled with."
Will I tell me this thing? No, why should I rethink something that was ingrained in my privilege? Why should I remain cognizant? It has been done; it has been proven in History say those types of Whites ...
I said: "Those types of Whites."
Because:
Revolution of Love has no color
Revolution of Justice has no gender
Revolution of Peace is limitless
Revolution of Humanism has no race
Revolution of Dignity is Universal
For those Whites and politics
For those types of Whites and the policies
For those types of Whites and the institution
For those types of Whites and the democracy
For those types of Whites and the system
For those types of Whites and modernity.
Lucy Jane. Millions of thoughts, millions of time, millions of us: A process in several pieces.
Paris, Mardi 02 Juin 2020.
Paris, Jeudi 04 Juin 2020.
Paris, Lundi 08 Juin 2020.
*A clinical and health psychologist by training, Dr. Roseline Armange (Lucy Jane), earned her doctorate in cognitive psychology at the École Pratique des Hautes Études (Sorbonne, Paris) with summa cum laude distinction (mention très honorable et les félicitations du jury). Her scholarship exploits the intersection of politics, race, gender, literature, philosophy, and psychology. The interdisciplinary nature of her research led her to be selected as the 2018-2019 Dubois-Mandela-Rodney Postdoctoral Fellow and Visiting Faculty at the Department of Afroamerican and African Studies of the University of Michigan (Ann Arbor). By placing non-Western academic knowledge's and creative praxis at the epicenter of her work, Armange's scholarly and artistic foundations challenge the cultural and Western world view. Her career as a humanistic scholar intertwines with her artistic persona. Art and aesthetics are at the intersections of her passions for creative writing, fashion, and Soul-Jazz music. Her world mission aims to inspire and awaken the light in us.