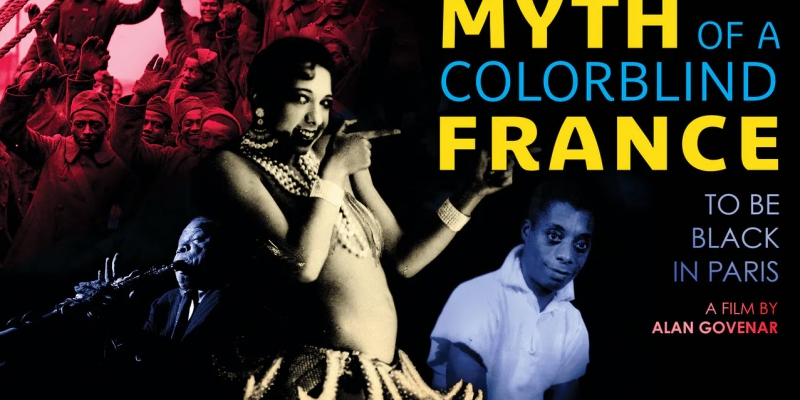 Thursday, October 1st, 2020
Myth of a Colorblind France
Cover image: Graphic for Myth of a Colorblind France
Myth of a Colorblind France is an 86-minute documentary by Alan Govenar about race relations in France.
More precisely, it is about an idea that African Americans have held for centuries - namely, that France is a racial haven and that being black here does not have the same negative connotations and consequences that it does in the U.S.
Your reaction to the documentary will depend in part on how you define the word "myth" ("a traditional story or set of stories [accepted as true]" or "a commonly believed but false idea"). Myth of a Colorblind France presents the topic through the lens of the latter definition.
Govenar has addressed this subject matter, which is more timely than ever due to the resurgence / emergence of attention to Black Lives Matter across the globe, using historical and contemporary anecdotes delivered by scholars, writers, artists, and performers. While some have been critical of this format, it worked well for me.
Among the scholars are Tyler Stovall, author of the iconic Paris Noir: African Americans in the City of Light, and Michel Fabre, author of From Harlem to Paris: Black American Writers in France, 1840-1980. Long-time African American expatriates such as artist/writer Barbara Chase-Riboud and writer Jake Lamar also figure prominently in the production.
Govenar incorporates a French perspective on this question late in the documentary through interviews with percussionist Karim Touré and hip hop producer Ben the Glorious Bastard.
The current version of Myth of a Colorblind France is in English, with rare French-language segments being accompanied by English subtitles. Govenar is now working on a version with French subtitles throughout.
Those who know me know that I am keenly interested in all things related to Beauford Delaney. I was pleased to find a short segment in Myth of a Colorblind France that features Beauford and his work. It opens with Carl Van Vechten's gorgeous 1953 photo portrait of Beauford, taken only a couple of weeks before Beauford set sail for France.
Beauford Delaney
1953 © Carl Van Vechten
I am among the first persons to be seen in the documentary and I enjoyed reminiscing with Govenar about our interview for the film when I spoke with him last week. I was pleased to learn that he was inspired to name the documentary as he did because of the title of the PowerPoint presentation that I've been giving to study abroad groups and free / fully independent travelers (FIT travelers) for more than a decade: "Black Paris and the Myth of a Colorblind France."
Among the things Govenar and I discussed is the distribution system that he has chosen for the film.
Myth of a Colorblind France is distributed by First Run Features, one of the largest independent distributors in North America. Founded in 1979, the company releases between 15-20 films a year in theaters nationwide and an additional 30-40 films annually to schools, libraries and other educational institutions.
It also releases films online, as is the case for Myth of a Colorblind France.
Through First Run Features, independent cinemas are offering the documentary to their local audiences online and 50% of the "rental fee" generated goes directly to the cinema as support during the economic crisis generated by COVID-19.
Alternatively, viewers can access the video directly through First Run Features, with an option to "rent" ($10) or to "buy" ($20).
To purchasing tickets for viewing, click here: https://watch.firstrunfeatures.com/products/myth-of-a-colorblind-france-at-first-run-features