Thursday, April 25th, 2019
Michelle Obama in Paris
On the evening of April 16, 2019, I joined the crowd of thousands at the AccorHotels Arena in Paris' 12th arrondissement for the pleasure and privilege of seeing Michelle Obama talk about her autobiography, Becoming. (The French translation of the book is entitled Devenir.)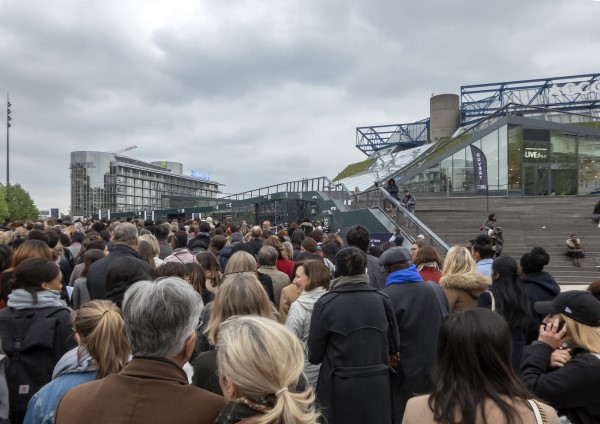 Crowd assembling to see Michelle Obama
© Entree to Black Paris
As we took our seats and waited for what was billed as "an intimate conversation" began, we were regaled by images of still photos of Michelle as a child and young adult as well as photos and video of her as First Lady of the United States.
These were interspersed with quotes from the book and images of tweets posted by people in the audience. The pertinent hashtag was #IamBecoming.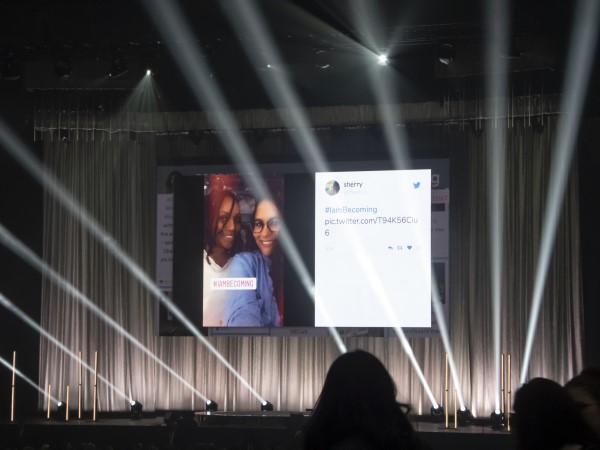 Tweet - #IamBecoming
©Entree to Black Paris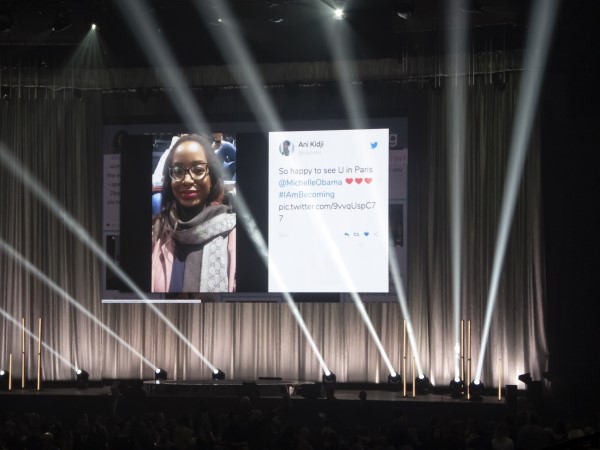 Tweet - So happy to see U in Paris
©Entree to Black Paris
Finally, the time came for the conversation to begin. Isha Sesay, formerly of CNN International, emerged from back stage and delivered introductory remarks. We saw video interviews of Michelle's brother and mother and of Barack Obama talking about Michelle. Sesay then welcomed Obama to the stage and conducted the interview.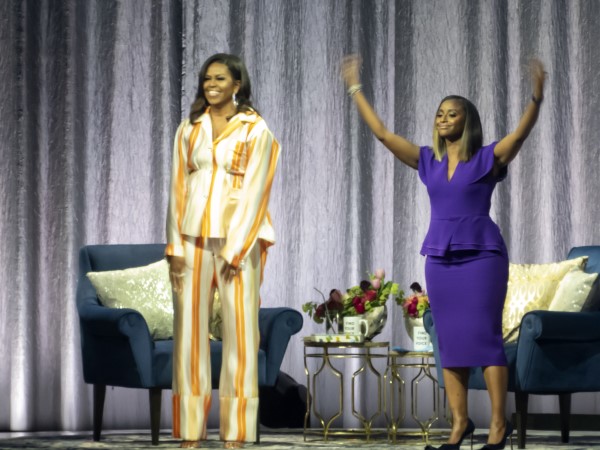 Michelle Obama and Isha Sesay
©Entree to Black Paris
Before diving into the discussion, Sesay asked the former first lady to comment on the fire that ravaged Notre Dame Cathedral. Click below to see Michelle's response.
The interview was indeed intimate. While the topics covered in Becoming were covered in broad strokes, we also got to hear Michelle talk in detail about her passion for encouraging people - especially women and girls - to examine and embrace their stories, find their voice, and share their stories with the world.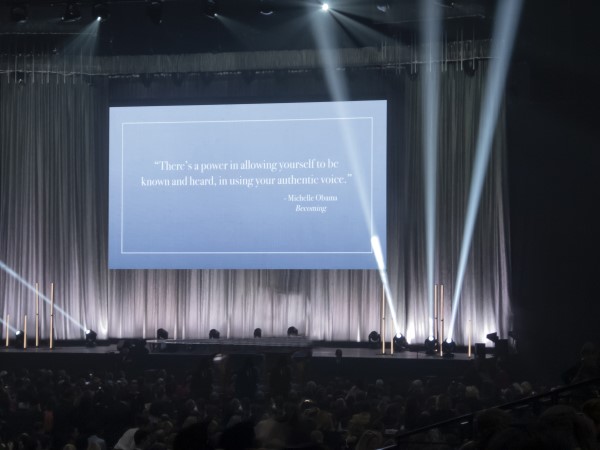 There's a power in allowing yourself to be known and heard,
in using your authentic voice.
Michelle Obama, Becoming
©Entree to Black Paris
As an example, she talked about how watching her father deal with the debilitating effects of multiple sclerosis inspired her to encourage children to exercise and eat healthily - she said the ability to physically move is something that no one should take for granted.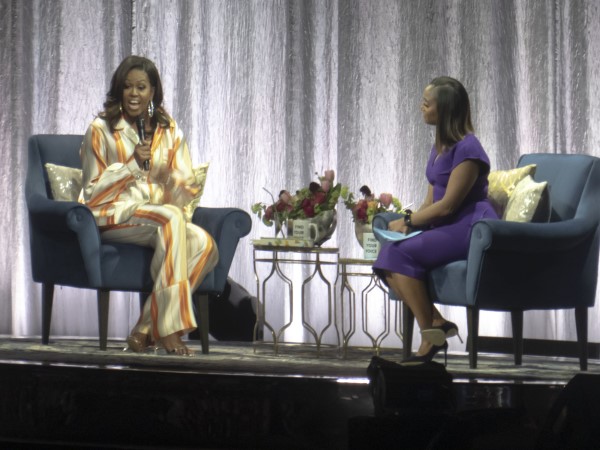 Michelle Obama and Isha Sesay
©Entree to Black Paris
Michelle also spoke of her miscarriage and subsequent surprise to discover that miscarriages occur frequently. She learned that women tend not to talk about the subject, as though experiencing a miscarriage somehow reflects badly upon you as a person. She encourages women to talk about this and other fertility issues with each other and with their daughters to diffuse the sense of isolation and shame that can come with such experiences.
As is general practice with such events, large screens allowed those seated far from the stage to see Michelle "up close and personal."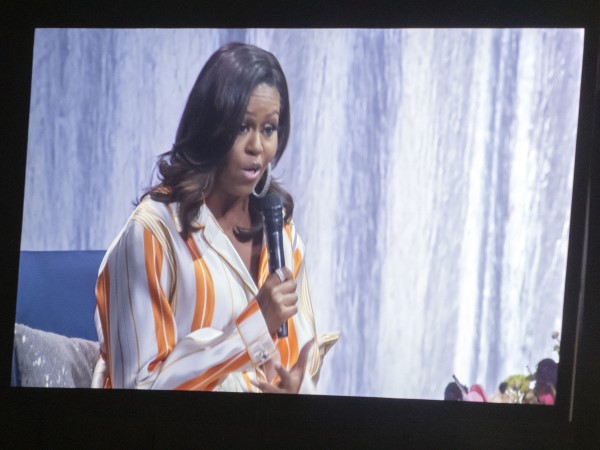 Michelle Obama on screen
©Entree to Black Paris
In my view, the most intimate parts of the conversation revolved around Melia and Sasha and what effect growing up in the "bubble" that the White House environment has had on them. Her most fierce desire was to create as much of an atmosphere of normalcy for the girls as possible.
The 90-minute interview was over in what seemed to be a flash. The crowd gave Michelle a standing ovation as she left the stage.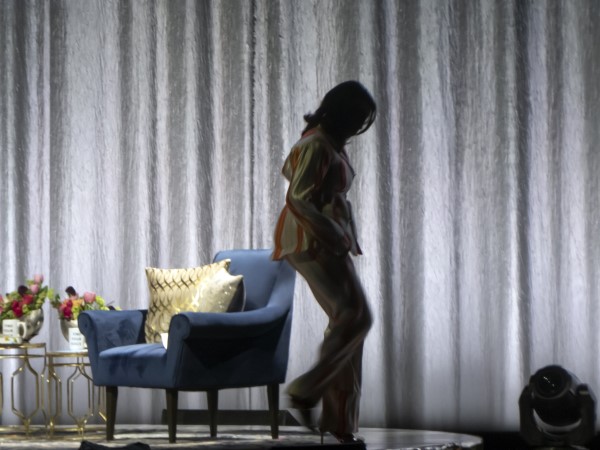 Obama leaving the stage
©Entree to Black Paris
Those who were fortunate enough to have purchased a ticket that allowed them personal access to Obama proceeded to the area where they would meet her. The rest of us filed out of the arena to the tune of Stevie Wonder's "Signed, Sealed, Delivered." The image below filled the big screens as we left.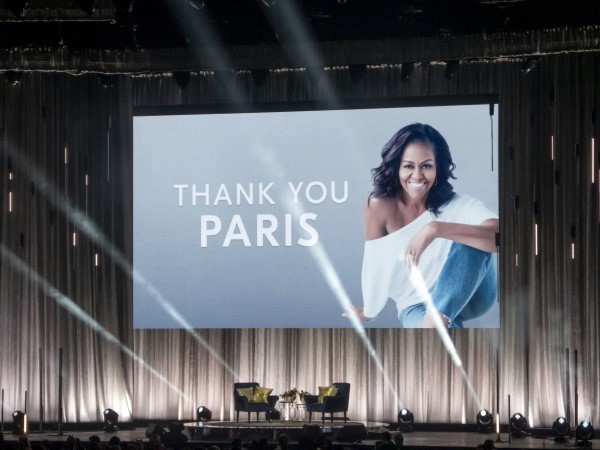 Thank you Paris
© Entrée to Black Paris
Click HERE to find out where Michelle is going next!