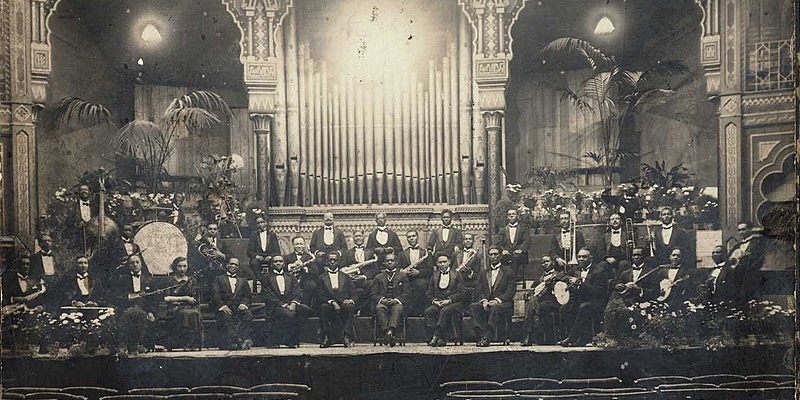 Thursday, May 27th, 2021
Mazie Mullins: A Forgotten Pioneer of Early Jazz - Part 1
Cover image: Southern Syncopated Orchestra on a London stage in 1920
Image in public domain
This two-part article was contributed by Bob Tomlinson, a Jamaican-American artist, retired French professor, and long-time Paris resident who made the City of Light his home "by accident." He and I share a burning passion for investigating the history of African-American Paris, particularly regarding "Black Montmartre" during the interwar years.
In the aftershock of the Great War, at a time when what we know as jazz was evolving out of the blues and ragtime, a cluster of jazz clubs sprang up in the spider web of streets south of the Place Pigalle. These nightspots replaced the traditional artists' studios and cafés of the Impressionist era; within their walls, far from the racist shores of America, a small group of Black American musicians and performers established a cultural utopia.
But in the annals of what has been labeled "Harlem in Montmartre," a name has been largely forgotten.
Mazie Mullins was one of the pioneering women who brought jazz to Paris. (Read "Library #5: Where Are All the Heroines?" for an interesting account of women jazz musicians from Mullins' era.)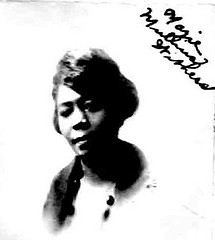 Mazie Mullins - passport photo
Image in public domain
Like most women musicians at the time, Mullins was married. Her husband, trumpeter Frank Withers, was a member of the Jazz Kings - the famous band led by legendary drummer and cabaret owner Louis Mitchell. While Withers entertained dancers at the chic Perroquet night club above the famous Casino de Paris, Mullins carved out her own equally influential space at the Tempo Club, an intimate mezzanine secreted above the large night club owned by colorful Italian-American cabaret king Joe Zelli on the rue Fontaine.
Mazie had met Frank as a young woman in her hometown of Denver, Colorado. He was eight years her senior. Charming, pretty, and extremely talented, she received her first trumpet from the man who became her husband. For a number of years, they toured in vaudeville before moving to New York, where they rapidly gained recognition.
Mazie was considered one of the most versatile instrumentalists in the city, mastering the saxophone, piano and trombone with equal facility, not to mention playing in a "ladies orchestra," and accompanying silent films at the Lincoln Theatre in Harlem where a young Fats Waller was her protégé. Though she was timid by nature, one critic nevertheless wrote that "her tone, ringing and triumphant in heroic phrases, is tender and velvety in the purely melodic. Miss Mullins is the possessor of that most difficult of all trombone effects—the true legato."
In 1919, Mazie accompanied Frank to Paris with the newly formed Jazz Kings. When he took a leave to lead the Orchestra at the Portman Rooms in London that fall, she went with him and played sax in the band. In December, they toured with the fabled Southern Syncopated Orchestra, a group that was primordial in introducing jazz to Europe.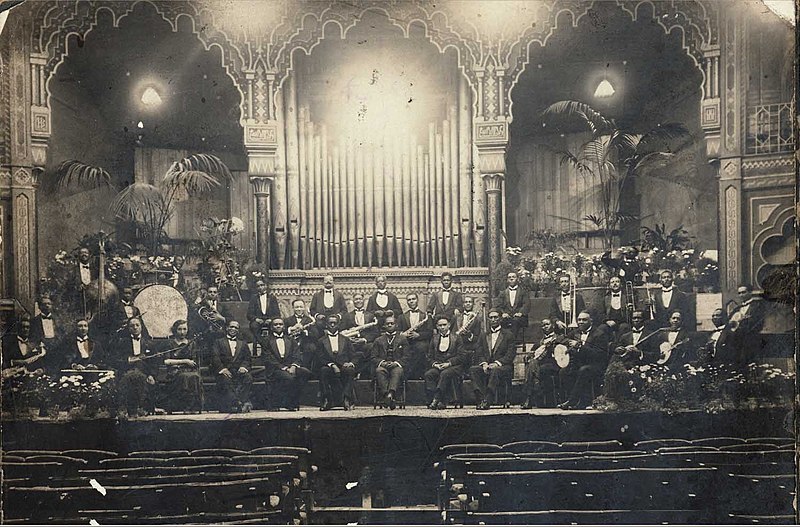 Southern Syncopated Orchestra, London 1920
Photographer unknown
CC-BY-SA-4.0
Sometime after April 1920, Frank rejoined Mitchell's Jazz Kings during a residency in Brussels, and when the band returned to Paris in March of 1921, he and Mazie were with them. Frank began his long tenure at the Casino, and Mazie initiated her lamentably brief involvement with the Tempo Club, founded in collaboration with a Black banjoist, Joe Boyd. Little has been written about this quasi-clandestine, yet seminal institution, but its dramatic downfall was widely covered in the newspapers.

Come back to the blog next week to read about the Tempo Club in Part 2 of "Mazie Mullins: A Forgotten Pioneer of Early Jazz."