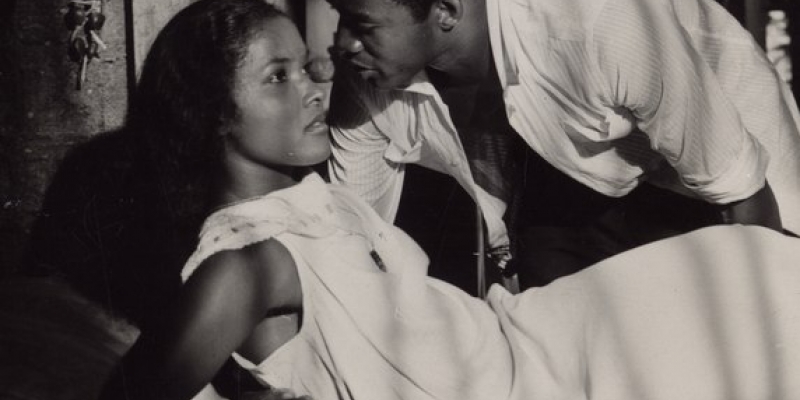 Thursday, March 5th, 2020
Marpessa Dawn - A Little Known Star in Paris
Cover Image: Marpessa Dawn and Breno Mello in Black Orpheus (public domain)
If you've heard of Marpessa Dawn, it's likely because of her role as Eurydice in the 1959 Brazilian film Orfeu Negro (Black Orpheus), which received the Cannes Palmes d'Or award in 1959 and the Academy Award for Best Foreign Film in 1960.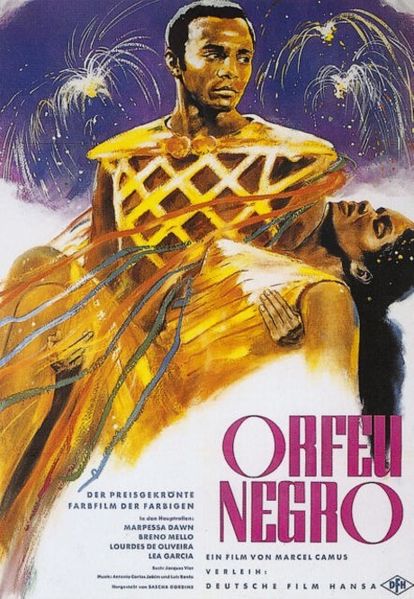 German movie poster for the film Black Orpheus (1959)
Helmuth Ellgaard (1913-1980) - Holger.Ellgaard
CC-BY-3.0
But few people know that Dawn, who was African-American and Filipino, moved to France in 1953 and lived here until her death in 2008. She won the role of Eurydice at the age of 24.
Dawn's other major triumph as a performer was her starring role in the French play Chérie Noire, written by François Campaux and performed on stage and television during the 1960s.
In 1961, she played the role of Jessie Granger in the Marcel Aymé play entitled Louisiane. Jessie is the previously unknown black relative of a white family that has just been informed of a fortune that all can inherit if they spend seven weeks together in the family mansion in Louisiana. One of the members of the family is Lorna, Jessie's sister. Louisiane was performed at the Théâtre de la Renaissance; Darling Légitimus was part of the cast.
In 1963, Dawn gave a brief and charming interview (in French) to Ina.fr.:
1963: rencontre avec Marpessa Dawn, l'étoile "d'Orfeu Negro"
In 1966, she starred in The Skin of our Teeth by Thornton Wilder at Le Studio Theatre of Paris, a venue associated with the American Church that presented Anglo-American plays in English. The play was produced by African-American actor and club owner Gordon Heath. It ran for ten days, beginning on November 9.
She also gave a brief interview to Ina.fr (in French) for Valentine's Day 1966, during which she sang.
La Saint Valentin de Marpessa Dawn
Ebony Magazine published feature stories about Dawn in November 1959 and in May 1965. The 1959 article includes a photo of her and her second husband with Leroy Haynes at Haynes' Restaurant (p. 90).
Dawn was married twice, first to Marcel Camus (director of Black Orpheus) and then to Belgian actor Georges-Eriv Vander-Elst. She died in Paris at the age of 74 and is buried at Père Lachaise Cemetery.