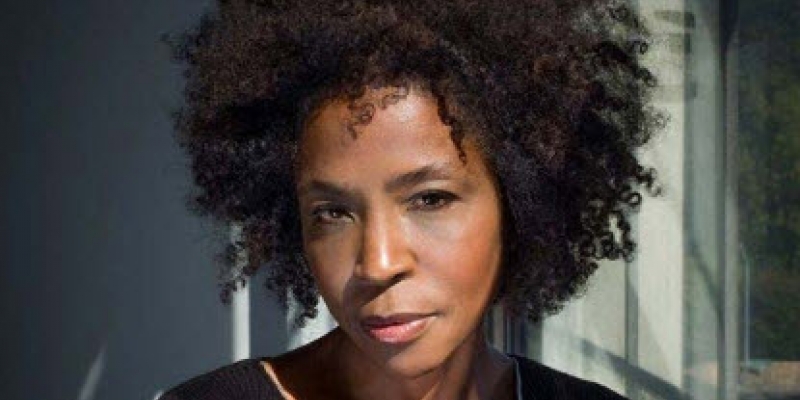 Thursday, May 2nd, 2019
Lorna Simpson - No Stranger to Paris
Cover image: Detail from James Wang photo in Getty Communications press release

I recently learned that photographer Lorna Simpson has been named as one of three recipients of the J. Paul Getty medal this year.
Established in 2013 by the trustees of the J. Paul Getty Trust, the J. Paul Getty Medal has been awarded to 11 distinguished individuals to honor their extraordinary contributions to the practice, understanding and support of the arts. Simpson and the other honorees will receive their awards at a celebratory dinner at the Getty Center in Los Angeles this fall.
This news triggered my memory of Simpson's first large-scale exhibition in Europe, which I was sadly unable to see. It also prompted me to do some research on this amazing artist. I was intrigued when I learned that her work has been shown in Paris over the course of almost thirty (30) years!
The large-scale exhibition, entitled simply Lorna Simpson, was shown at the Jeu de Paume, place de la Concorde, in Paris from May 28 -September 1, 2013.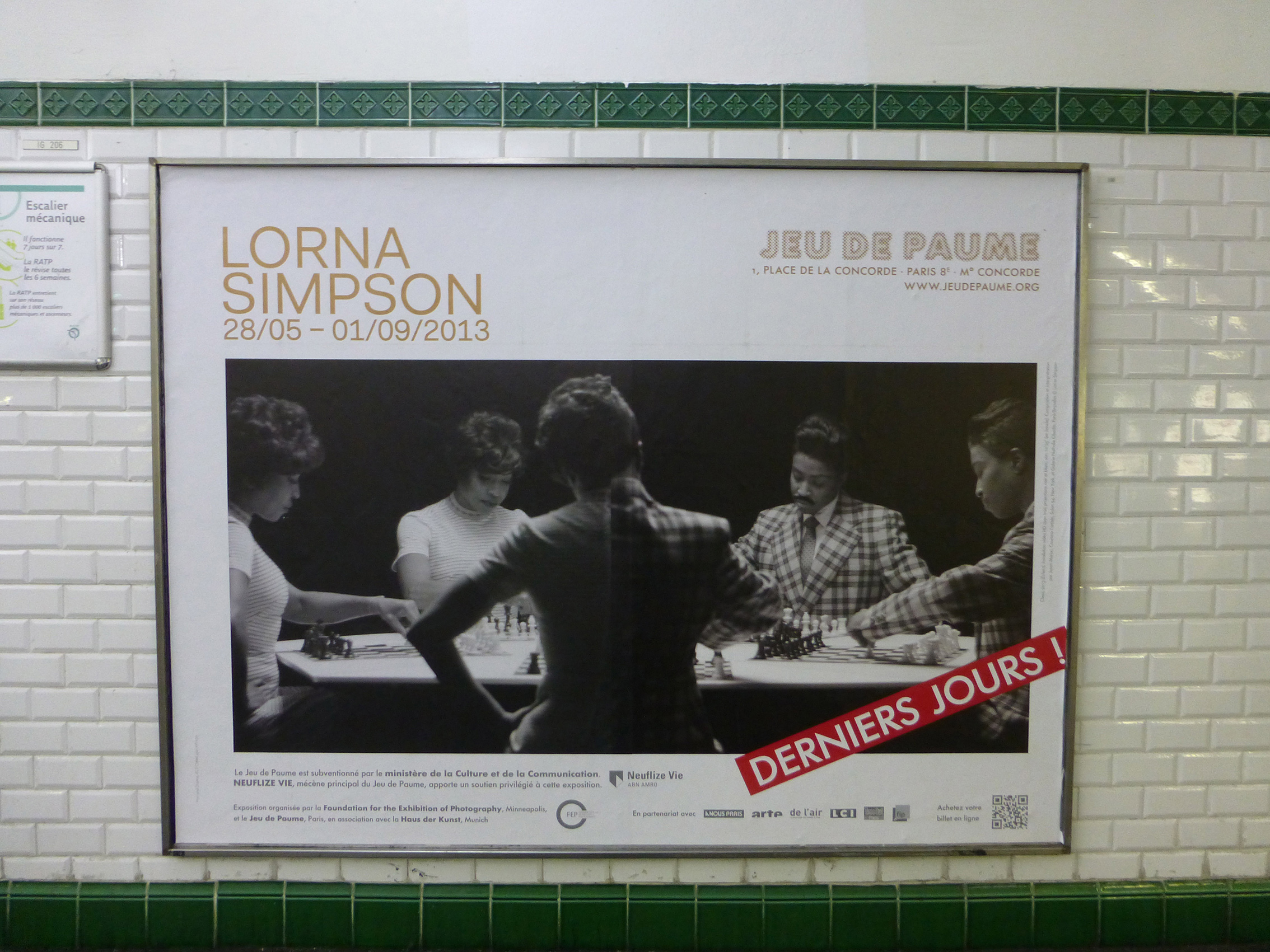 Advertisement for Lorna Simpson at the Jeu de Paume
©Discover Paris!
It then traveled to Haus der Kunst in Munich, Germany; the Baltic Center for Contemporary Art in Gateshead, Great Britain; and the Addison Gallery of American Art in Andover, Maryland in the U.S.
Watch Simpson talk about how she became interested in photography and how she conceived of the works presented in this exhibition in the video below.
Click HERE to view photographs of the show.
Simpson's work was subsequently exhibited at the Jeu de Paume in 2016 as part of a group show called Soulèvements (Uprisings). This exhibition also traveled internationally, with stops at the Museu Nacional d' Art de Catalunya in Barcelona, Spain; MUNTREF - Museo Universidad Nacional Tres de Febrero in Buenos Aires, Argentina; SESC in Sao Paulo, Brazil; MUAC, Museo Universitario Arte Contemporañeo in Mexico City, Mexico; and Galerie l'UQAM and Cinematheque quebecoise, in Montreal, Canada.
Simpson has shown her work in two solo exhibitions at the contemporary Paris art gallery Nathalie Obadia - New Work in 2009 and Videos / Photographes in 2004-2005. In 2015, she joined other artists for a group exhibition called Et autres identités at the Pavillon Vendôme in the Paris suburb of Clichy la Garenne and in 2014, she participated in a show called A History. Art, Architecture, Design from the 80s to Now at the Centre Pompidou, France's museum of modern and contemporary art. Centre Pompidou acquired Simpson's Summer 57/09 (2009), a series of "old found photographs featuring a middle-class Afro-American woman of the 1950s with recent self-portraits," from Galerie Nathalie Obadia in 2010.
On February 1-3, 1994, a conference called "A Visual Arts Encounter, African Americans and Europe" was held at the Palais de Luxembourg. Simpson joined numerous African-American artists, including Bettye Saar, Sam Gilliam, Faith Ringgold, and Howardena Pindell to explore the relationship between African-American artists and Europe during the event.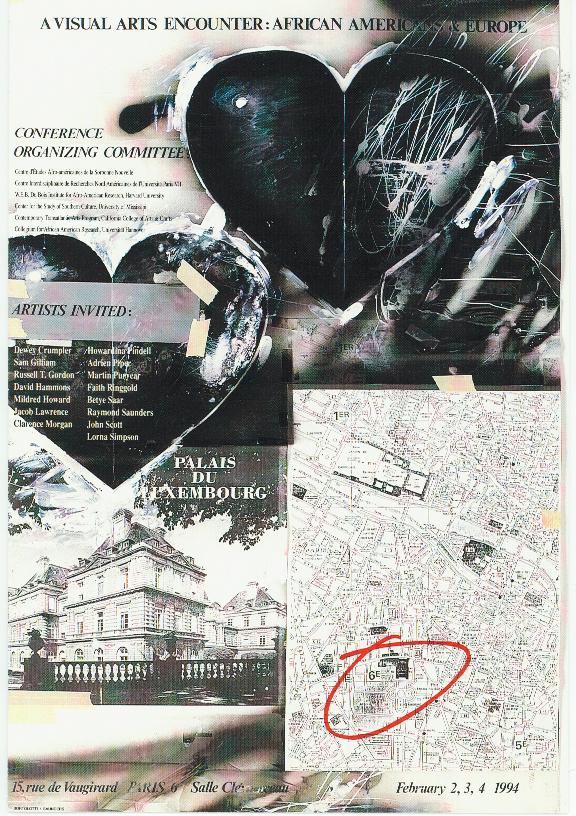 Invitation to "A Visual Arts Encounter : African Americans & Europe
In 1992, Simpson's work was shown in Paris as part of the Trans-Voices exhibition hosted by The American Center in collaboration with the Public Art Fund and
the Whitney Museum of American Art. Trans-Voices was a multimedia public art exhibition designed to "transcend geographic and language barriers with urgent messages about fundamental social, political, economic and ecological shifts affecting the world at the close of the 20th century." The artwork was designed to be presented on television, radio and throughout the subways in Paris and New York.
For this exhibition, Simpson sought to address the devastating effects of the AIDS epidemic by creating a billboard depicting a pair of lips with the words "She was," "He was," "They were," in both English and French, beneath them. Public Art Fund's Web site informs us that "directly above each phrase are arrows and figures, slight markings of height and weight that indicate where a living human body once stood but where now resides only dead space."
As early as 1990, Simpson's photography was shown in a group exhibition called All Quiet on the Western Front? at Galerie Antoine Candau in Paris. See one of the works from this show HERE.
Simpson's most recent exhibition opened last week in New York. Called Darkening, it will be on display through July 26, 2019 at
Hauser & Wirth
548 West 22nd Street
New York 10011
Telephone: 1 212 790 3900