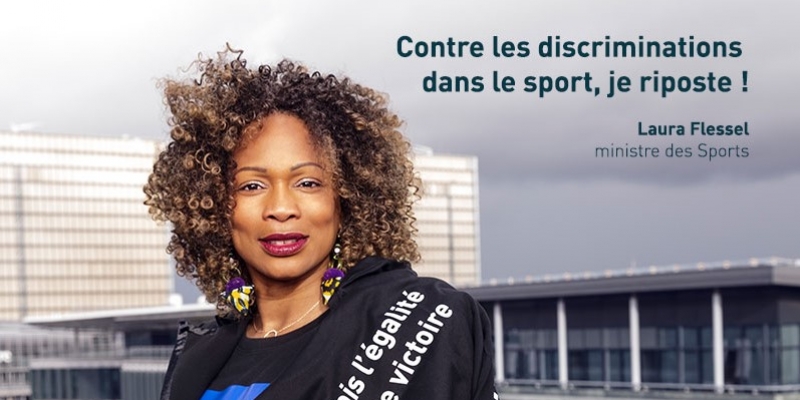 Sunday, July 28th, 2019
Laura Flessel - Sportswoman, Politician, and Philanthropist
A few days ago, I saw a poster of a woman holding a garment bearing the slogan "Parfois, l'égalité est une victoire" (Sometimes, equality is a victory). I was surprised to see that the woman, Laura Flessel, was identified as Ministre des Sports (Sports Minister).
I had never heard of Flessel before and made it my business to look her up as soon as I returned home. I am pleased to present this blog post about her.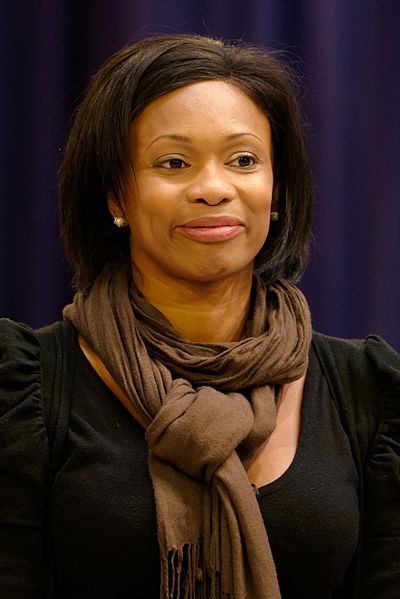 Laura Flessel-Colovic at the teams trophy presentation
Saint-Maur International Challenge 2013
Women's épée World Cup tournament
© Marie-Lan Nguyen / Wikimedia Commons / CC-BY 2.5
Laura Flessel is an Olympic / world champion fencer, French politician, and philanthropist.

Her foray into fencing began at the tender age of six in Petit-Bourg, Guadeloupe. She honed her natural gift for the sport into a career, specializing in épee fencing. (The épee is the largest and heaviest of the three weapons used in modern fencing, with the other two being the foil and the sabre.) She eventually won five (5) Olympic medals (2 gold, 1 silver, 2 bronze), thirteen (13) world champion medals (6 gold, 3 silver, 4 bronze), six (6) European champion medals (1 gold, 5 bronze), and numerous championship medals in France and in other competitions over the years. She was flag bearer for the French Olympic delegation at the Summer Games in London in 2012, where she competed for the last time at the age of 40.

Flessel served as a sports commentator for the French television station Canal+ during the 2016 Olympic games. She is actively involved with several philanthropic and non-governmental organizations that support sports, gender equality, and human rights. During the 2000s, her Ti'Colubri association partnered with the Jean-Luc Lagardère Foundation to provide sports clubs in underserved communities with fencing equipment as well as academic tutoring and coaching for young persons aspiring to join France's Olympic fencing team.

In 2010, Flessel accepted her first political post - she was named a member of France's Conseil économique, social et environnemental (Economic, Social, and Environmental Council). This organization advises French lawmakers on proposed or existing laws, ordonnances, and decrees pertaining to social, economic, and environmental issues.
In 2013, she was named a member of the Conseil National du Sport (National Sports Council).
In 2017, she was appointed Minister of Sports in the administration of French president Emmanuel Macron. One of her principal charges in this role was to prepare Paris for the 2024 Summer Olympic games.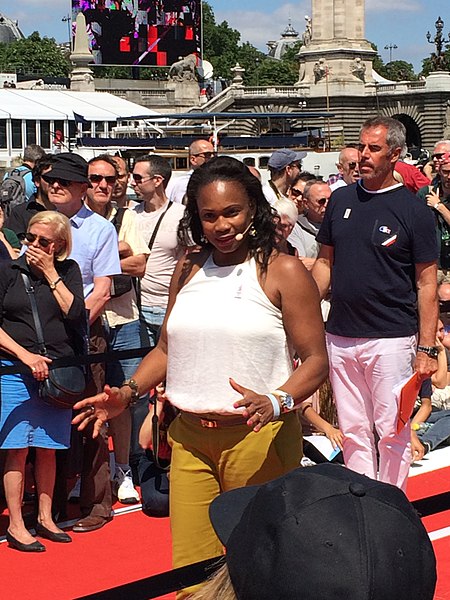 Laura Flessel - Olympic Days Paris June 2017
© Arthur Crbz / Wikimedia Commons / CC BY-SA 4.0

In 2018, Flessel launched the anti-discrimination in sports campaign called "Ex-Aequo - Parfois l'égalité est une victoire."* Several prominent sportswomen, such as Olympic boxer Sarah Ourahmoune and Olympic basketballer Emmeline Ndongue, as well as several sportsmen came forth to support this initiative.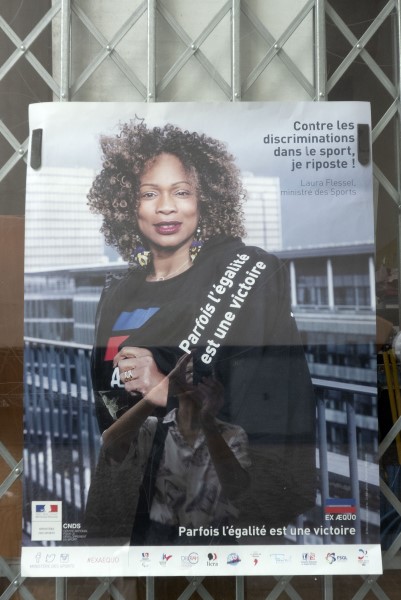 Laura Flessel - Parfois l'égalité est une victoire
© Entree to Black Paris
Minister Flessel resigned her position in September 2018 due to personal financial reasons.
The distinctions awarded Flessel by the French government include Chevalier of the Legion of Honor, Officer of the Grand Order of Merit, and Commander of the Grand Order of Merit. Her legacy is partially represented by the numerous sports complexes in the greater Paris metropolitan area that bear her name and by the Palais des Sports named after her in Petit-Bourg, Guadeloupe.
*Ex-Aequo means "equally placed". It means "tied" in the sports world.