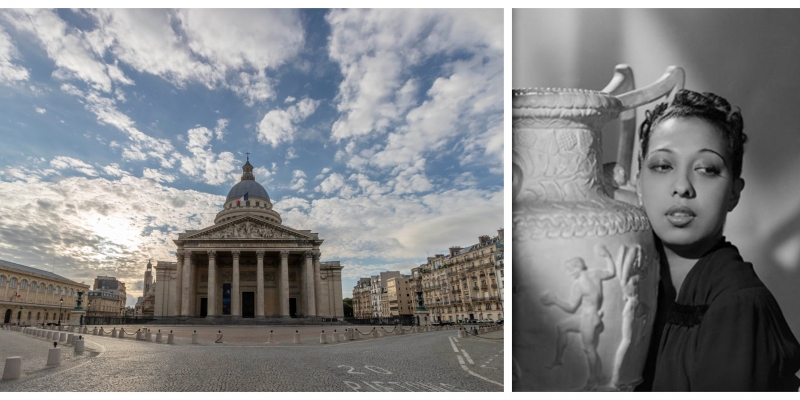 Thursday, December 2nd, 2021
Josephine's Glorious Entry into the Pantheon
Cover image: Collage - Place du Panthéon and Josephine Baker
Image of Place du Panthéon © Entrée to Black Paris; Image of Josephine Baker - Public Domain
In a splendid ceremony planned by the Elysées Palace, Josephine Baker took her place among France's greatest citizens as she was inducted into the Pantheon on November 30, 2021.
Six Air Force personnel transported a coffin containing soil from St. Louis (her hometown), Paris, the Dordogne region of France (where she owned the chateau called Les Milandes), and Monaco (her burial place) and draped in the French flag down a red carpet that had been laid along the entire length of rue Soufflot. Thousands of people, including many youth, lined the route to watch the ceremony.
Various recordings of Josephine's music played as the procession moved along the street, which leads directly to the Pantheon. The pallbearers stopped in front of the monument and images from Josephine's life were projected on its façade. The central doors opened, and the coffin was taken inside and placed beneath the dome. President Macron then delivered a powerful and eloquent speech punctuated with information about the key dates of Josephine's life.
The discourse was followed by the playing of the French national anthem, which was followed in turn by Macron and his wife greeting Josephine's children who attended the event.
Watch France 24 English's broadcast of the entire ceremony (with simultaneous English-language translation) and commentary by Annette Young, Curtis Young (no relation), and me here: https://youtu.be/CdLQsVqHiaE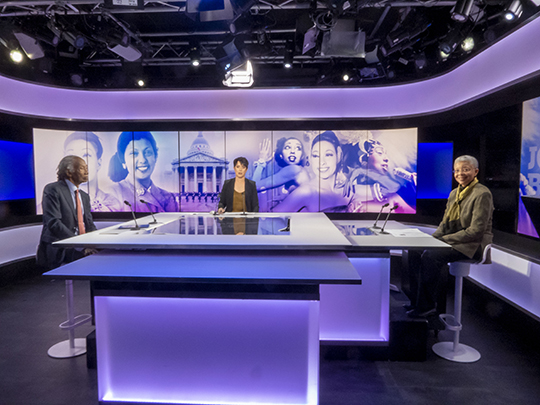 Curtis Young (l), Annette Young (c), and Monique Y. Wells (r)
© Entrée to Black Paris

The Joséphine en Rose event planned by Maison Noire Américaine, the Brian Scott Bagley Company, Little Africa, and Treize au Jardin, took place after the official ceremony. Held in the lobby of the Casino de Paris theater where Josephine sang "J'ai deux amours" for the first time, it was magnificent! Several members of the Rainbow Tribe and their children attended.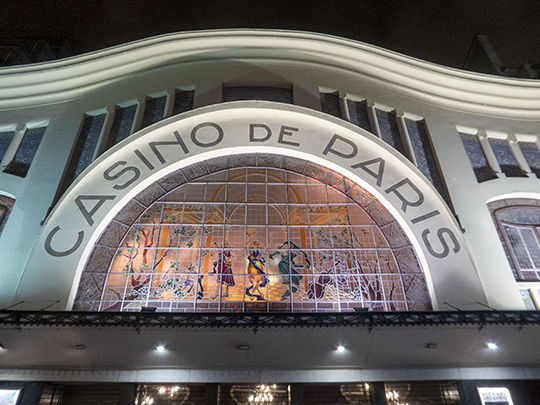 Casino de Paris façade
© Entrée to Black Paris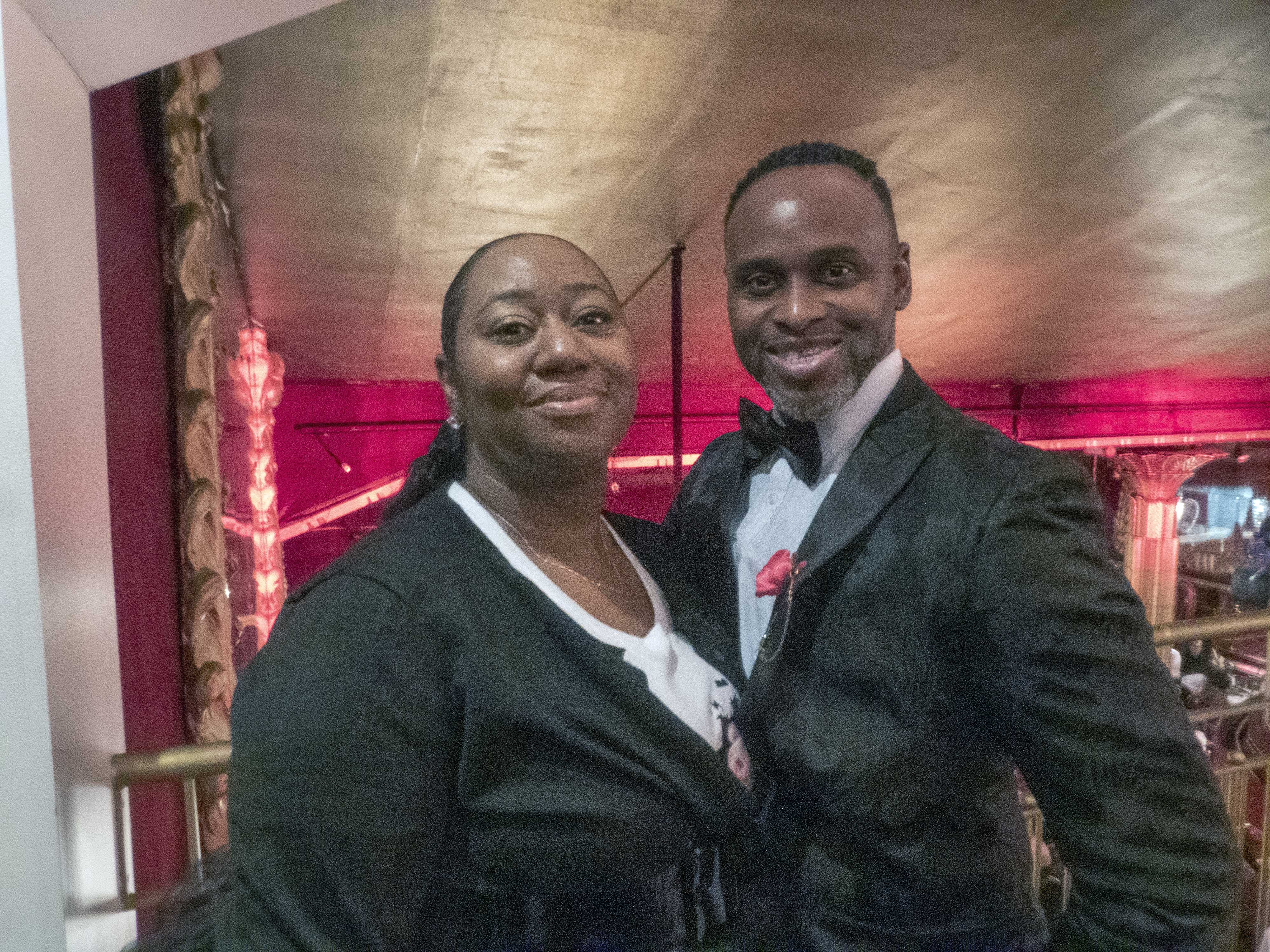 Robin Bates (Maison Noire Américaine) and Brian Scott Bagley
© Entrée to Black Paris
Maison Noire Américaine partnered with the black-owned champagne house Marie Césaire to create a commemorative bottle of "Joséphine en Rose" Cuvée Rosé Sec to mark this special occasion. Bottles could be reserved prior to the event and picked up during the evening.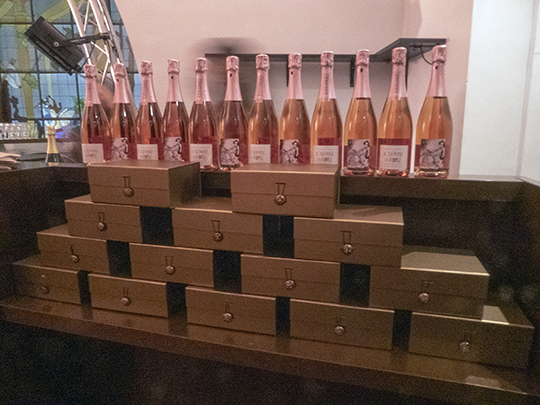 Champagne display
© Entrée to Black Paris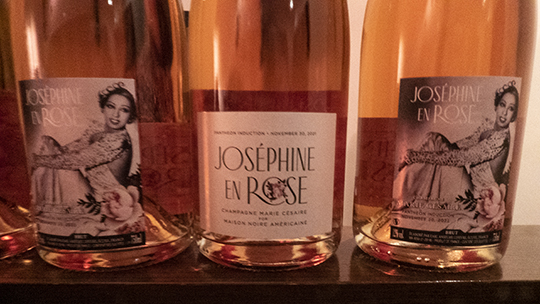 Joséphine en Rose champagne by Marie Césaire
© Entrée to Black Paris
Other events, activities, and locations that recently honored or continue to honor Josephine are as follows:
PARIS FOLLIES par LA BÂRONNE DE PANAME à LA COUPOLE – November 27, 2021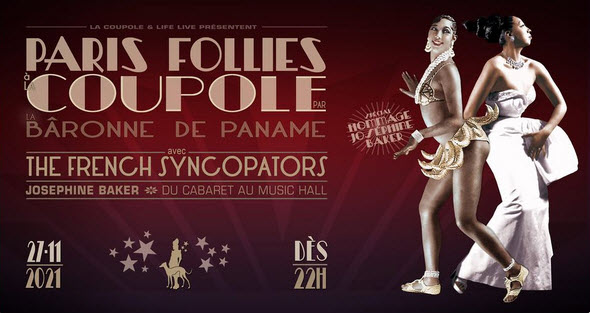 Paris Follies graphic
CEO Mom Empire Meet and Greet - November 29, 2021
A private reception hosted by Devon Moody-Graham and Little Africa.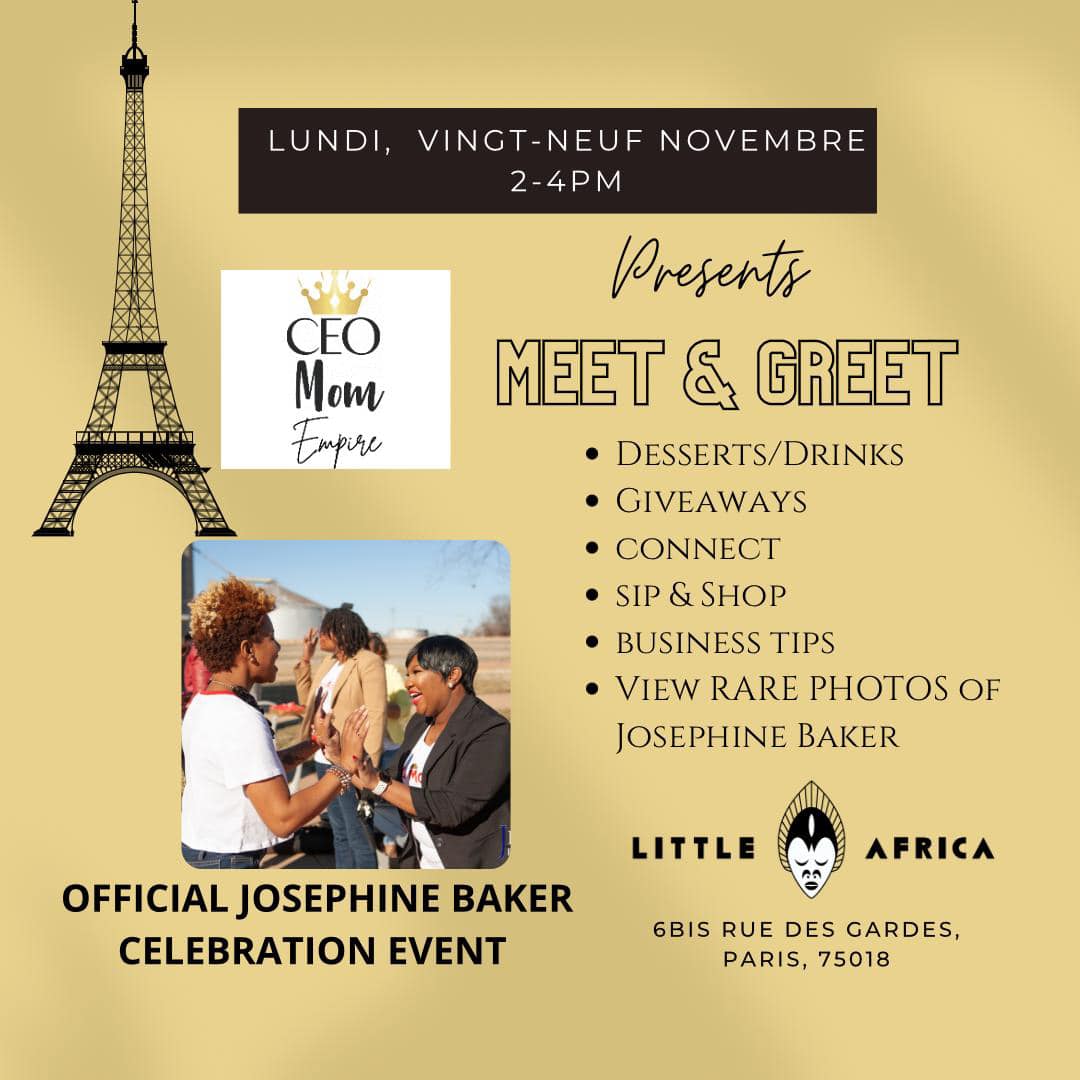 Mom CEO Empire flier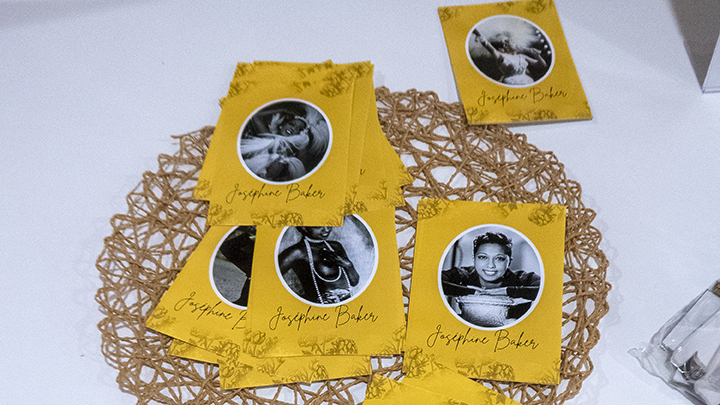 Photos of Josephine Baker
© Entrée to Black Paris

U.S. Ambassador's Residence - November 29, 2021
A private reception hosted by the U.S. Embassy in the presence of Josephine's Rainbow Tribe, preceded by a concert with Nicolle Rochelle, Brian Scott Bagley, Daniel Gassin, and the Harlem Drivers.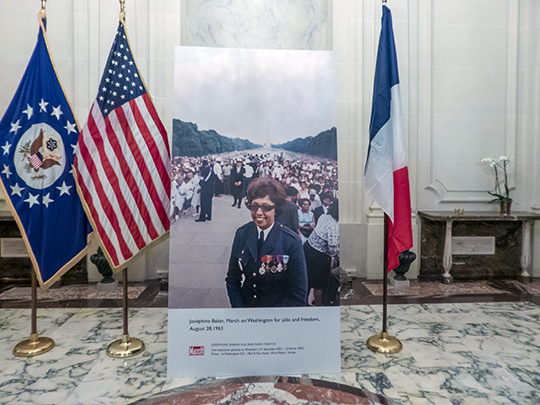 Foyer of the U.S. Ambassador's residence
Photo of Josephine Baker at the March on Washington
© Entrée to Black Paris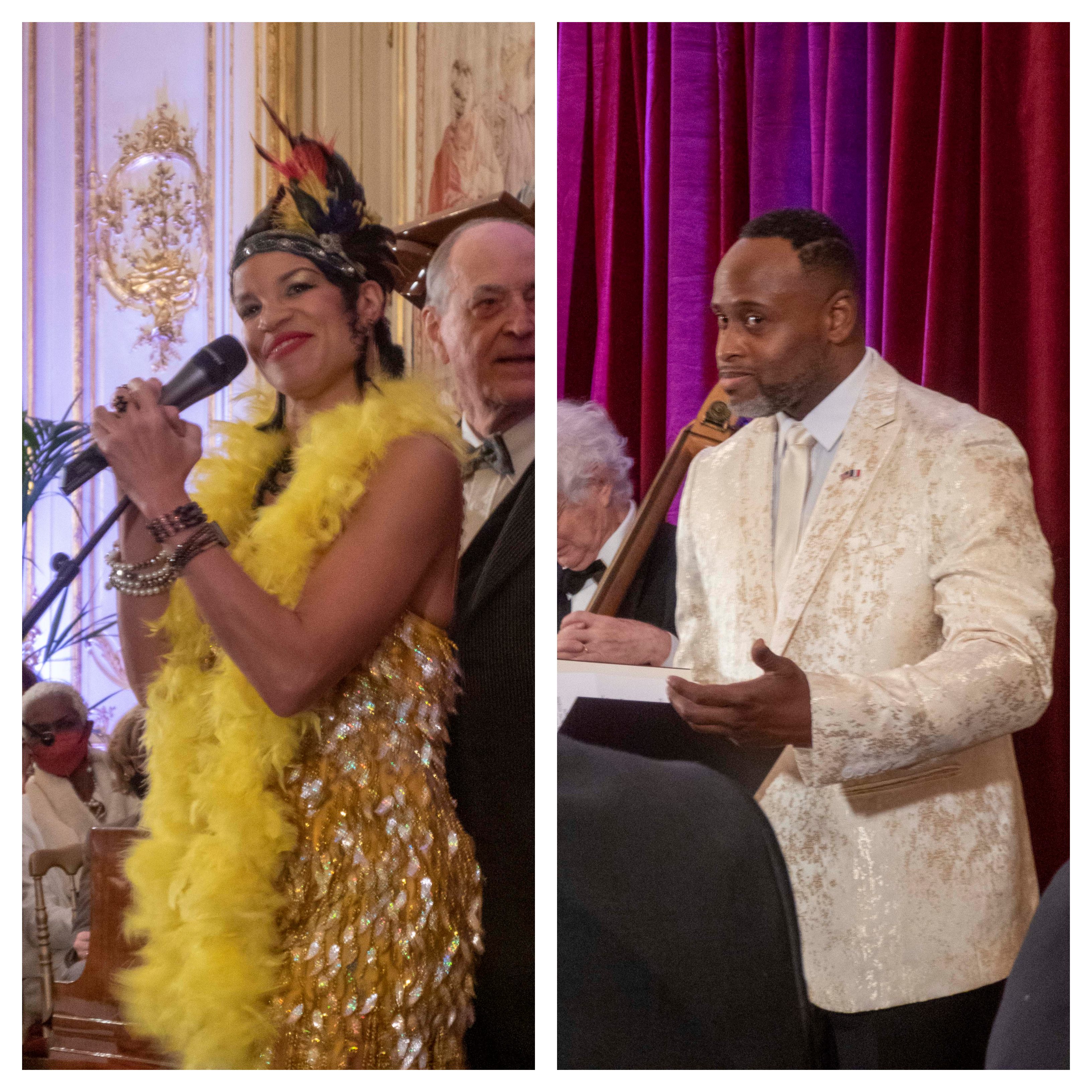 Nicolle Rochelle (l) and Brian Scott Bagley (r)
© Entrée to Black Paris
Josephine Baker - Celebrations of her induction into the Pantheon - Saturday, December 4, 2021
A private online wrap-up of events celebrating Josephine's Pantheon induction will be hosted by Sistah Circle Paris.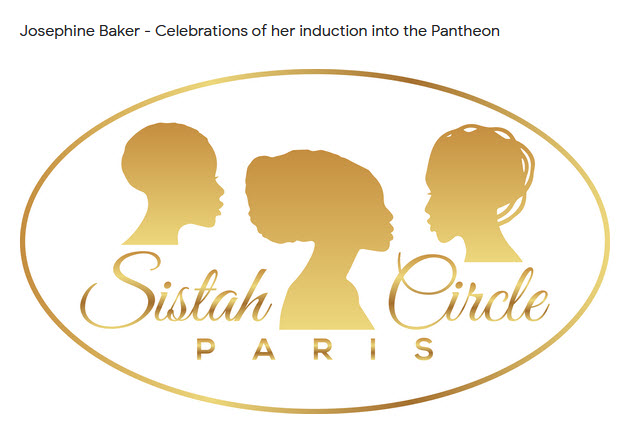 Joséphine B. - a musical revue that will run through January 2, 2021.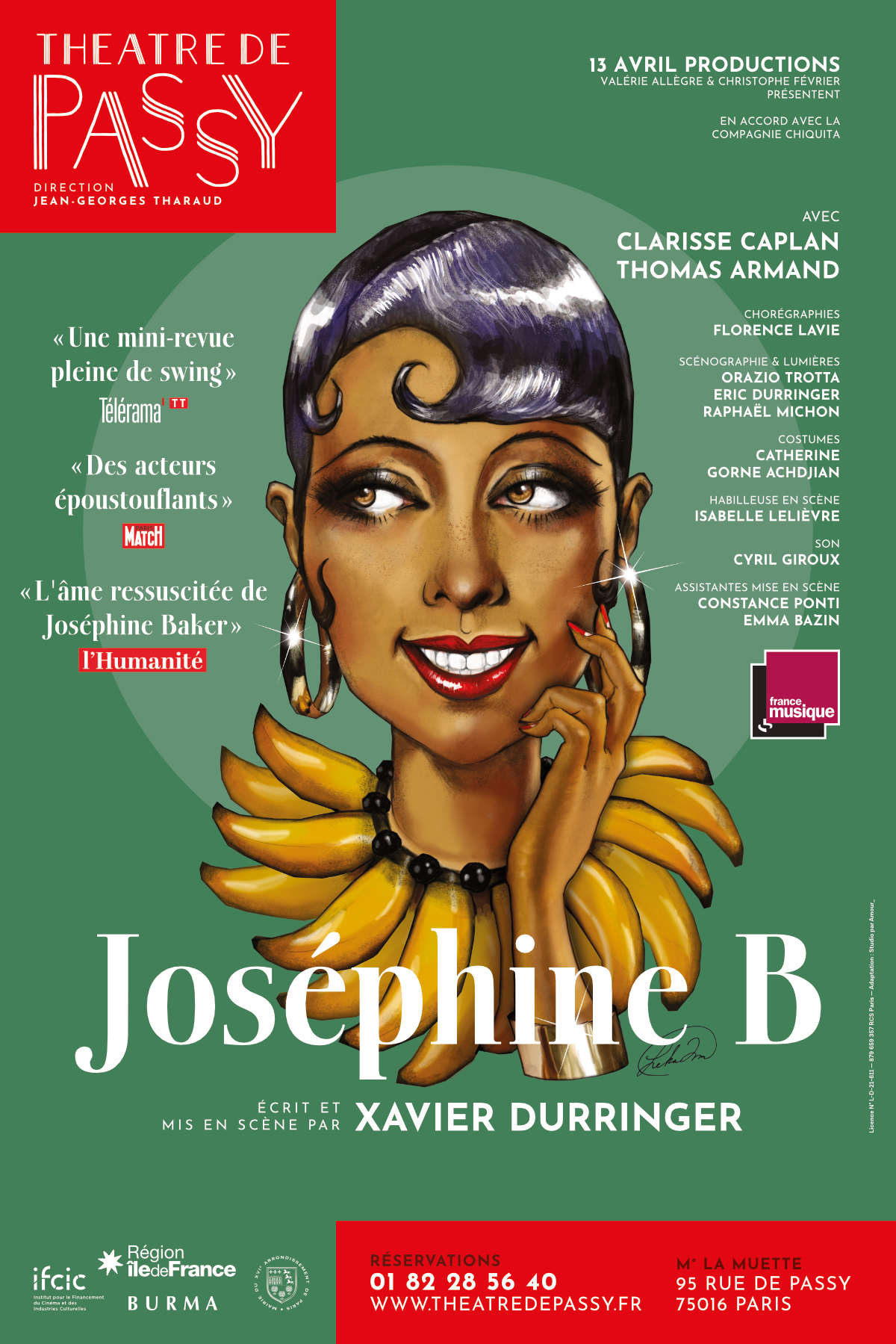 Joséphine B. flier
Théâtre de Passy
95, rue de Passy
75016 Paris
Metro: La Muette (Line 9)
Reserve your tickets here (French-language site): https://www.billetreduc.com/280279/evt.htm
Art in the 13th arrondissement
Sculpture by Christian Guémy (aka C215) - 169, bd de l'Hôpital (across the street from the Mairie du 13ème arrondissement)- https://www.parissecret.fr/2021/10/23/josephine-baker-c215/
This street artist painted several murals of Josephine in her hometown city of St. Louis (https://villa-albertine.org/videos/footsteps-josephine-baker-st-louis-c215).


Joséphine Baker, Au fil de l'eau – a free art exhibition at the Josephine Baker pool that will run through December 31, 2021 - https://parissecret.com/paris-une-expo-gratuite-dediee-a-josephine-baker-au-sein-de-la-piscine-qui-porte-son-nom/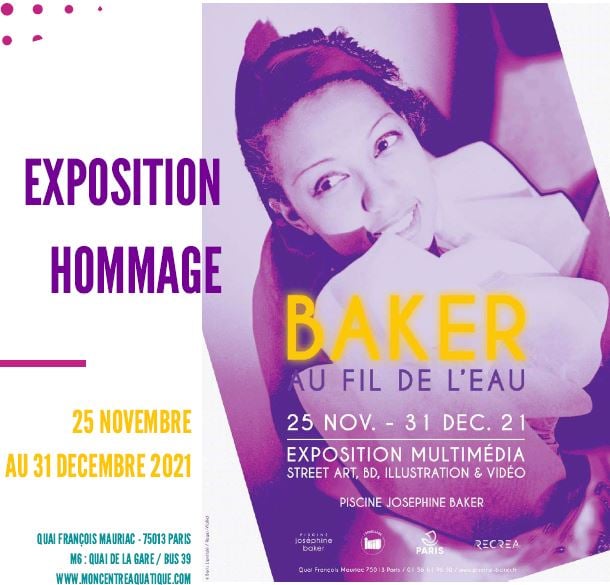 Au fil de l'eau flier
Piscine Josephine Baker
Quai François Mauriac - Port de la Gare
75013 Paris
Metro: Quai de la Gare (Line 6), Bibliothèque François Mitterand (Line 14 and RER C)
Joséphine Baker by Demoiselle MM – mural at rue de l'Espérance, Butte aux Cailles - https://www.yala-photo.com/album-photos/peintures-murales-paris-13/en-2020/jbbac.html