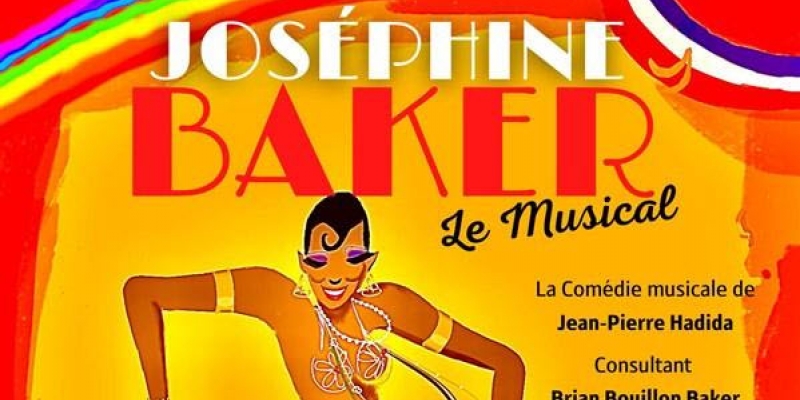 Thursday, June 2nd, 2022
Joséphine Baker le musical
Cover image: Flier for Joséphine Baker le musical (detail)
On the 116th anniversary of Josephine Baker's birth, a new musical tribute to La Baker will open in the Pigalle neighborhood of Paris' 9th arrondissement.
Writer-composer Jean-Pierre Hadida's Joséphine Baker le musical tells Josephine's story "from Missouri to the Pantheon." He and producer Francine Disegni are proud to herald Josephine's life's accomplishments with this show.
Hadida wrote the libretto and orchestrated the staging for the show. He also created colorful paintings and original dance music for the musical that "trace a century of shadow and light."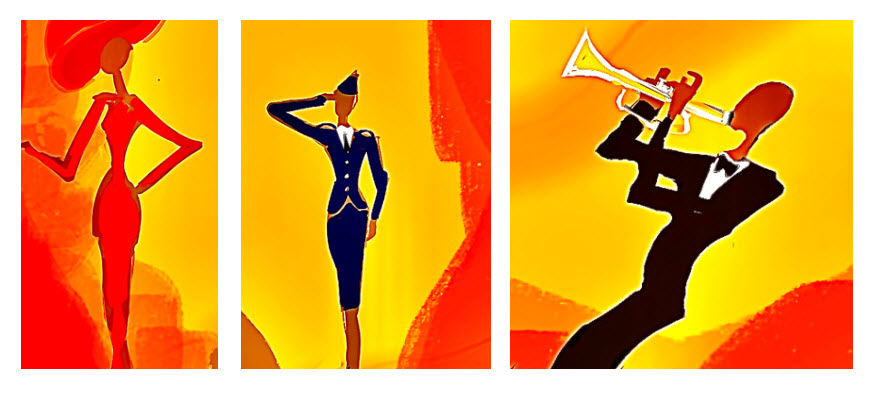 Graphic designs by Jean-Pierre Hadida
Eight performers, all of whom can act, sing, and dance, have been cast in the revue. Most of them will play multiple roles. Characters include Pepito Abatino (Josephine's Italian impresario and lover), Caroline Dudley Reagan (the woman who hired Josephine to come to Paris to perform in La Revue Nègre in 1925), Jo Bouillon (Josephine's fourth husband and adoptive father of the Rainbow Tribe), and Dr. Martin Luther King, Jr.
Nevedya, a singer, actress, and dancer who is also a songwriter, will play Josephine.
Nevedya
Image source: Joséphine Baker le musical press release
Brian Bouillon-Baker, Josephine's seventh adopted son, serves as artistic and historical consultant on the musical. He worked closely with Hadida and Disegni to ensure that the story told depicts Josephine's story as accurately as possible.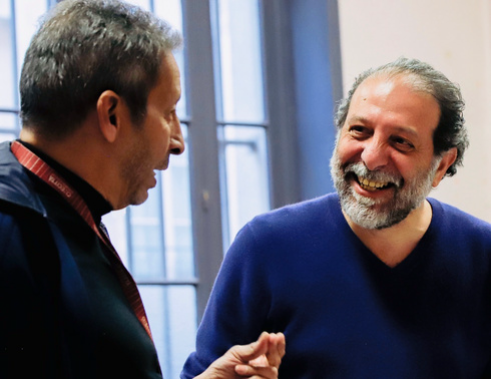 Brian Bouillon-Baker and Jean-Pierre Hadida
Image source: Joséphine Baker le musical press release
An actor and writer, Bouillon-Baker's birthday is June 3 - the same as Josephine's. He recently published Joséphine Baker l'universelle, a biography of Josephine's life and his personal memoir.
The 90-minute revue will be staged at La Nouvelle Ève, one of the oldest cabaret venues in Paris. Located in Pigalle, a few meters down the street from the location of the first "Chez Joséphine" night club, this recently refurbished theater seats up to 280 persons.
Performances of Joséphine Baker le musical are scheduled for June 3, 7, 15, 22, and 28. Curtain time is 8:30 PM.
To order tickets online, click HERE (Web site is in French).
La Nouvelle Ève
25, rue Pierre Fontaine
75009 Paris
Telephone for reservations: 01.42.64.49.40
Metro: Pigalle (Line 2)