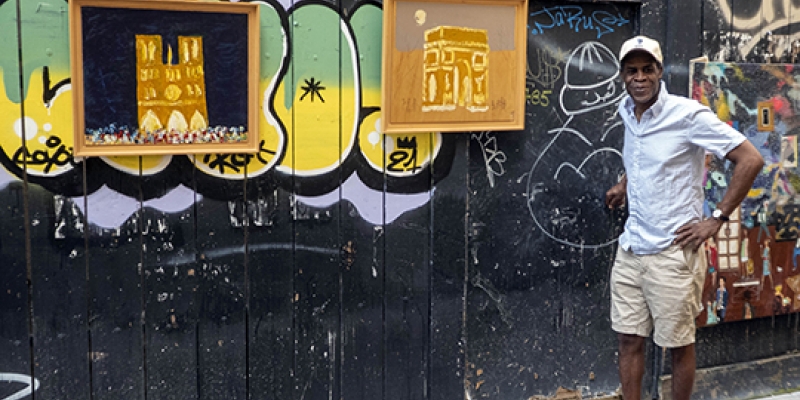 Thursday, August 26th, 2021
Joseph Langley's Premonition Paintings
Cover image: Joseph Langley with Notre Dame Illuminated (c. 2010) and Arc de Triomphe (c. 2010)
© Entrée to Black Paris
As mentioned in last week's blog post, Joseph Langley was one of two additional artists whose works were displayed at Ealy Mays' Open Air Gallery during the weekend of August 14-15, 2021. If you look carefully at the painting called Notre Dame Illuminated, you'll see that Langley replaced the cathedral's spire with a flame.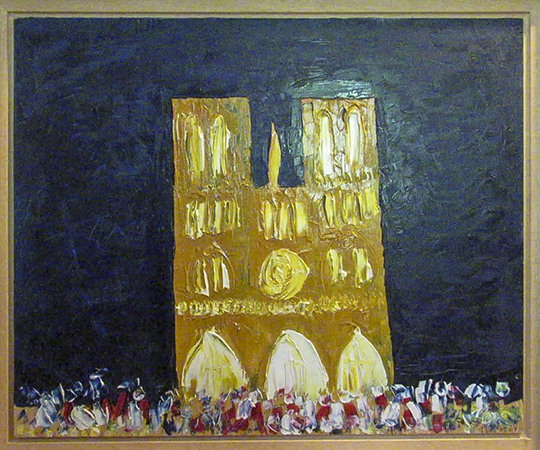 Notre Dame Illuminated
Joseph Langley
(c. 2010) Oil on wooden board
Image courtesy of the artist

Langley painted this work nine years before the devastating fire that destroyed the spire on April 15, 2019.
"This is the third time I created a work that was like a premonition," Langley said. "Several years ago, I created a piece called Tempête au Zoo. This was before the big storm that damaged the zoo in Vincennes. I have been told I have a gift of premonition, but never took it seriously."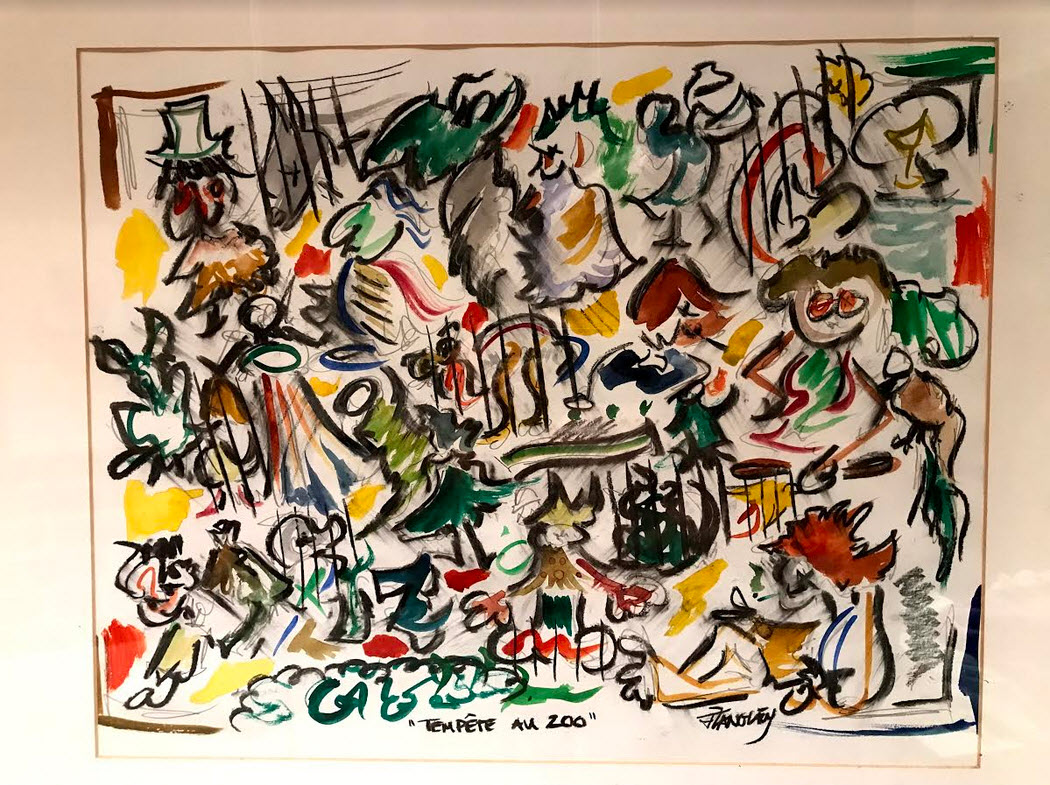 Tempête au Zoo
Joseph Langley
(c. 1999) Watercolor and gouache on paper
Image courtesy of the artist

"Tempête au Zoo was purchased and now hangs in the collection of one of my collectors," he added.
I was intrigued by this revelation and asked Langley for an interview about these "premonition paintings." Find it below.
ETBP: You mentioned a third work that resulted from a premonition. Tell me about it.
JL: I created a third painting before the attack on the World Trade Center. I painted an earthquake in New York. It too was acquired by someone, and unfortunately, I have no pictures of it. I will add that before the 911 attack, I had several ongoing nightmares and was afraid to go to America that year. I knew something was up – I had planned to travel around that period but cancelled my journey.
ETBP: Did you visit Notre Dame and/or the Vincennes Zoo before you created these premonitory works?
JL: No I didn't. I usually just sit down in front of a blank sheet of paper or canvas and let the muse invade me. Then I begin by sketching and create the work. I create what comes to mind at that moment.
ETBP: Did you feel anxiety when you painted them, the way you did when you painted the NY earthquake prior to the attack on the World Trade Center?
JL: I am usually very calm when I create. I actually was very peaceful when I created these works. Painting or drawing makes me very at ease and peaceful.
ETBP: Have you ever thought about trying to refine your gift?

JL: it is not something I can control -- I just follow my instinct. I often can foresee bad situations and do all I can to avoid them, but as far as the gift goes, I just let providence guide me. I often have premonitory dreams and I listen to them and even sometimes I ask for something and it comes. A few days ago, I shot a video in the park and before I left the house I did something I rarely do, I took two business cards with me because I had a premonition. After the video shooting, two young rappers came to me and asked me if I knew someone to shoot their videos. I had the two cards in my pocket and I gave them to them, and they said they would call me. I knew then why I had that premonition...
Joseph Langley has created his own gallery in his 11th arrondissement apartment in Paris. Click on the image below to watch him present it during this YouTube interview by Beraat Gokkus.
Joseph Langley is one of 24 persons featured in Black Paris Profiles (2012). Contact him on Facebook at https://www.facebook.com/joseph.langley1/ or by email by clicking HERE.