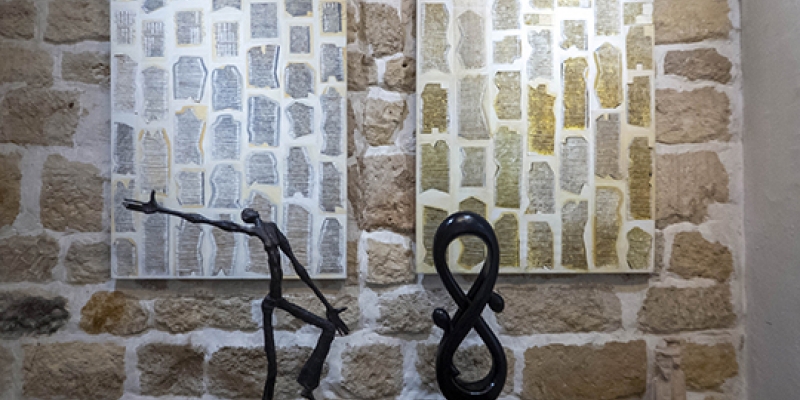 Thursday, August 25th, 2022
Irresistible Africa - An Exhibition
Cover image: Artworks by Aïcha Aïdara, Yacouba Touré, and Tidjane Kante
© Entrée to Black Paris
La Galerie Africaine hosted the vernissage (opening) for its most recent exhibition, entitled Irrésistible Afrique (Irresistable Africa), on August 23, 2022. The show is being held at Galerie Art & Sociéte in the Marais.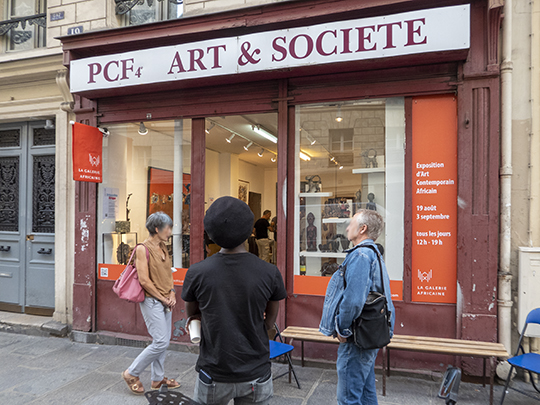 Gathering for the opening
© Entrée to Black Paris
Galerist Aude Minart selected Rêve Bleu, a large work by Sudanese artist Islam Zian-Abeldeen, as the feature for this show. It dominates the rear wall of the gallery.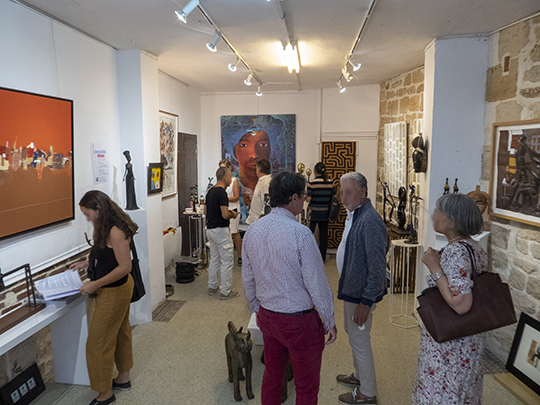 Vernissage visitors
© Entrée to Black Paris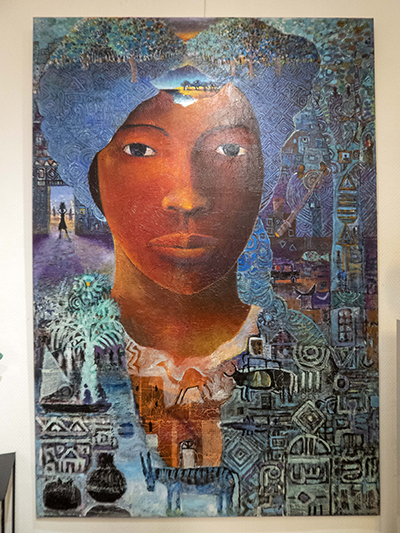 Rêve Bleu
Islam Zian-Abeldeen
(2019) Mixed media on canvas
© Entrée to Black Paris

Zian-Abeldeen's work is inspired by the archaic writing of the Berta (Funj) people who lived along the border of Sudan and Ethiopia. They used animals to represent feelings, and Zian-Abledeen has made this symbolism an integral part of his work.
Minart has hung works by Aïcha Aïdara, Camara Gueye, and Ndoyé Dout's to complement Rêve Bleu.
I was thrilled to learn about Aïcha Aïdara, a Senegalese woman whose art is inspired by thread and fabrics. Her work is a mix of painting and weaving; at its root is the the traditional African pagne (loincloth), which was the subject of her thesis when she studied at the Ecole Nationale des Arts de Dakar. Aïdara uses collage to attach swatches of fabric and individual threads to her canvases - this is a hallmark of her work.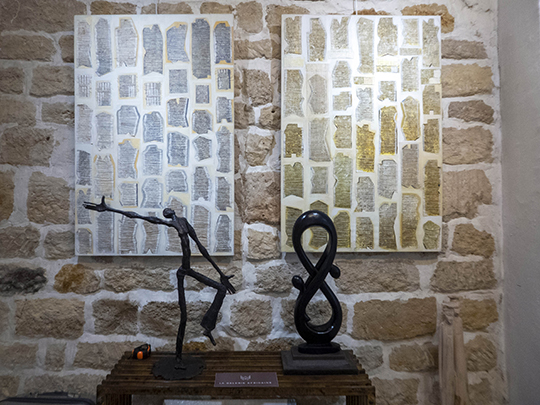 Untitled mixed media works by Aïcha Aïdara on wall
Sculptures on table by Yacouba Touré (left) and Tidjane Kante (right)
© Entrée to Black Paris
New portraits by Camara Gueye, whose work I discovered years ago through La Galerie Africaine, are hung next to Gueye's 2007 mixed media work on paper called Adolescents.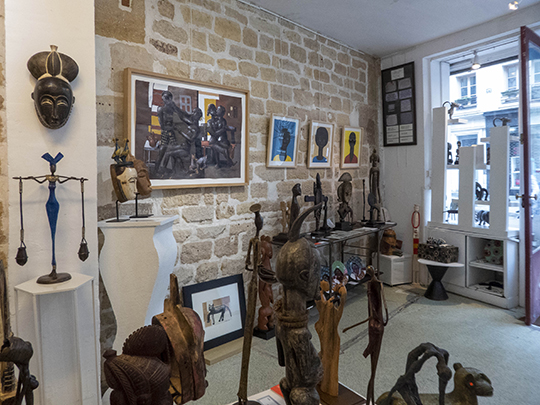 Works on paper by Camara Gueye on stone wall
© Entrée to Black Paris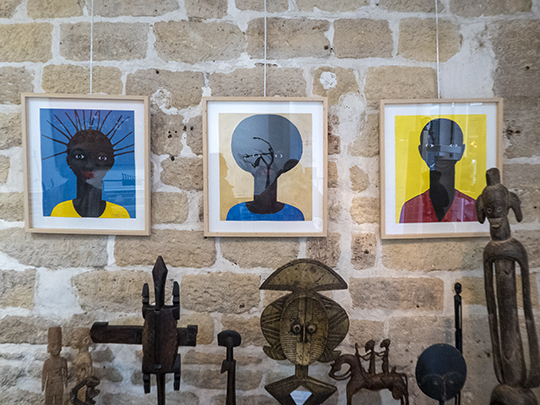 Portraits by Camara Gueye (2022)
© Entrée to Black Paris
I discovered the work of Ndoyé Dout's through La Galerie Africaine years ago as well. At the Irresistible Africa vernissage, I learned that a South Korean African Art aficionado Jung Hae-Kwang has purchased many of his works. The Africa Museum of Art in Seoul mounted a solo exhibition of Dout's' work for its inauguration in 2008 and has acquired over 150 pieces of his art.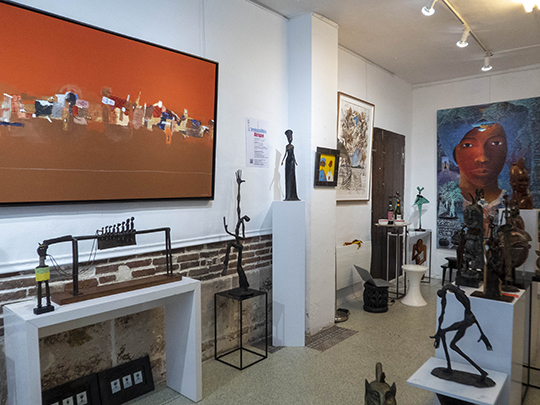 Chaleur by Ndoyé Dout's (hung at far left)
(2011) Acrylic on undulating cardboard
© Entrée to Black Paris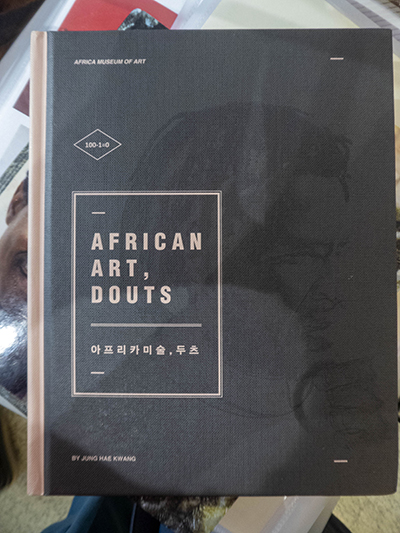 African Art, Douts catalog, Africa Museum of Art
© Entrée to Black Paris
I am partial to three-dimensional works, and I always find intriguing pieces at La Galerie Africaine shows. Below are images of a few that are on display at Irresistible Africa.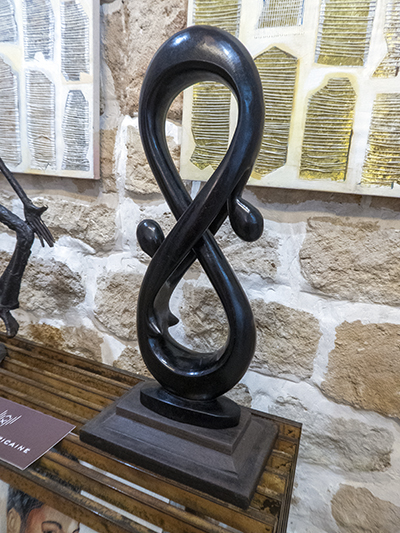 Man and Woman
Tidjane Kante
(2022) Wood
© Entrée to Black Paris
Cavalier dogon et son épouse
Traditional piece from Mali
© Entrée to Black Paris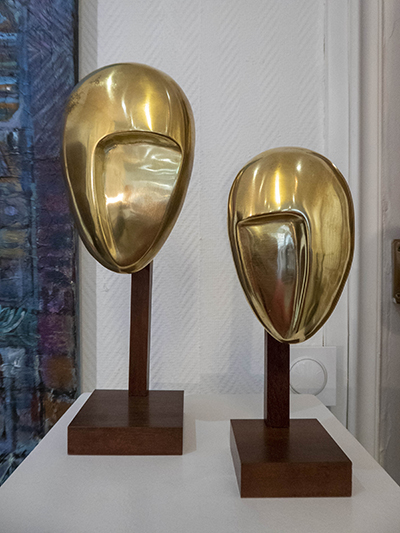 Untitled
H. Yameogo
(2022) Bronze and rosewood
© Entrée to Black Paris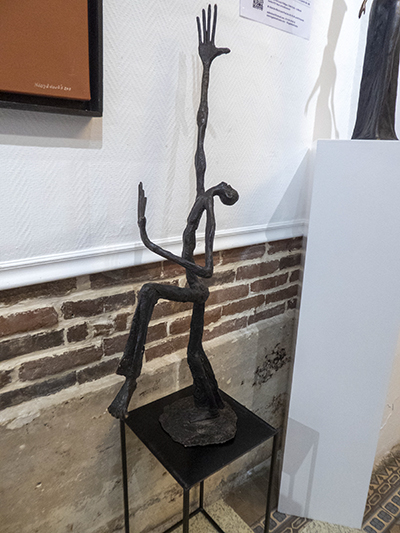 En Corps No. 9
Yacouba Touré
(2022) Bronze
© Entrée to Black Paris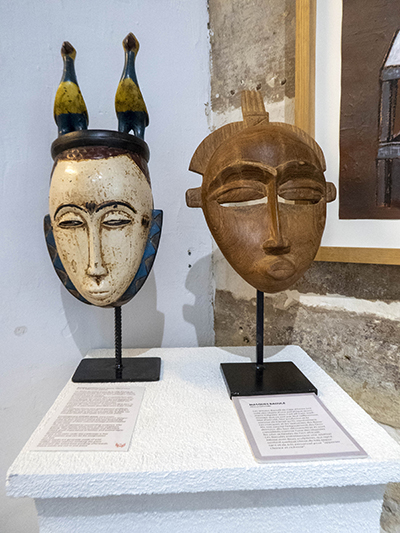 Contemporary wooden masks
Left: Gouro
Right: Baoulé (2019) Alioune Diagne
© Entrée to Black Paris
A hairdresser's sign from Ghana found its place beneath the table holding the sculptures by Yacouba Touré and Tidjane Kante.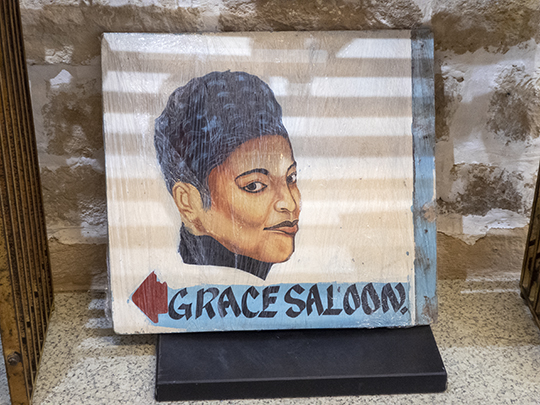 Grace Saloon - a hairdresser's sign from Ghana
© Entrée to Black Paris
A beautiful set of plates boasting a reproduction of a famous wax fabric design called "Les Fleurs de Bonheur," created by reverse glass painting, will provide a handsome dressing for someone's table.
"Les Fleurs de Bonheur" plates
© Entrée to Black Paris
There's bound to be something that strikes your fancy at Irresistible Africa. The exhibition is open every day through September 19, 2022 from 12 noon to 7 PM. On Thursday, September 1, you are invited to come by for a free cocktail beginning at 6 PM.
For more information, call Aude Minart at 06.60.24.06.26.
Irrésistible Afrique
PCF Art & Société
19, rue du pont Louis Philippe
75004 Paris
Metro: Saint Paul (Line 1), Hôtel de Ville (Lines 1 and 11), Pont Marie (Line 7)
Email: audeminart@hotmail.com
Internet: www.lagalerieafricaine.com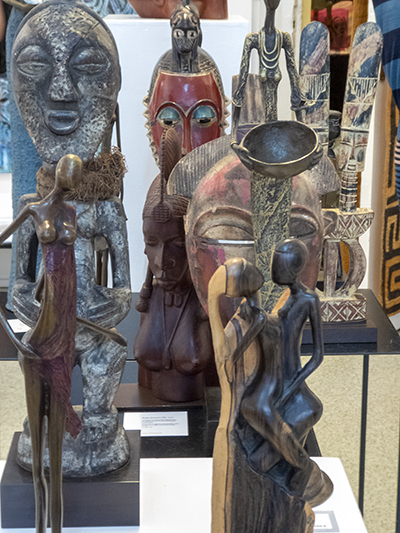 Table of small sculptures
© Entrée to Black Paris