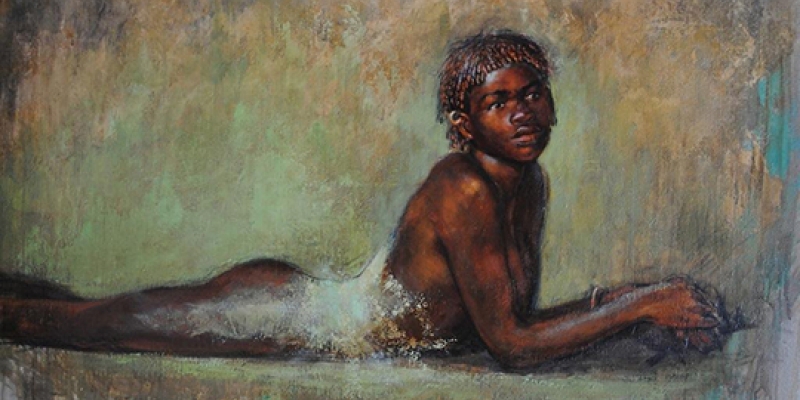 Thursday, September 12th, 2019
Invitation to Travel
Cover image: Nu allongé Christian Libessart
An extraordinary exhibition is on display at the Château de Tourelles in Le Plessis-Trévise, a town in the Val-de-Marne department, southeast of Paris. Sixty (60) works, predominantly portraits, fill the walls of two floors in this idyllic, 120-year-old edifice.
Invitation au Voyage (Invitation to Travel) presents the work of Christian Libessart, a classically trained graduate of the Ecole nationale supérieure des Arts Décoratifs. He enrolled as a student in the murals department at the age of 17, but quickly changed his focus to easel painting because it better allowed him to express himself artistically.
Libessart's work has been largely inspired by a 1995 visit to Benin, when he and a group of friends created an equitable commerce co-op based on indigo dyed fabrics. Libessart fell in love with the fabrics he saw there and began representing them in his paintings upon his return to France.
I asked Libessart to talk about his trip to Benin. He shared the following about that first, life-changing visit:
The most memorable moment was when I attended a ceremony of installation of the new village witch doctor…it wasn't planned that we attend, we happened upon it by accident. We were the only white people there. It seemed to last forever … there were people in trances … there was alcohol, but no drugs (that I saw) … I never felt unsafe, though. And strangely, my colleagues and I never discussed it, afterwards.


Libessart estimates that he has now visited Africa about a dozen times, with eight of these visits being to southern (Zimbabwe, South Africa) and western (Senegal, Benin, Burkina Faso, Mali) Africa. But he still considers his first trip to Benin to be the most inspirational. He and his friends met three to four kings while they were there. One of the kings asked Libessart to stay on and become his official painter!
Visitors to Invitation à Voyager will find paintings from Libessart's "African Kings," "Horsemen," "Falconers", and "Nuba" series. The Nuba series is unique among his works because it features nudes – the folds and patterns in sumptuous fabrics are the focus of his other portraits.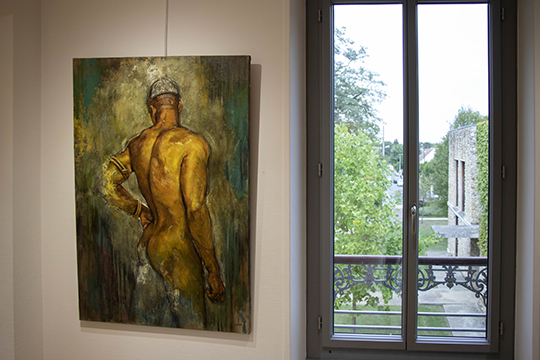 Nu de dos
© Entrée to Black Paris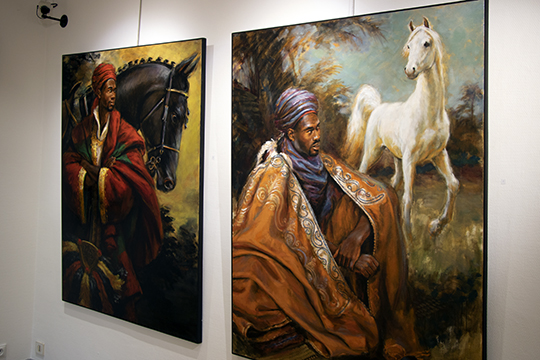 Portraits from the "Horsemen" series
© Entrée to Black Paris
Only one painting from the "African Kings" series is presented in this show. Visitors will find it placed over one of the mantle pieces in the large hall on the upper floor.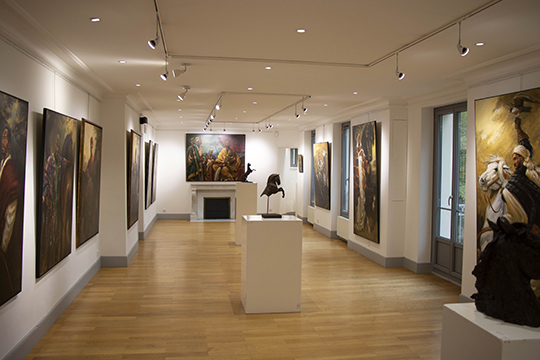 Main gallery room - upper floor
© Entrée to Black Paris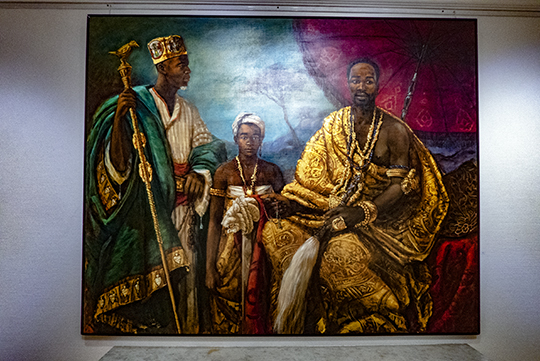 Trois personnages
Christian Libessart
© Entrée to Black Paris
Libessart works mostly from mostly sketches and photos when he creates his portraits. His favorite series is "Horsemen," which could be considered ironic given that he originally had a lot of difficulty painting horses. He was inspired to make a serious effort to improve his representations of these noble animals when he decided that he wanted to incorporate a new element into his work. "Horsemen" has become his favorite series.
"Horsemen" was praised by the director of the Alliance Française of Harare during a monographic show of Libessart's oeuvre at the National Gallery of Zimbabwe in 2007:
Always glorifying the kings and the Courts of an idealized and timeless Africa, Christian Libessart also leads us to mythic horsemen, majestically draped in their sumptuous ceremonial garb.
By some kind of parody of the official representation of Africa from the West, his decorative compositions are actually a transcription of the contemporary cultural vitality of Africa.
His paintings claim a right to the pride of an Africa which is facing risks of cultural globalization.
The 60 paintings on view include Libessart's most recent series, which consists of landscapes. He was looking for a new idea and decided to paint a landscape to keep himself busy (he says this helps him avoid bad moods). Based on actual locations throughout France, these paintings depict light in various settings – shining through clouds, reflecting off water, and illuminating plants.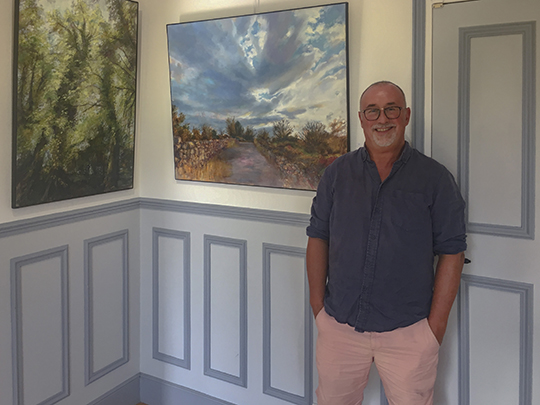 Christian Libessart and his landscapes
Image courtesy of the artist
Invitation au Voyage is on display through September 30, 2019. For a luminous cultural experience outside Paris' city limits, see this show!
Invitation au Voyage
Château des Tourelles
19, avenue de la Maréchale
94420, Le Plessis-Trévise
Île-de-France / Val-de-Marne
Monday through Friday: 2 PM to 5 PM; Saturday and Sunday: 3 PM to 6 PM
Directions from Paris:
RER A station Noisy-le-Grand/Mont d'Est or
RER E station Villiers-sur-Marne/Le Plessis-Trévise, then bus 206 (Georges Courteline stop)