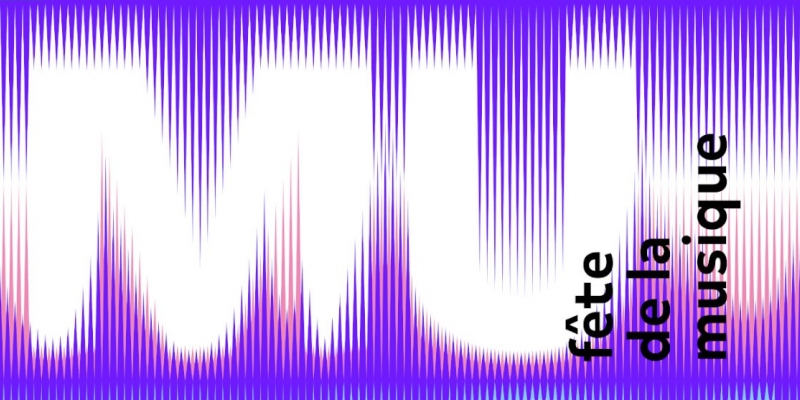 Thursday, June 20th, 2019
Fête de la Musique 2019
Tomorrow, June 21st, is the Summer Solstice - the longest day of the year in the northern hemisphere. It is also the day that the 38th edition of the Fête de la Musique (Music Festival) will unfold across France and throughout Europe.
© Studio des Signes

Other European countries began holding their own solstice music festivals as early as 1985. In 1995, the Fete européene de la musique (European music festival) was organized with the intent to celebrate live music of all genres across Europe, whether performed by amateurs or professionals. The event is now celebrated around the world.

Every Paris arrondissement and many surrounding towns are offering multiple free concerts of all kinds of music, from classical to electro. Though most will be held outdoors, several clubs, churches, and nontraditional venues will host indoor performances. Below is a sample of the individuals and groups avid music fans will be able to see.
World of Gospel, an a cappella choir of persons from multiple generations and origins, will sing gospel music and spirituals in English and African languages on the rue des Barres behind the Eglise Saint Gervais et Saint Protais in the 4th arrondissement. They will sing from 8 PM to 9 PM.
Rue des Barres
© Discover Paris!
http://www.parisetudiant.com/etudiant/sortie/fete-musique-world-of-gospel-sur-le-pave-parisien-paris.html
Not surprisingly, jazz will be "on tap" at the Sunset Sunside, 60 rue des Lombards in the 1st arrondissement. Beginning at 6 PM, Pablo Campos will perform songs honoring Louis Armstrong, Nat King Cole, and Frank Sinatra. The Ramona Horvath Trio follows with a celebration of the music of Duke Ellington, beginning with "The Duke Plays Ellington" at 10:30 PM and moving to "And His Mother Called Him Bill" at 11:50 PM.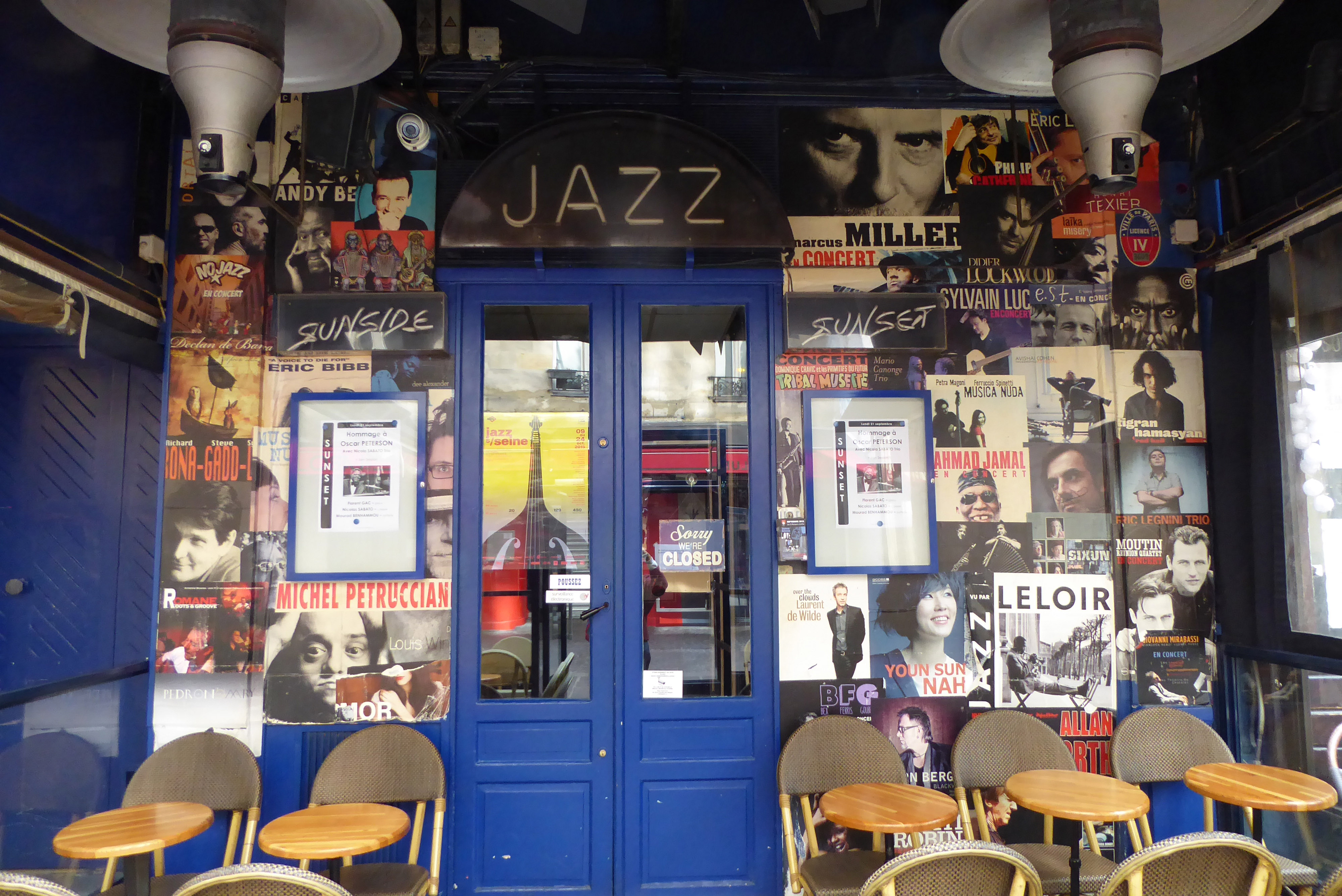 Sunside Sunset façade
© Discover Paris!
Old school and new school hip-hop will be the order of the day at Wanderlust, the club located beneath the Institut Français de la Mode at 32, quai d'Austerlitz in the 13th arrondissement. Four live artists and four DJs will animate the evening. S.Pri Noir is headlining - his recording entitled "Masque Blanc" recently passed 50,000 sales in France.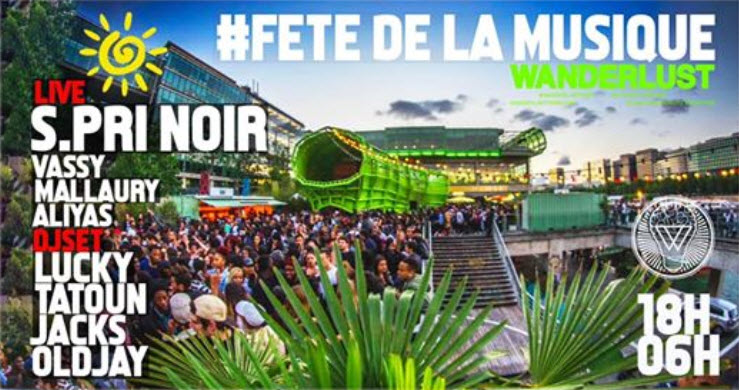 Fête de la Musique at Wanderlust
Image from Wanderlust Facebook page
This event is free, provided you arrive between 6 PM and 9 PM and sign up at the Wanderlust Facebook event page. Food trucks will be on site to provide pizza and Jamaican cuisine.
Amadou and Mariam have been described as the world's most famous ambassadors of Malian music. Their album Folila is perhaps their best known work.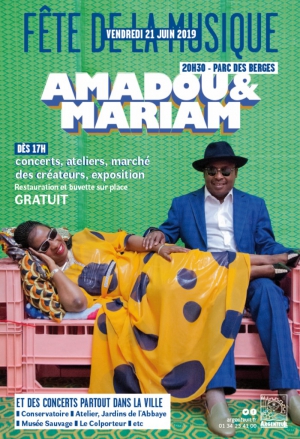 They'll perform at the Parc des Berges in Argenteuil from 8:30 PM to 10 PM.
http://www.parisetudiant.com/etudiant/sortie/fete-musique-amadou-et-mariam-argenteuil.html
In remembrance of Michael Jackson at the 10th anniversary of his death, middle school students will perform several of his songs in the town of Roissy en Brie.
https://www.sortiraparis.com/scenes/concert-musique/articles/191303-fete-de-la-musique-2019-a-roissy-en-brie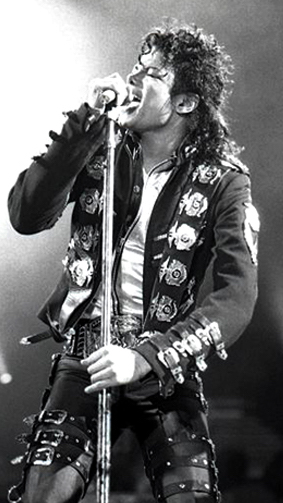 Michael Jackson in 1988
Photographer: Zoran Veselinovic
Creative Commons License CC-BY-SA
At Jazz Club Etoile in the hotel Le Meridien, Driss Fario will also pay tribute to the King of Pop.
However, his concert is not part of the Fête de la Musique. It will take place on Saturday, June 22 and there is a fee to attend.
https://www.parisjazzclub.net/fr/62844/concert/2019/06/22/tribute-michael-jackson-10-ans