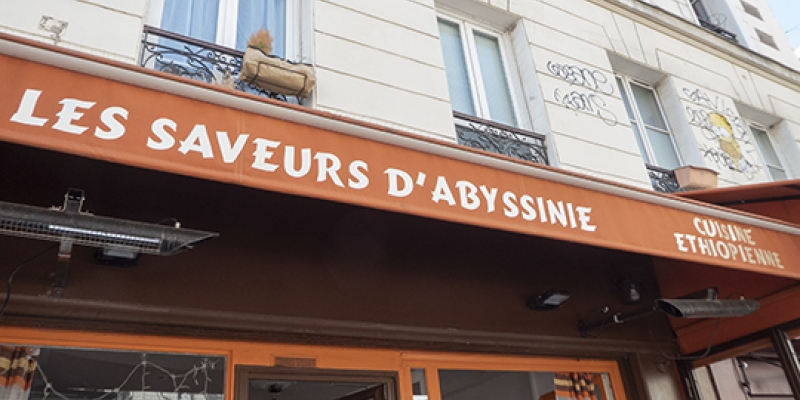 Thursday, July 2nd, 2020
Ethiopian Brunch in Paris
Cover image: Les Saveurs d'Abyssinie awning
© Entree to Black Paris
All Paris cafés and restaurants that survived the pandemic lock down have completely reopened for business!
In-room dining shut down completely on March 15, two days before the entire country went into confinement. Take-out and delivery were allowed and several restaurants that don't normally offer this service began to do so once it became evident that the lock down would not be quickly lifted.
On June 2, full restaurant and café service resumed in all French departments and territories in a "green" COVID-19 zone. But Paris and the surrounding departments in Ile de France remained "orange" and were only allowed to serve people on sidewalk terraces. Where possible, the city is allowing restaurants to extend their terraces on wide sidewalks, in parking spaces, or in pedestrian thoroughfares to permit social distancing and to maximize service capacity. This system will remain in place, at no charge to the restaurants, until September 2020.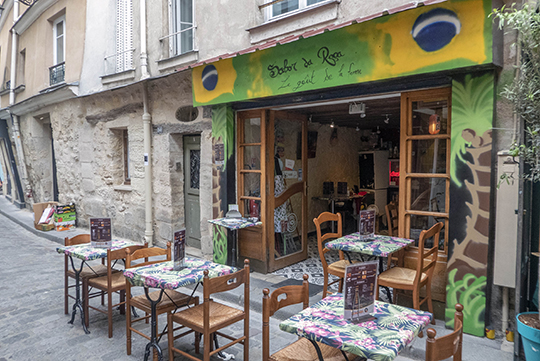 Neighborhood restaurant with terrace extended into pedestrian walkway
© Entree to Black Paris
June 15 was the day when all restaurants and cafés in Ile de France were allowed to reopen fully. And yet, some restaurants waited an additional few days to do so.
Les Saveurs d'Abyssinie was one of these. I passed by on June 22 and saw a sign in their window indicating that they were looking forward to welcoming customers again the following day. When I went there on June 23, I saw that they offer Sunday brunch - the only Ethiopian brunch served in Paris! Reservations are required, so I reserved a table for two for 12 noon on June 28.
When Tom and I approached the restaurant, we saw that the floor-to-ceiling window that separates the terrace from the interior dining room was wide open and that the tables on the terrace were set up to accommodate a large group. We were the first customers to arrive and we chose to sit at an inside table that was next to the open window.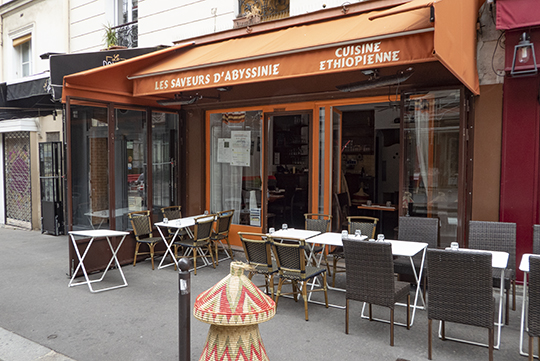 Les Saveurs d'Abysssinie façade and terrace
© Entree to Black Paris
Our server welcomed us warmly and promptly offered us a squirt of hand sanitizing gel.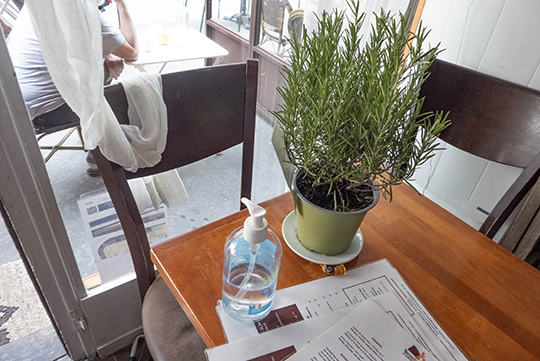 Rosemary plant and hand sanitizing gel at restaurant entrance
© Entree to Black Paris
Brunch is a simple affair at Les Saveurs d'Abyssinie. First, we were served a glass of juice. The preparation for the day was a mixture of mango, guava, and pineapple.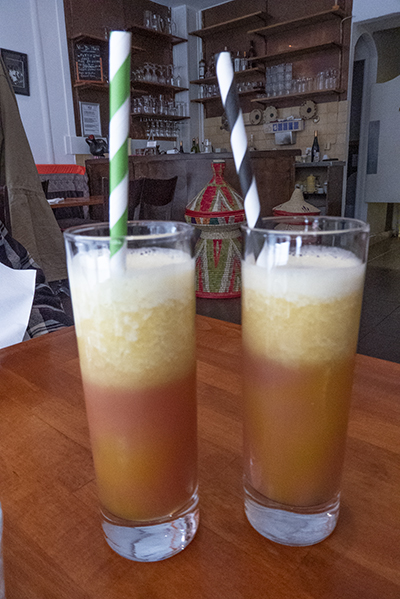 Mango, guava, and pineapple juice
© Entree to Black Paris
We thoroughly enjoyed this!
Next, we discovered an Ethiopian specialty called kita firfir (also known as chechebsa) - a bread made from flour, spiced butter, peppers, and honey. It was served with foul (stewed fava beans prepared with shallots and spicy peppers), kintche (bulgur cooked with Ethiopian butter), and a vegetarian or meat accompaniment.
Our choices for the accompaniment were stewed beef (spicy [bere key wot] or non-spicy [bere alitcha]), spicy lentils (yemissir wot), or non-spicy split peas (ater kik). I selected spicy beef and Tom selected split peas.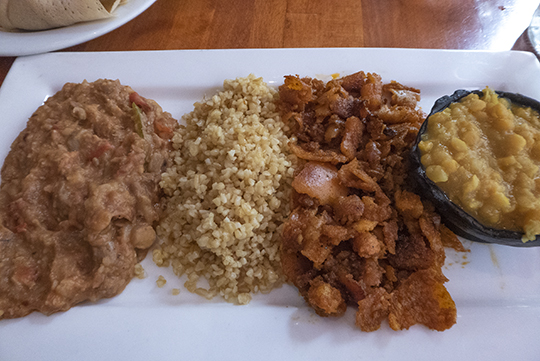 Left to right: fava beans, bulgur, kita firfir, and split peas
© Entree to Black Paris
Four portions of classic injera, the spongy flat bread that is commonly served with Ethiopian dishes, were presented on a separate plate.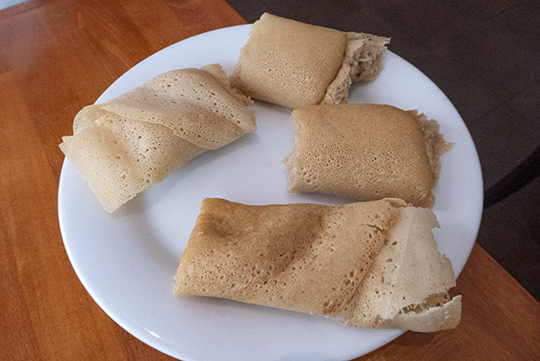 Rolled injera
© Entree to Black Paris
For our beverage, we decided to split a bottle of St. George beer. A pale lager, it is the first beer produced in Ethiopia. We found it to be a light and refreshing accompaniment for our food.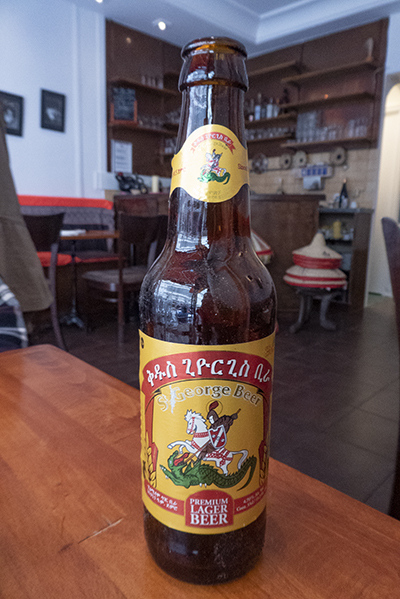 St. George beer
© Entree to Black Paris
The dishes were generously portioned with just the right amount of piquancy for our palates and we polished off every morsel on our plates.
Dessert is not part of the brunch menu but we wanted a taste of something sweet after our meal. So we ordered gâteau à l'orange, and were served three thin slices of orange sponge cake with a scoop of vanilla ice cream on the side.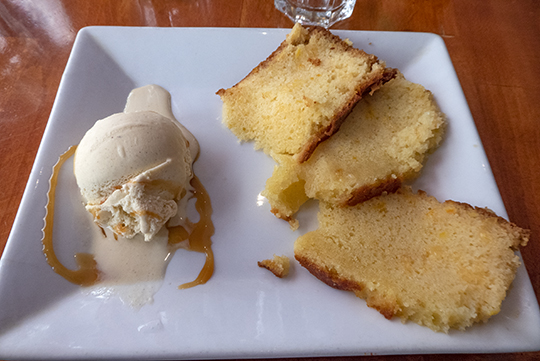 Gâteau à l'orange and vanilla ice cream
© Entree to Black Paris
The cake was moist and bursting with flavor. It was the perfect end to our meal.

Tom ordered an Ethiopian coffee and I ordered an Ethiopian tea (flavored with cinnamon, cloves, and cardamon) and we sipped and relaxed as clients continued to arrive at the restaurant.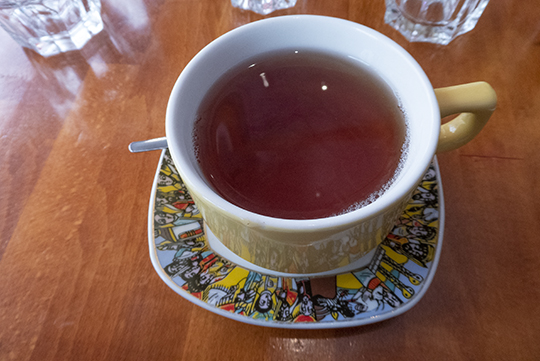 Ethiopian tea
© Entree to Black Paris
By the time we were ready to pay our bill, the terrace was completely full and customers were occupying tables inside.

If you're in the Mouffetard quarter and want Ethiopian food, Les Saveurs d'Abyssinie is a sure bet for a quality meal and friendly service.

Les Saveurs d'Abyssinie
1, rue de l'Arbalète
75005 Paris
Telephone: 06 21 36 56 21
Metro: Censier-Daubenton (Line 7)