Thursday, June 24th, 2021
Espace Martin Luther King in Creteil
Cover Image: Image of Dr. King in foyer at Espace Martin Luther King Grand Paris
© Entrée to Black Paris

Yesterday, thanks to an unusual appointment, I found myself in the Parisian suburb of Creteil.

I took the opportunity to visit the new Espace Martin Luther King Grand Paris, which I mentioned in my April 1, 2021 blog post about Dr. King.
Though the day was overcast, I was pleased to be able to make my way to the facility from the Creteil Pointe du Lac metro station (Line 8) without having to deal with rain.
I was surprised to find that there is no signage to indicate the presence of the building, whether at the metro, on the streets leading to the building, or at the building itself.
I was also surprised to find that the rue Martin Luther King, on which the center is located, is a brand new street rather than a pre-existing street that had been renamed.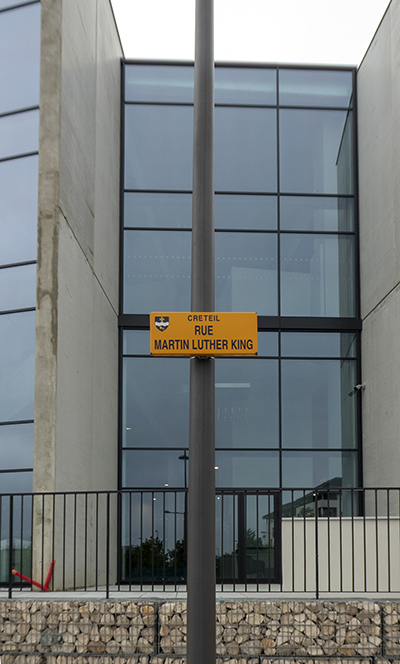 Rue Martin Luther King street sign
© Entrée to Black Paris
As I approached the center, a DHL vehicle turned into its driveway. I continued to walk around part of the building to get my bearings and to determine if there were any landmarks that might be useful in directing people who are on foot and not approaching the site from the metro.
There were none.
Retracing my steps, I began taking photos of the façade and the property's landscape, which was apparently newly planted.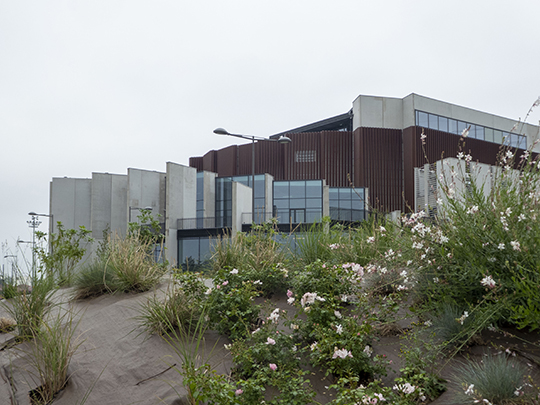 Espace Martin Luther King landscaping
© Entrée to Black Paris
I made my way to the entrance and pulled on one of the doors, only to find it locked. The DHL delivery person was on his way out of the building and kindly held a door open for me, so I was able to enter.
A young black woman sitting at a large desk stood up and skirted the desk to greet me, asking if I had an appointment with someone.
When I replied that I did not have an appointment and simply wanted to see the facility that I'd been following in the news for the past several months, she told me that Espace Martin Luther King is not yet open to the public on weekdays. Public access to the worship area (located upstairs) is currently available only on Sundays, and only through reserving a space on line for the evangelical services that take place at 10 AM and 2 PM each week.
She explained that other than the crèche (children's nursery) and the worshiping area, the scheduled June 15th opening of the building has been delayed due to coronavirus pandemic restrictions. Theoretically, it will welcome visitors during the week beginning in July.
The woman allowed me to take a photo of the reception area, which you see below.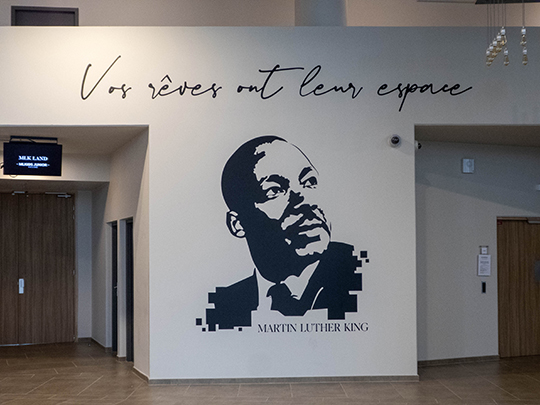 Image of Dr. King in foyer
© Entrée to Black Paris
The quote, "Vos rêves ont leur espace," means "Your dreams have their space."
From the exterior of the building, I was also able to take a photo of a quote displayed on the wall of the first floor: "Be, Better and More."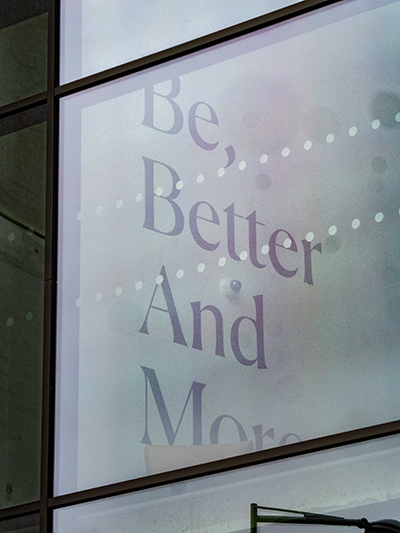 Be, Better and More
© Entrée to Black Paris
Espace Martin Luther King is outfitted with a 1000-seat auditorium, a sports center, rooms dedicated to youth activities, a café, and a rooftop restaurant. I plan to return when it is fully operational.
Find additional photos of the façade and interior of what looks to be an exquisite space HERE.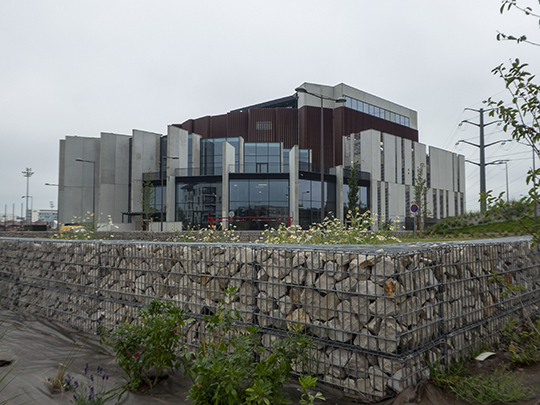 Espace Martin Luther King
© Entrée to Black Paris