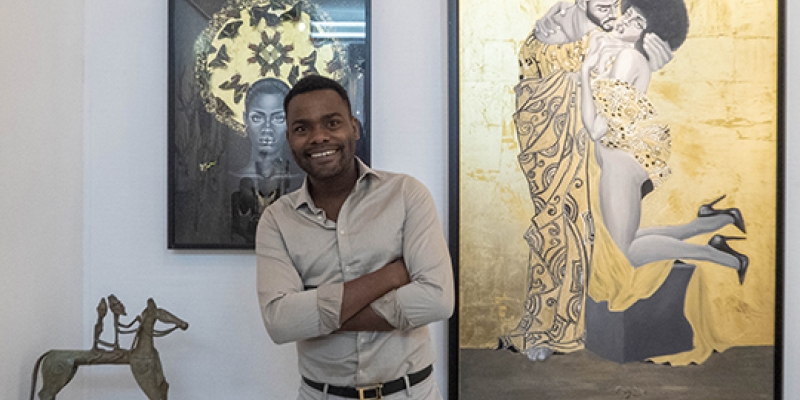 Thursday, June 23rd, 2022
Emery Baï at La Galerie Africaine
Cover image: Emery Baï at Ne me Klimt pas
© Entrée to Black Paris
Emery Baï is a visual artist and fashion designer. Aude Minart of the itinerant gallery La Galerie Africaine has mounted an intimate show of his work that will be open through July 9, 2022.
Ne me Klimt pas is the name of the exhibition that features four of Baï's paintings and several sculptures by Yacouba Touré and other Burkina Faso bronze masters. It is derived from the inspiration Baï draws from the art of Austrian Symbolist painter Gustav Klimt. A prime example of this influence is seen in Baï's work entitled Ne me Klimt pas, which resembles Klimt's Der Kuss.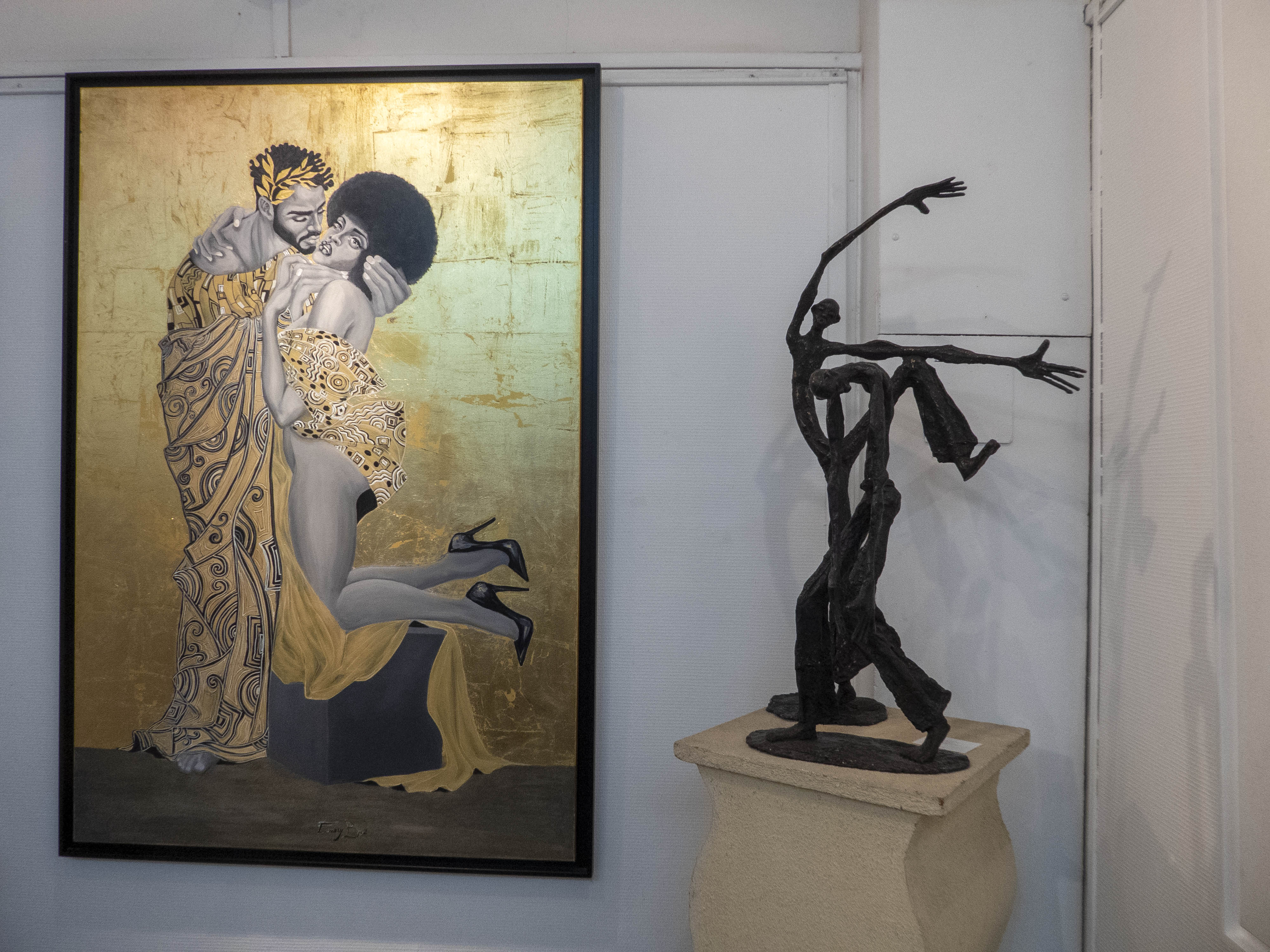 Left - Ne me Klimt pas (2021) - Acrylic on canvas and gold leaf by Emery Baï
Right - En-corps 2 [front] and En-corps 6 [rear] (2019-2020) -
Bronzes by Yacouba Touré
© Entrée to Black Paris

Above - Eve à la pomme (2021) - Acrylic on canvas and gold leaf by Emery Baï
Below - La Famille à Cheval (2021) - Bronze by I Guiré
© Entrée to Black Paris

Baï is classically trained – he graduated from the School of Fine Arts in Benin, studied fashion design in Bordeaux, and continued his study of visual arts at the Ecole des Beaux Arts in Montpellier. He draws on personal stories and collective memory as well as humor and drama to create works that depict the gap between the ideal world and the current state of reality. He describes his artistic practice as "the expression of a cultural mix, a hymn to diversity and openness."
In addition to Klimt, Baï draws artistic inspiration from Alma Ta Dema, Ingres, Alexandre Cabanel, Courbet, Mario Epanya, Francois Rousseau, Pierre and Gilles, and Imane Ayissi. He uses anthropomorphism, symbolism, and mannerism to create colorful allegorical works that combine scholarly culture and popular culture.
This exhibition marks the first time that La Galerie Africaine is showing Baï's work. Galerist Aude Minart is inviting the public to visit the exhibition and enjoy refreshments on the evenings of June 28 and July 7 up to 9:30 PM. For more information, contact her at audeminart@hotmail.com or 06.60.24.06.26.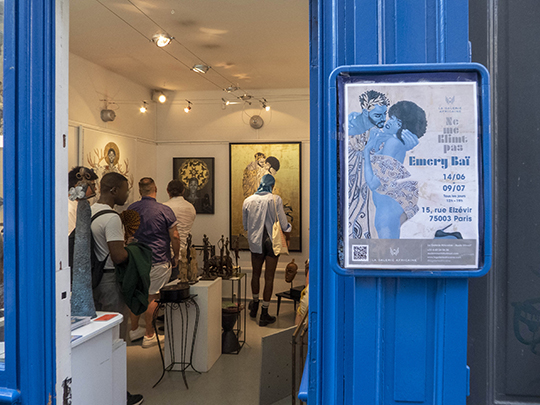 Vernissage - June 16, 2022
© Entrée to Black Paris
La Galerie Africaine
15, rue Elzevir
75003 Paris
Metro: Saint-Paul (Line 1) and Chemin Vert (Line 8)
Hours: Every day from 12 noon through 7 PM and by appointment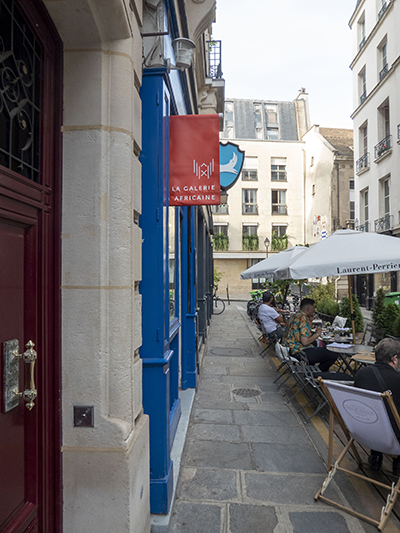 La Galerie Africaine
© Entrée to Black Paris