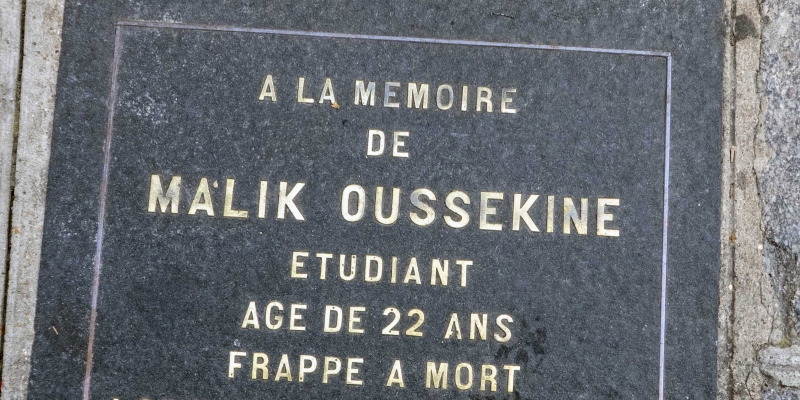 Thursday, August 5th, 2021
Disney+ French Mini-series to Spotlight Fatal Case of Police Brutality
Cover image: Malik Oussekine plaque (detail)
© Entrée to Black Paris
On February 16, 2021, the Walt Disney Company announced its line-up for ten new original projects, four of which are being created in Europe. One of them, called Oussekine, is being developed for Disney's new entertainment brand, Star.
From the press release:
Oussekine, an ambitious four-part Star Original mini-series, examines the terrible true events of December 5, 1986, that led to the death of a young student, Malik Oussekine. Centred on his family's fight for justice, the series will explore the enormous impact this high-profile case had on French society. Oussekine is created and directed by Antoine Chevrollier (Baron Noir, Le Bureau des Légendes) and co-written by Faïza Guène, Julien Lilti and Cédric Ido.
Malik Oussekine was a French-Algerian man. He was 22 years old when he was beaten to death by members of the French anti-riot squad in a building at 20, rue Monsieur le Prince in the 6th arrondissement, not five minutes away from the address where Richard Wright (1908-1960) and his family lived for eleven years (1948-1959). He did not participate in the demonstration that took place on December 5-6, 1986, for which the police had been sent on patrol. He was on his way home from a concert when they stopped him.
A plaque embedded in the sidewalk in front of the building commemorates him.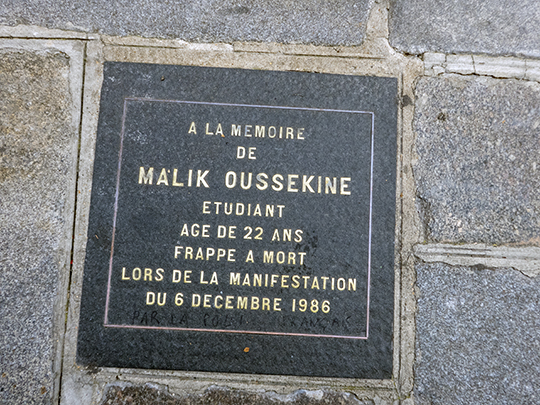 Malik Oussekine plaque
(Photo taken on 30 July 2021)
© Entrée to Black Paris
The English translation of the words on the plaque read as follows:
In memory
of
MALIK OUSSEKINE
Student
22 years old
Beaten to death
during the protest
of 6 December 1986
Someone has written "Par la police français" in marker at the bottom of the inscription. This means "By the French police." Two of the three officers implicated in the attack were sentenced to prison for 2 and 5 years, both of which were suspended.
The plaque was installed 20 years after Oussekine's death. I have walked past it many times and always intended to look up Oussekine's name "when I had a moment." A conversation with a fellow tour guide prompted me to do so a few days ago. Serendipitously, I found myself on rue Monsieur le Prince a couple of days later, and I took the photo that is shown above.
If you've seen or heard of the award-winning French film entitled La Haine, which was released in 1995, you may know that it was based on Oussekine's story.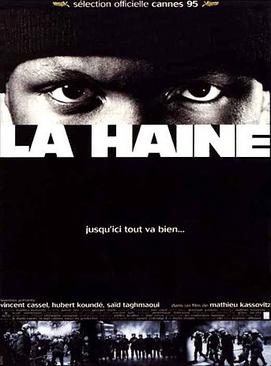 Flier for La Haine
The writing team for the Oussekine Disney+ mini-series includes Cédric Ido, a French-Burkinabé born in Stains, a small northern Paris suburb. Ido is an actor, director, screenwriter, and producer of films.
The release date for Oussekine has not yet been announced.