Thursday, May 30th, 2019
U.S. - French Cultural Exchange Proposed Based on Carole D. Fredericks' Life and Music
On April 3, 2017, I met with members of CASPE 6/14 (the municipal office that oversees after-school activities in the 6th and 14th arrondissements in Paris) in my role as founder and CEO of the U.S. non-profit organization Wells International Foundation to suggest the establishment of a connection between a Parisian elementary school and an elementary school located in Knoxville, Tennessee through the City of Paris' "Classes Duo" program. My goal was to preserve and promote the legacy and memory of painter Beauford Delaney, a Knoxville-born African-American man who expatriated to Paris in 1953. CASPE 6/14 had spent the past few years developing a project called "Déclic Langues," whose mission is to expose children to foreign languages and cultures, and both parties agreed to create a program.

Two years later, Classes Duo Paris / Knoxville was enjoying such success that Wells approached CASPE 6/14 about the possibility of launching a second program. This one would be based on the life and music of Carole Denise Fredericks (1952-2001), an African-American woman from Springfield, Massachusetts who lived in Paris for 22 years. She became a singing legend and is best known as a member of the Fredericks Goldman Jones trio*.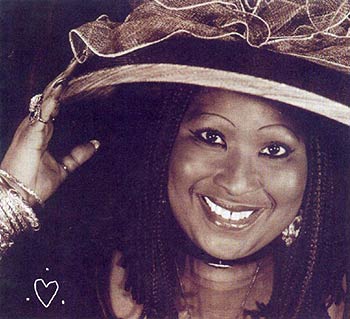 Carole Denise Fredericks
Image courtesy of the Carole Denise Fredericks Foundation
CASPE 6/14, Connie Fredericks-Malone and her husband, Jim Malone, and I met on April 29, 2019 to discuss the program. Connie, who is Carole's sister, is also the director of the Carole Denise Fredericks Foundation, an organization whose mission is to:
Provide students with an effective approach to career and college readiness planning skills so they understand how to author their own career narratives.

Emphasize the advantages of second-language learning and cross-cultural communication skills as an effective addition to their career tool kits.
Some preliminary work had been completed prior to this meeting. CASPE 6/14 had identified a Paris elementary school that is willing to participate in the program and the Carole Denise Fredericks Foundation had established relationships with the French Embassy in Boston and the Eastern Massachusetts chapter of the American Association of Teachers of French in anticipation of enlisting their assistance in finding a partner school in Springfield. Connie was disappointed to learn that the Springfield school system has no provision for language learning for its elementary schools, so it was decided that a school would be sought in the greater Boston area.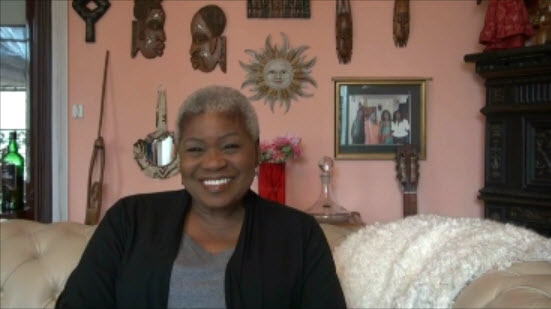 Connie Fredericks-Malone
©Discover Paris!
Classes Duo Paris / Boston will take advantage of the tremendous library of resources created from Carole's music that serves to teach Anglophone students to speak French. These include activity books with lessons, music videos on DVDs, and albums on CDs. Materials are designed for all grade levels, from elementary school through university. In addition to teaching language skills, they also promote the study of Francophone cultures. The Carole D. Fredericks Collection is housed at the American Library in Paris and is also available through the Carole Denise Fredericks Foundation in the U.S.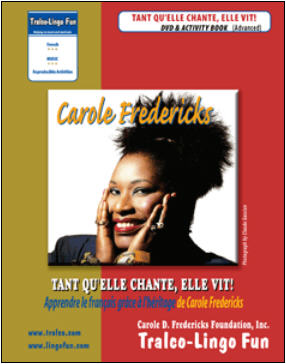 Tant qu'elle chante, elle vit!
DVD and Activity Book from the Carole D. Fredericks Collection
The search for a U.S. school is now underway. The intent is to launch the program in Autumn 2019.
*On a whim, Carole Denise Fredericks bought a one-way ticket to Paris and arrived in January 1979 with the intent to pursue her singing career. She was 27 years old and could not speak a word of French. Three weeks after her arrival, she was signed to CARLA Music to record an English language disco album, Black Orchid. The rest, as they say, is history!