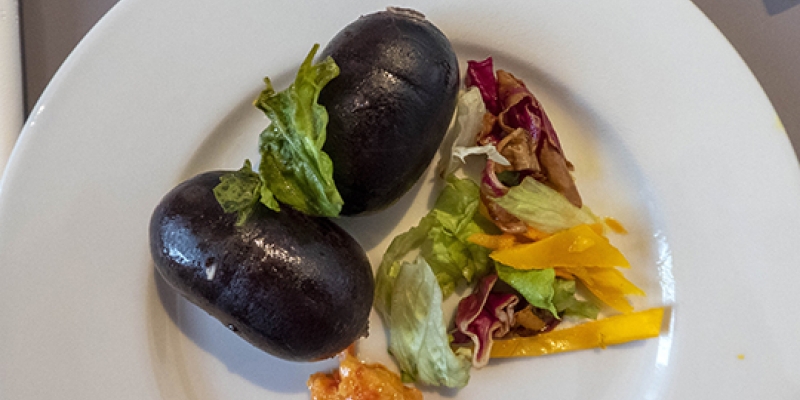 Thursday, February 18th, 2021
Caribbean Take-out - La Créole
Cover image: Boudin créole and achards
© Entrée to Black Paris

More and more Paris restaurants are offering take-out (vente à emporter) to keep their doors open and their cuisine "top of mind" for their clients during the COVID-19 pandemic.
Yesterday, Tom and I decided to order take-out from La Créole, an iconic Caribbean restaurant on the boulevard du Montparnasse.
We went to the Website to see what the restaurant had included on its take-out menu. We were delighted to find that most everything that is on the regular menu was available.
At 12 noon, I phoned the restaurant to inquire about how to place my order. A man cheerfully told me that I could do this while on the line with him or that I could come to the restaurant and place my order there.
I elected to order by phone so as to reduce / eliminate the wait time once I got to the restaurant. I asked for one serving of each of the following menu items:
Boudin créole (Creole blood sausage)
Colombo de cabri (goat stew)
Colombo de poulet (chicken stew)
Tom and I immediately left home to collect our meal. We arrived at the restaurant about 30 minutes later and were delighted to find that everything had already been dished and bagged. All we needed to do was pay and go.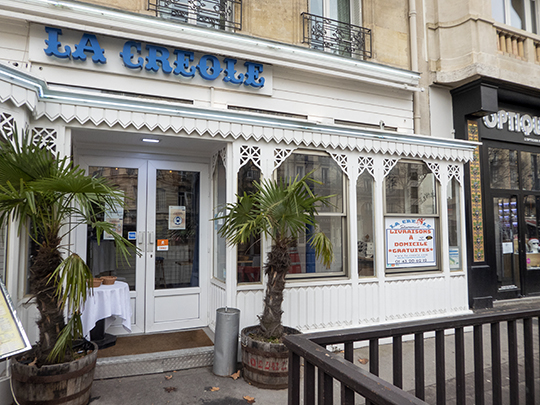 La Créole façade
© Entrée to Black Paris
When we left the restaurant, our eyes were drawn to the colorful display of beers in the window. Tom decided he wanted to sample a Guadeloupian beer called Corsaire - La Soufrière. So we went back inside so he could purchase a chilled bottle before we made our way home.
When we got there, I was pleasantly surprised to find that the two orders of Colombo, which were our main dishes, were secured by generous portions of plastic wrap. Not a drop of the precious sauce was lost in transport!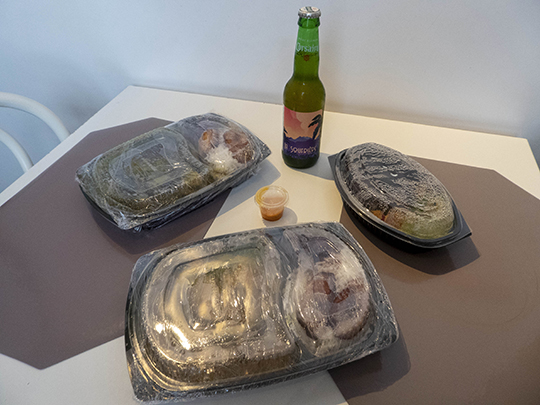 Colombo before unwrapping
© Entrée to Black Paris
Once again, we were reminded of how copious La Créole's servings are. The restaurant gave us four pieces of boudin créole instead of the usual three, and the servings of colombo were quite generous. We easily had enough food for two complete meals to be consumed another day.
Though we don't eat at La Créole often, we always enjoy their food. Yesterday was no exception.
The servings of boudin créole are a bit larger than bite-size - they are nowhere near as large as the lengths of boudin we've been served as a first course at other restaurants. This is far from being a rebuke - we find that the delicate perfume and fine texture of these blood sausages are to be savored slowly in anticipation of the main dish to come. A larger portion would be fine for a one- or two-course meal, but if you want to enjoy a main course afterward without feeling stuffed, we think you'd agree that the size of the appetizer portion is appropriate.
The obligatory achards (pickled vegetables, lettuce, and radicchio) and a dab of sauce piquante (hot sauce) complimented this dish nicely.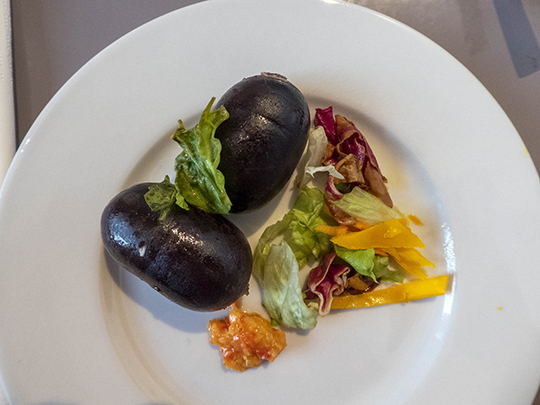 Boudin créole and achards
© Entrée to Black Paris
The colombos were as we remembered them - rich with perfumes and gentle spiciness that we accentuated with the contents of the small container of sauce piquante that is traditionally served at La Créole. Tom had the goat and I had the chicken. The sides of long-grain white rice, red beans, and sliced plantains added perfect touches of color, flavor, and texture to both dishes.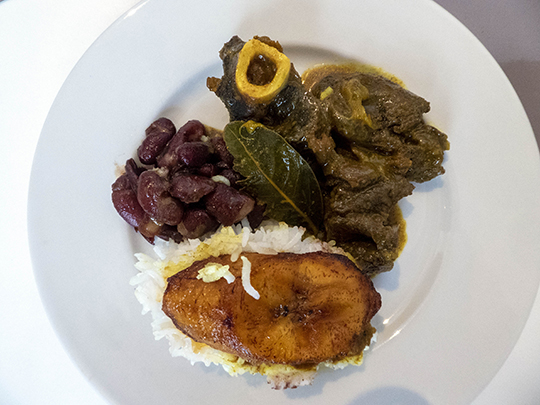 Colombo de cabri
© Entrée to Black Paris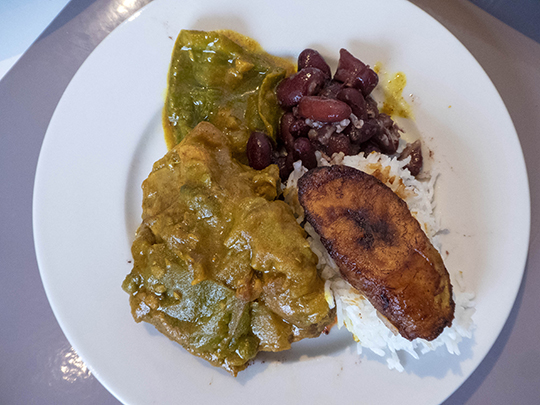 Colombo de poulet
© Entrée to Black Paris
As a beverage, I elected to drink a fruity white wine that we already had at home. Tom enjoyed his Corsaire beer, which is made from barley malt. It was a fresh, light accompaniment for both courses.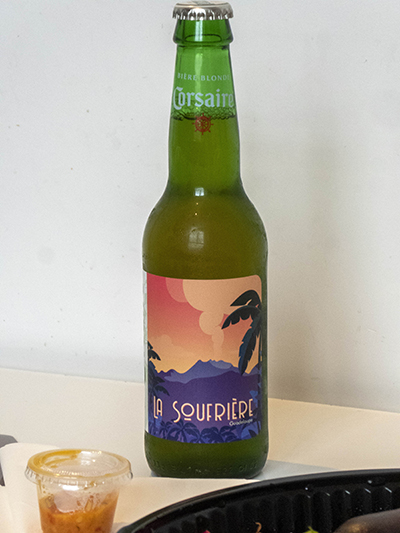 Corsaire - La Soufrière beer
© Entrée to Black Paris
Our bill was a mere 39.50€.

If you're in Paris' Montparnasse area and have a hankering for authentic Créole food, consider calling on La Créole for a meal. If you don't live too far away, you may even be able to have your food delivered (livraison à domicile) by UberEats or Deliveroo (ask about this when you call or look up these delivery sites on line).
La Créole
122, boulevard du Montparnasse
75014 Paris
Metro: Vavin (Line 4)
Telephone: 01 43 20 62 12