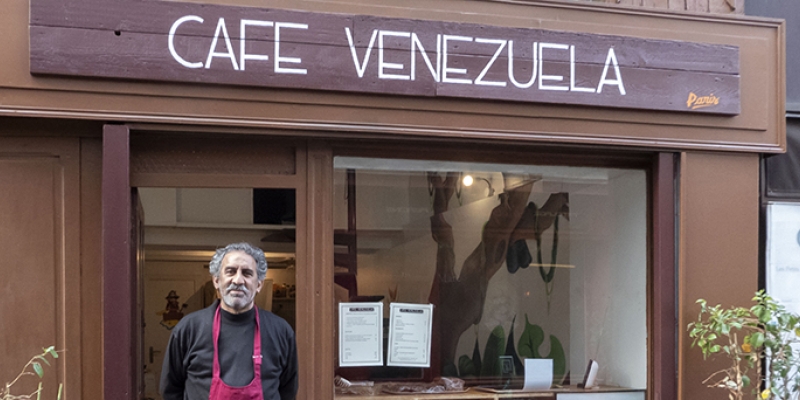 Monday, May 20th, 2019
Café Venezuela - Venezuelan and Caribbean Cuisine in the Mouffetard Quarter
Cover image: Rogelio Mijares Duc at Café Venezuela
©Entrée to Black Paris
International "street food" is all the rage in Paris and the famous Mouffetard quartier is not exempt from the wave of these comestibles that have washed over the city. Zaoka (Taiwan), Papillon (Japan), and Monts et Rizières (Vietnam) are examples of postage stamp-sized restaurants and take-out places that are putting down roots in the quarter.
The most recent addition to this scene is Café Venezuela. This modest establishment, located at 6, rue de l'Arbalète, opened on May 10, 2019. It is operated by Rogelio Mijares Duc and his wife, Mallely Hernandez. My husband and business partner, Tom Reeves, and I lunched there last Sunday.
All the food is made on the premises. Roger is particularly proud of his arepas, sandwiches made from grilled corn cakes (an unleavened preparation of corn flour) and stuffed with fillings such as chopped, spicy beef; Serrano ham and black beans; chicken, macedoine and avocado; cheese, tomato, and avocado; or roast pork. I enjoyed the traditional Pabellón, stuffed with black beans and cheese (I chose goat cheese and found it to be heavenly)!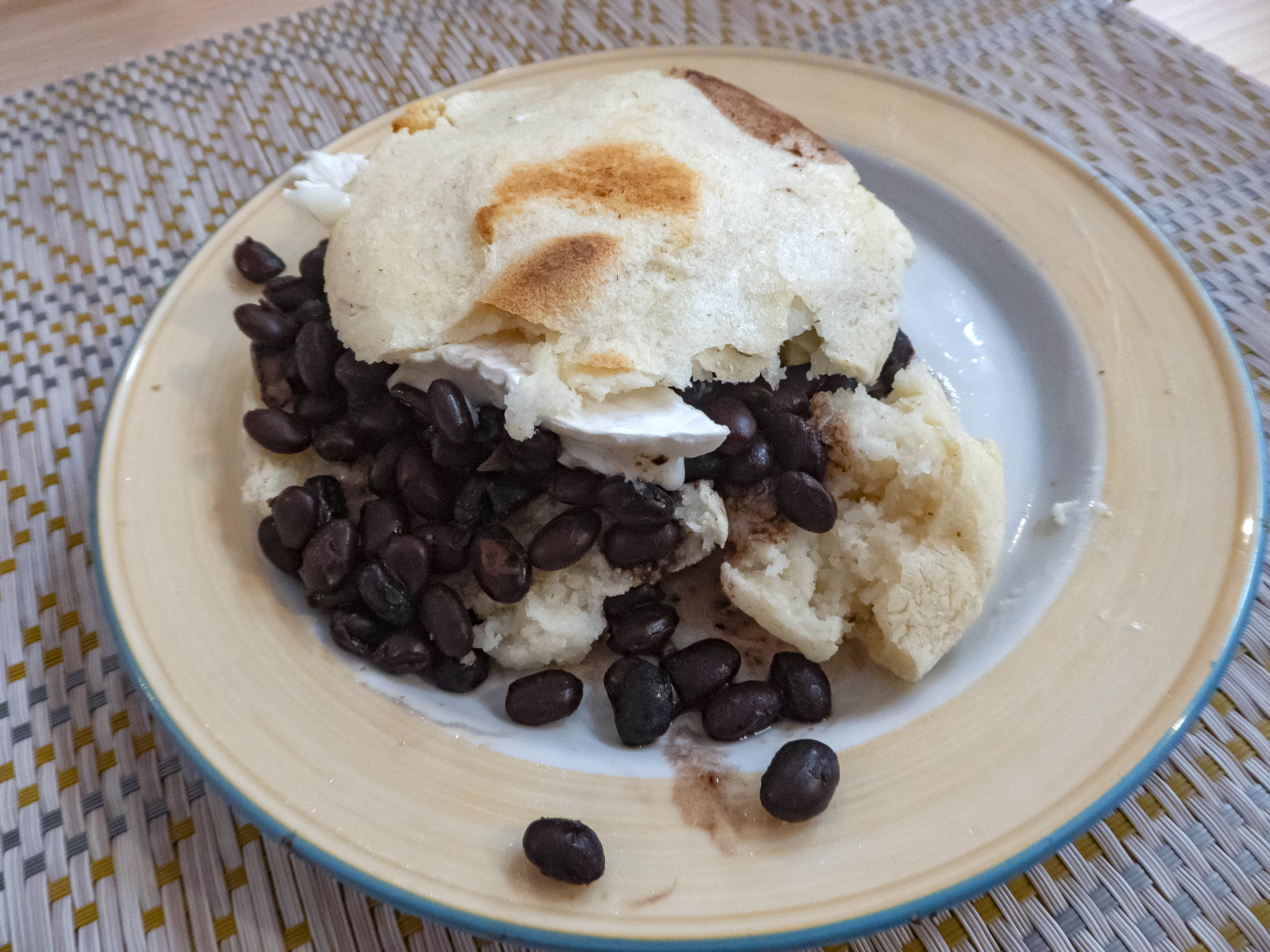 Arepas Pabellón
©Entrée to Black Paris

When you see the size of the arepas, you may be tempted to order two of them. I advise eating one and then deciding if you want a second one - the corn cakes are dense and filling.
Tom ordered ceviche, a dish of raw fish cured in lemon juice and served with marinated shrimp, steamed white potatoes, lettuce, and flat parsley.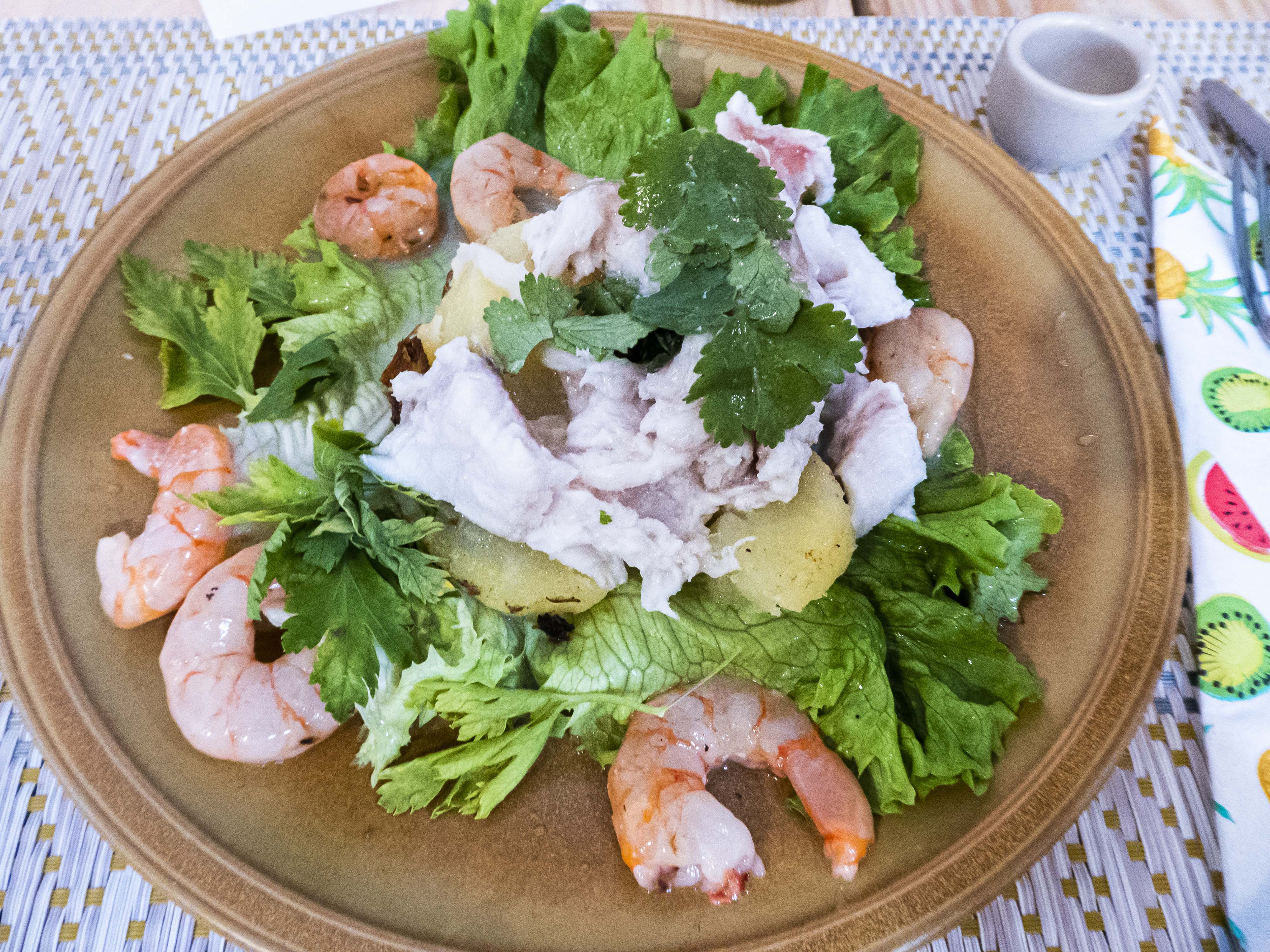 Ceviche
©Entrée to Black Paris
Both of us dressed our dishes with a homemade hot sauce, which Roger encouraged us to use with discretion. It was delicious!
To accompany our meal, we both chose to drink a non-alcoholic beer called Bavaria, which we learned was from Holland. It was rose-colored and distinctly fruity, with flavors of raspberry and cherry. It was ever-so-slightly fizzy and accompanied our dishes quite well.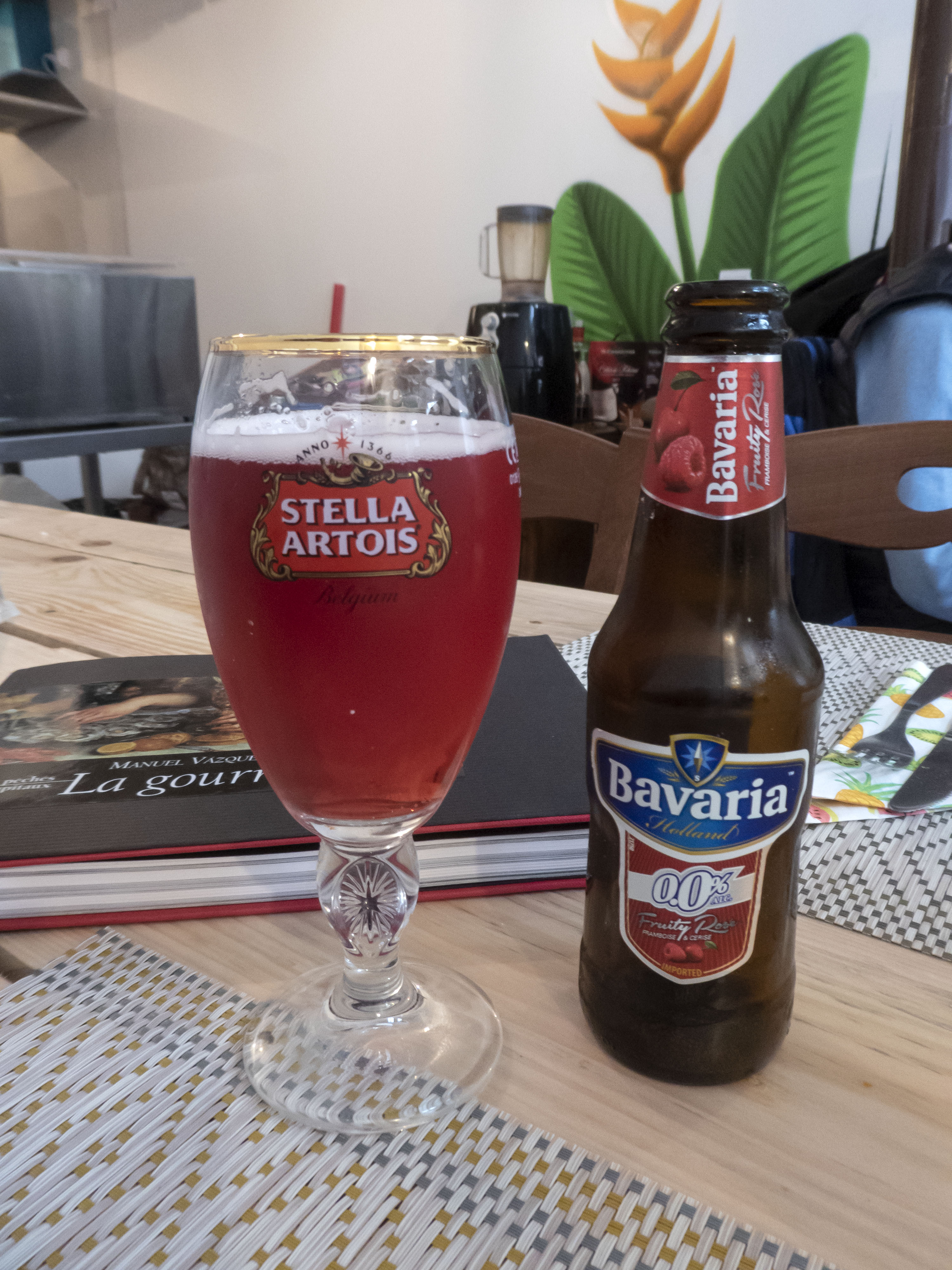 Bavaria non-alcoholic beer
©Entrée to Black Paris
Eager to sample the desserts, we walked over to the window to peruse the display of confections there. Tom selected the torta de carottes, an unembellished carrot cake that was especially moist and flavorful.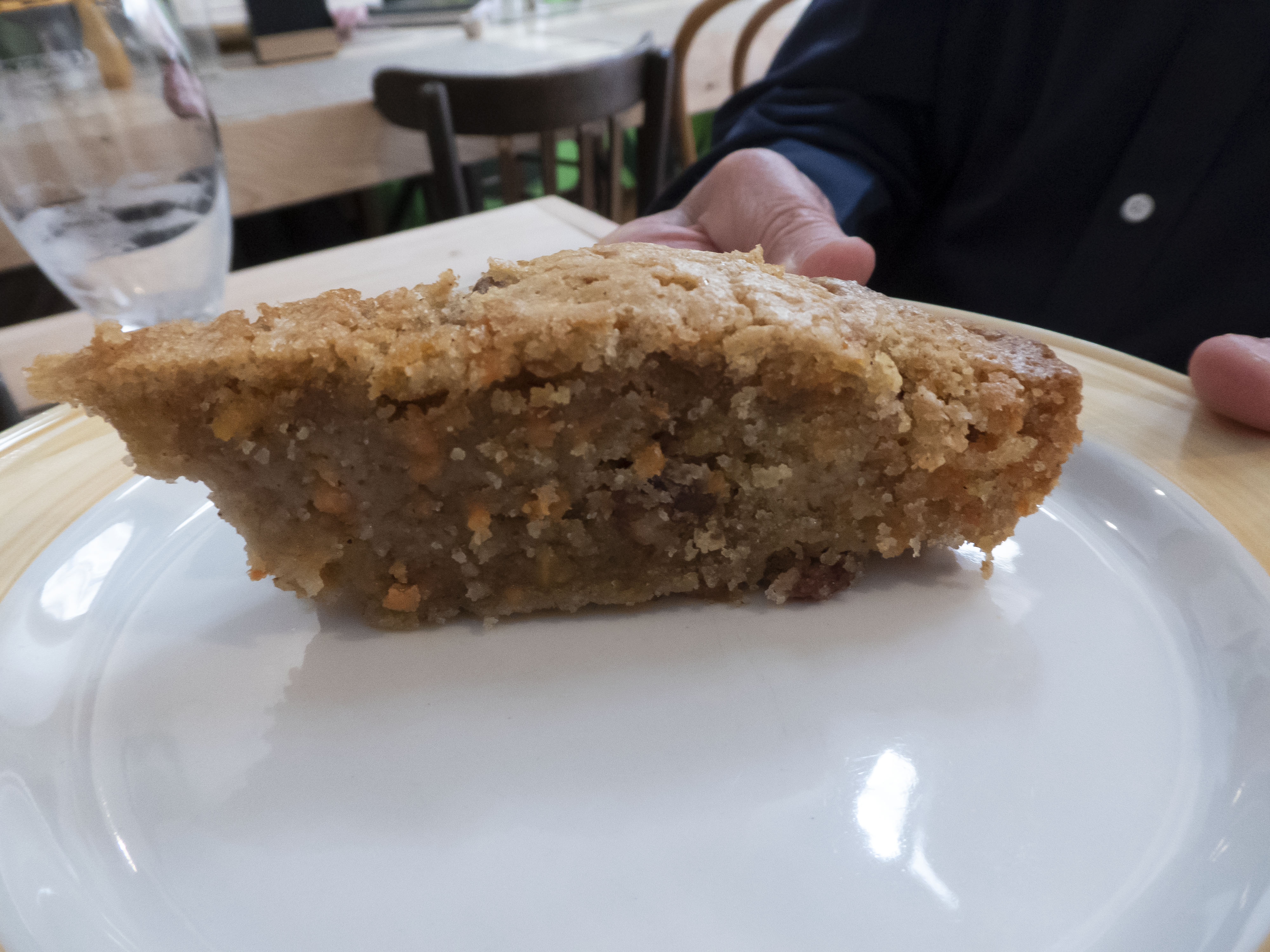 Torta de carottes
©Entrée to Black Paris
I opted for the traditional Golfeado, a pastry that looks like a U.S. cinnamon roll. Café Venezuela's version contains raisins and is flavored with anise syrup. It was so tender and delectable that Tom ordered one after finishing his carrot cake! (Though many recipes for this dessert include cheese, none is added here.)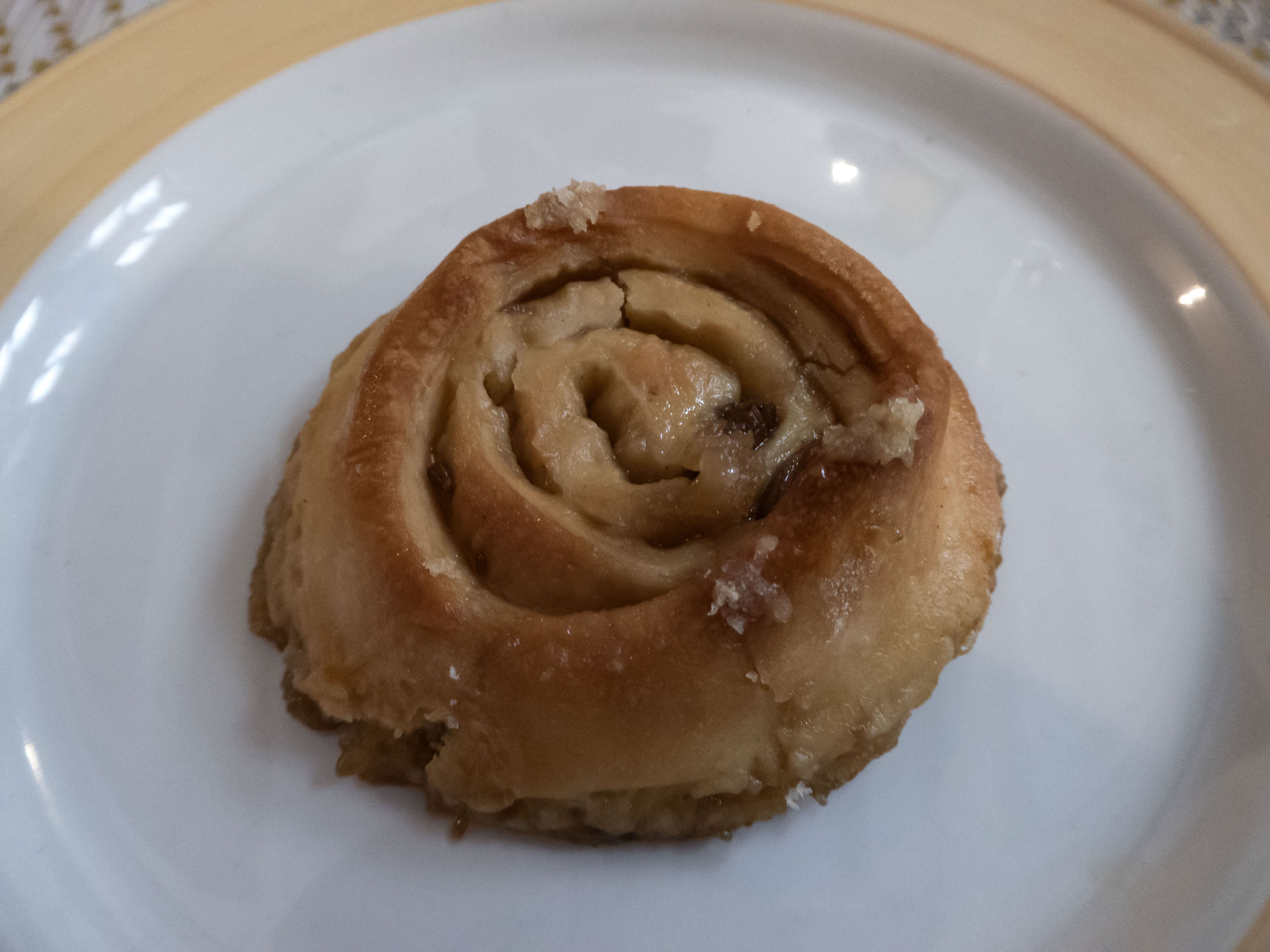 Golfeado
©Entrée to Black Paris
We were both intrigued by the mention of Kafunga on the dessert menu. Rogelio described it as a preparation made from manioc flour, Titian bananas, cinnamon, and grated coconut wrapped in banana leaves and baked. They were sold out of it when we lunched there, so we returned to sample it a couple of days later. We were delighted to taste these thick rolls that had just the right level of sweetness for our palates.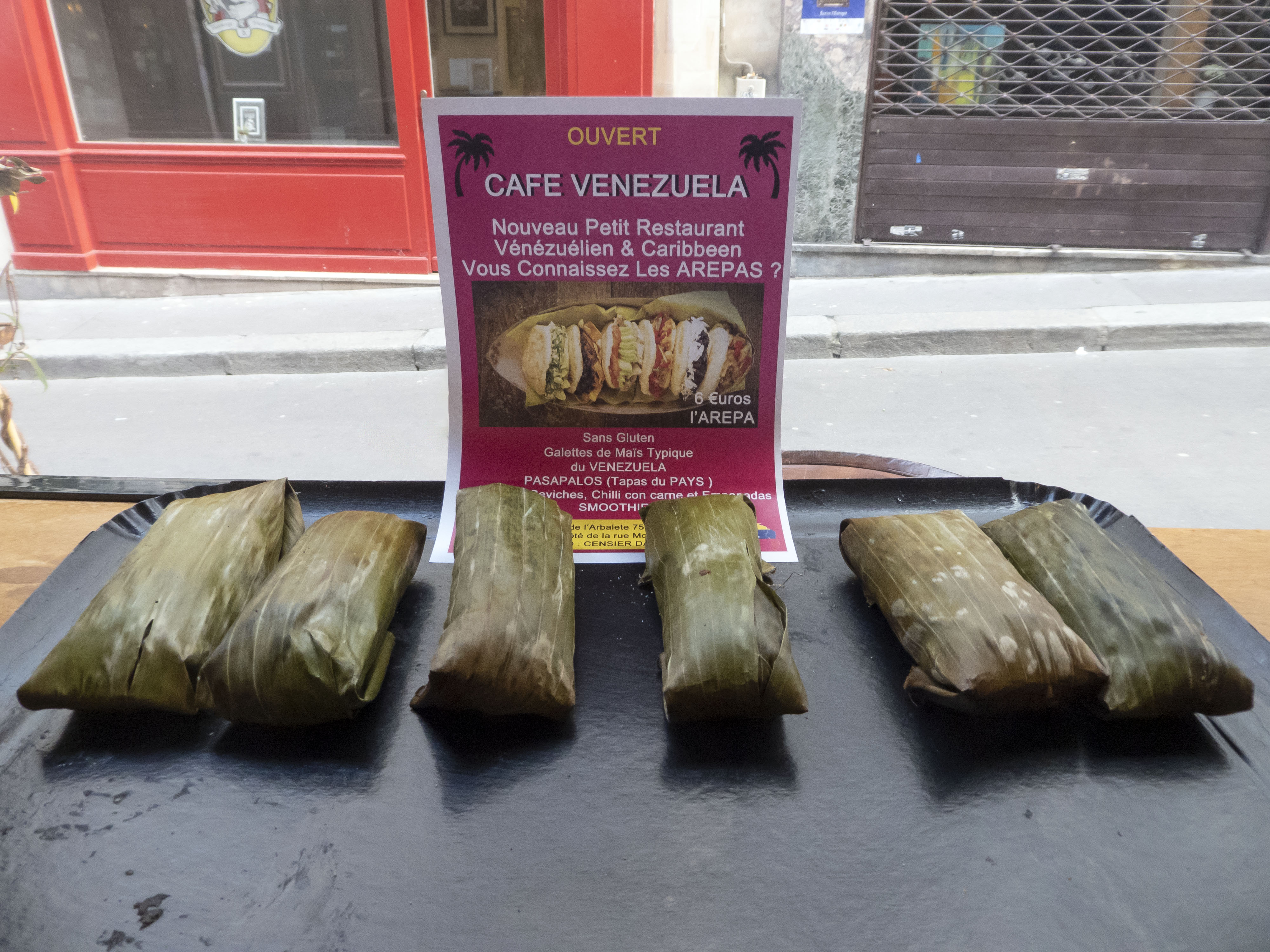 Kafunga
©Entrée to Black Paris
Kafunga unwrapped
©Entrée to Black Paris
Kafunga* is one of the Afro-Venezuelan dishes that Rogelio and Mallaly offer at Café Venezuela. Another is hallacas - a mixture of beef, chicken, and pork combined with olives, capers, raisins, onions, and chiles that is wrapped in corn-based dough and baked. Rogelio said these dishes originated from the time when enslaved Africans and Amerindians in Venezuela were obliged to use the leftovers of Spanish colonizers to augment their meager foodstuffs. They will be offered more frequently as the restaurant develops its clientele and Rogelio and Mallaly can better assess the demand for these freshly prepared dishes.
You'll appreciate the friendly service at Café Venezuela. Rogelio speaks Spanish, French, English, and a little Portuguese, Italian, and German. He loves to chat! He lived in the UK prior to moving to France and he's been in Paris for over 30 years.
On the day we ate there, Rogelio was completely alone in the restaurant. He manned the kitchen and served diners with good humor, so we didn't mind the waiting time.
The ambiance at Café Venezuela is welcoming, though the dining room is not quite finished. Two large communal tables and a small round table in one corner provide the space for dining.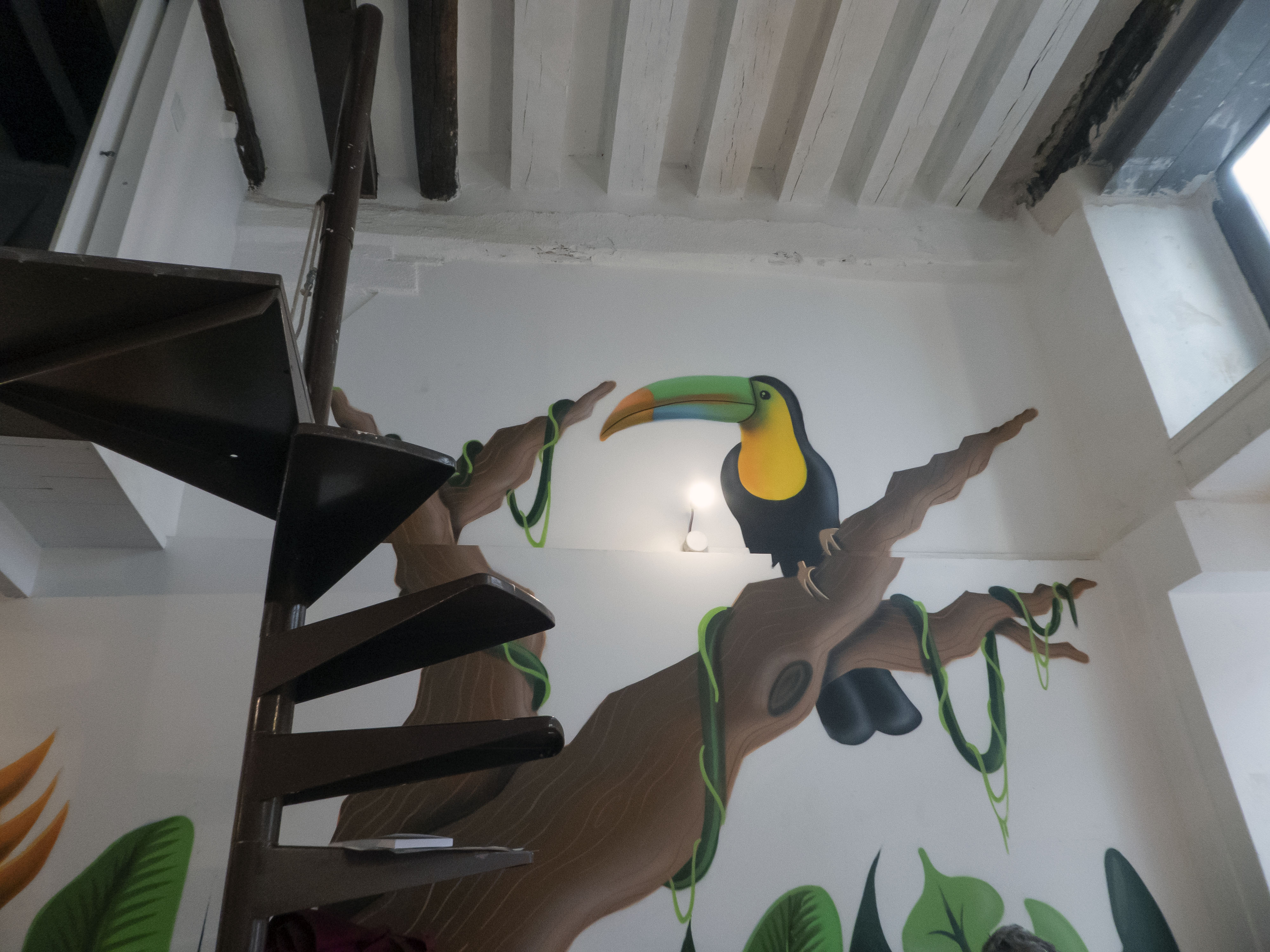 Dining room mural
©Entrée to Black Paris
The prices are quite modest, with the most expensive item on the menu (Caribbean Salad) being only 12€. You can eat in or take out food, as you choose. If you choose to eat in, you will note that the dishes are served with no "frills."
We'll definitely return to this establishment to try more arepas and desserts and to enjoy Rogelio's company!

Café Venezuela
6, rue de l'Arbalète
75005 Paris
Metro: Censier-Daubenton (Line 7)
Hours: Monday - Saturday 12 noon to 3 PM and 6 PM to 11 PM; Sunday from 11 AM to 3 PM

*From "Demystifying Africa's Absence in Venezuelan History and Culture" (https://venezuelanalysis.com/analysis/316): Cafunga in the Republic of the Congo is a style of food preparation involving wrapping in banana leaves especially chikuanga, balls of cassava flour steamed in the leaves. In Venezuela cafunga is a dessert of ripe bananas, coconut, brown sugar, and cloves, baked in banana leaves.