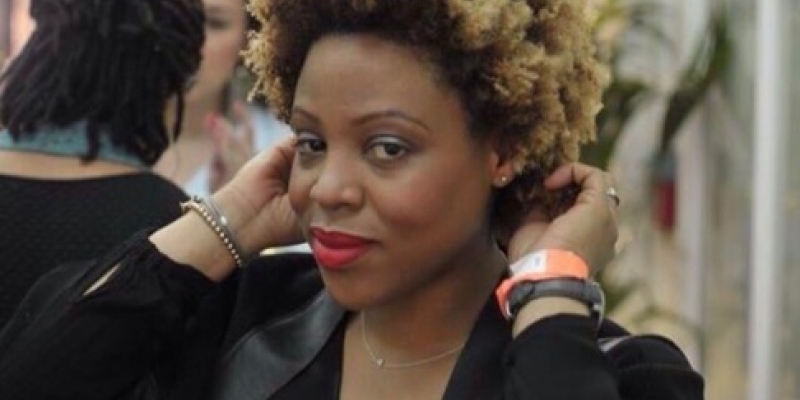 Thursday, March 8th, 2018
Black Paris Profiles™ II Follow-up - Nicole Pembrook
Happy International Women's Day!
Fulbright scholar and Entrée to Black Paris intern Sonita Moss is conducting follow-up interviews with several of the women featured in our Black Paris Profiles™ interview series. Today's article features Nicole Pembrook.

Black Paris Profiles™ II Follow-up - Nicole Pembrook
by Sonita Moss


"Hustle and heart" should be Nicole Pembrook's middle name. In part because she is all-in when it comes to expanding and promoting her craft, but also because she emanates warmth. Beyond life in Paris as a highly-sought after stylist, I am excited to hear her discuss parenting two Black children in the City of Light.
In our hour-long conversation, I find out what Nicole has been up to since she was last featured in the Entrée to Black Paris blog. She continues to ascend.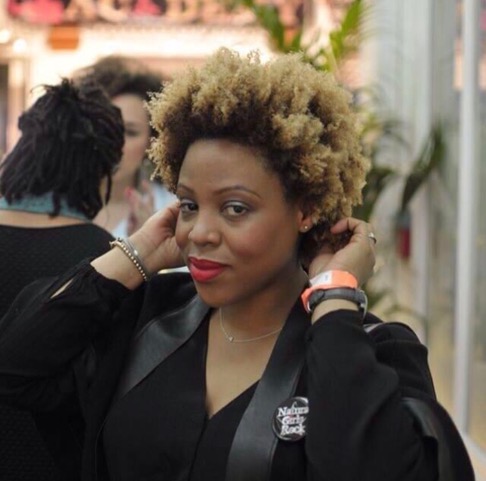 Nicole Pembrook
Image courtesy of Nicole Pembrook
Nicole has lived in Paris since 2001, making her almost a two decades-long expat. Hailing from the Bay Area, she says that she still loves all of the city as much as she ever did. Her children, ages 14 and 15, introduce her to different spaces in the city:
I've fallen back in love with Paris many times. So much to do, so many places to see. There is great food and great wine. It's a constant discovery to live in Paris, and I love it. It's one of the most beautiful cities in the world.
Both children attend boarding school: one in the Loire Valley, the other in Africa. It was a difficult decision, but Nicole feels that both are receiving invaluable educations. In particular, her son, who is in Africa, will have an opportunity to expand his own identity:
As a young black male, I thought it was important for him to have a cultural experience. Initially he was worried, but I was able to break down that barrier by explaining that [there are a lot of amenities in Paris] but there is much more for you to learn by being there… All of the Africans I met always had a certain amount of pride, respect, hard workers. My children are resilient.
The geographic proximity of the Loire Valley allows Nicole's daughter to come back to the city every weekend. When she is not caring for her children, Nicole is developing her business model. She closed her Polished Hair Care salon on the Champs Elysées and now works as a stylist at Salon Konfidentiel, which is located at 267, rue Saint-Honoré, near Place Vendôme.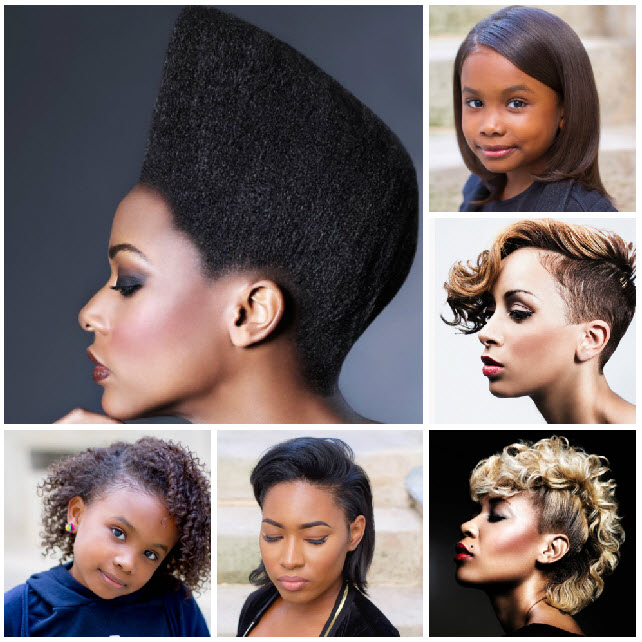 Hair styles by Nicole Pembrook
Images courtesy of Nicole Pembrook
Nicole's opinion about the shift is optimistic:
I needed more time to develop Nicole Pembrook. Salon Konfidentiel is very one-on-one. I still enjoy a more cozy atmosphere, very convivial environment. It all depends on who you're sharing your space with. I think that's a huge factor. I always advocated a certain harmony among my staff. My girls are warm and welcoming. The owner has a specific service. We have a full esthetician and that's been great for clients to bounce from me to this woman. There's also no competition, we're all bringing something to the table. Everyone has been low key and laid back. It's been powerful to collaborate together.
Nicole's clientele are still majority Black, but she can do any kind of hair texture:
They say you attract what you are, so I do have a large African or African American and Arab clientele. But what's also great is that a lot of white Americans find me. The Caucasian clientele has been steadily developing over the last couple of years.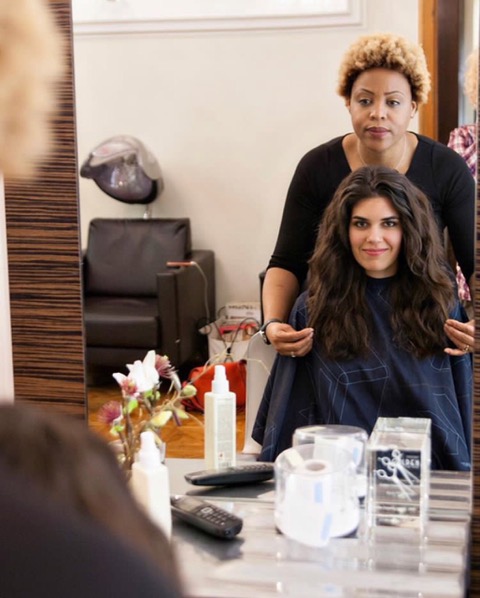 Nicole at work
Image courtesy of Nicole Pembrook
What has shifted is the orientation toward natural hair, a popular movement among Black women in the U.S. and beyond where, rather than relaxing or "perming" their hair, these women are embracing their texture and experimenting with other styles.
I think we're at 60% and climbing at women who have natural hair [in my clientele]. I think there are a lot of different reasons for different women. Some women have to leave their hair alone because of the weaves and braids, and how it's made their hair break off. Some women don't want to spend a lot of time in the salon because it can be time-consuming. It's all connected because eating healthy and working out has become a lifestyle – natural is the way to go. It helps you have more leisure time. You learn what your hair is like. It's about defying traditional beauty laws and accepting how God made us.
Since natural hair is by and large a Black woman's issue, I am curious to know how Nicole feels being a woman affects entrepreneurship. She feels that gender changes how one experiences life within and outside of the world of professional hair care:
Yeah, bottom line, we know we live in a sexist society where women aren't taken as seriously as men. It's a trip – even within the hair industry – the people with the most recognition are guys. There are so many names, and the list goes on and on and on. As women we're always breaking barriers – especially with the internet, it makes it a lot easier today than maybe in the last 10 or 15 years ago.
As a true businesswoman, Nicole is fearless in pursuit of her goals. And she is pursuing many things related to her craft:
I'm developing a luxury wig line with lace fronts that resemble natural texture. I'm also doing master classes – I'm teaching clients on everyday maintenance on haircare at home. Women are not very well-versed in taking care of their hair. I have four classes: sleek and chic, happy and nappy, straight hair don't care, destiny's hair child (mother-daughter classes). I'm also wearing protective styling – I've been wearing full lace front wigs, to see how much growth I can have in a year.
Nicole's optimism is infectious. It's clear that the only way is up, and after our conversation, I am eager to pay a visit to her salon.
Nicole Pembrook
International Beauty Expert
Address: 267, rue Saint Honoré - 75001 Paris
email: nicpembrook@gmail.com
phone number: 06 66 62 65 74
Facebook: https://www.facebook.com/NicolePembrook/
Instagram: Nicole_pembrook
Twitter: Nicole_care