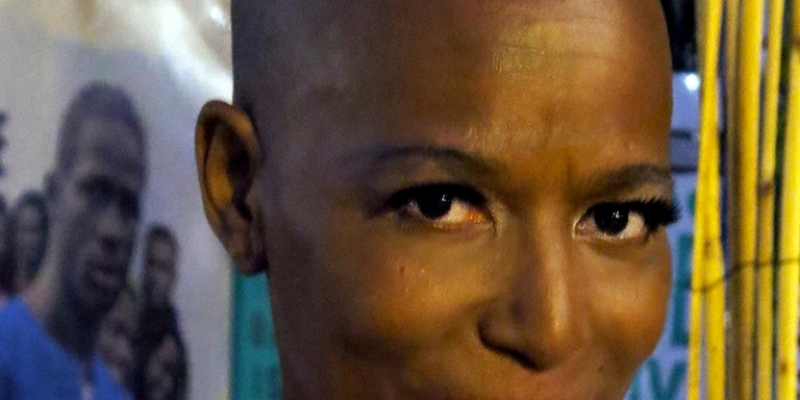 Thursday, April 19th, 2018
Black Paris Profiles™ Follow-up - Kim Powell
Fulbright scholar and Entrée to Black Paris intern Sonita Moss continues to conduct follow-up interviews with several of the women featured in our 2012 Black Paris Profiles™ publication. These interviews will serve as part of Sonita's research project on the long-term African-American expatriate's experience in Paris.
Read Sonita's interview with Black Paris Profiles™'s Kim Powell below.
Black Paris Profiles™ Follow-up - Kim Powell
By Sonita Moss
Conventional wisdom is oftentimes wrong. Conventional wisdom might argue that one can be a scientist or an artist, but not both. Kim Powell's life is an answer to this false narrative.
Powell is a photographer, traveler, and an engineer. Following college, she found success as a project engineer on commercial construction sites. She was bold enough to take the plunge and move to Paris at 28 for a popular reason: Love.
"The first time I came [to France] was college, a trip thing. I was always obsessed with France, and the language, and then I met a French guy [in the U.S.] .... Work brought him [here], and then I followed."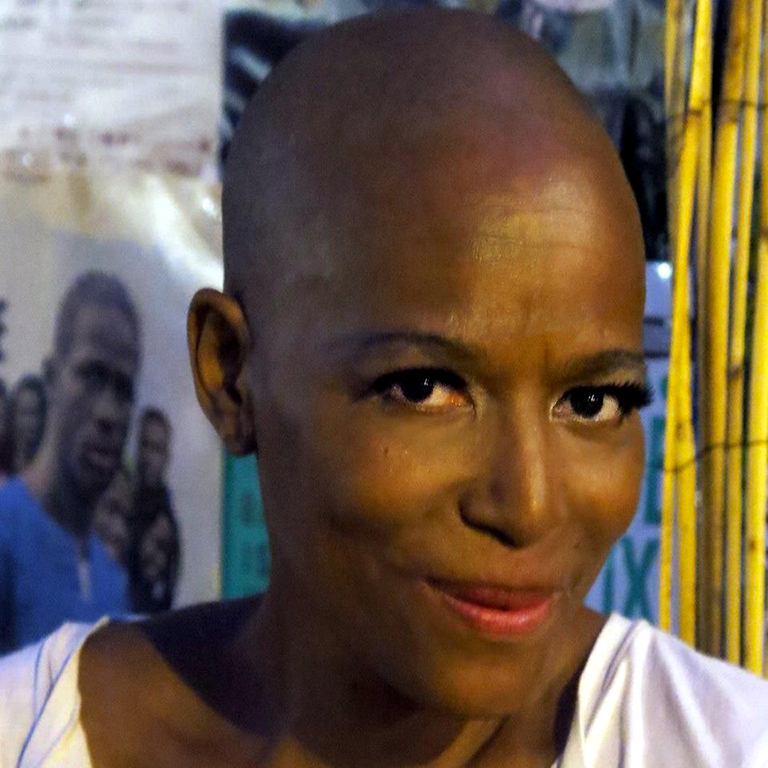 Kim Powell
Image courtesy of Kim Powell
Since her arrival in the City of Light, Powell has sought adventure with her camera in tow:
"I fell in love with the city visually, and I found it easy to get around because I'm fairly solitary. Just jumping on the metro and going here and there – the physical beauty of Paris, the architecture, I fell in love with and I had my camera so I did a lot of photography."
Thirty years later, Powell is still a photographer, having decided to let go of her engineering career shortly after arriving to Paris. Perhaps not surprisingly, there was a degree of gender inequity that informed her decision. Like many other women navigating male-dominated industries, she found that the unwelcome atmosphere was not necessarily overt.
"…When I came to Paris it was difficult to find work in that industry – I wasn't well-received. I didn't like that vibe so I gave up. I was with people that I knew, it was just more of an understanding that it would be difficult – it wasn't direct. I would understand that it would be problematic ... it would be inferred that there would be some kind of harassment because that's the way construction sites are. I never had that experience in Connecticut, and I was always running into the same people even when I switched companies and I had people looking out for me."
Following these concerns, Powell was offered a position that would focus on more interior projects. Instead, Powell decided to pursue photography as an entrepreneur. "I was in a rebellious place of 'if you don't want me, I'm not going to do it,'" she laughs, recalling her obstinacy.
As a budding professional, Powell took steps to hone her craft while having the privilege to not work full time. "I wasn't going to be homeless because I made that decision, I had a safety net. Because I wasn't working I decided to take some classes and from that came exhibitions and then work and different projects and that's how I started to do it more seriously. "
Powell attributes the endurance of her business to self-discipline, a trait that she says is indispensable for entrepreneurship.
"I try to shoot something every day, even if it's only a couple of photos. And I try to read, I read a lot of books to research some things. Recently I'm working on a project regarding the migrant refugee situation in Paris. I'll go out and see if there's anything to shoot – I try to stay in the lane of whatever I'm working on a daily basis. Otherwise, if I lose track of that, you don't see the end result in your mind. If I don't stay focused on it, I'll put it to the side. Having that daily routine and that to-do list to make things get done, because I tend to be reserved and can stay at home without engaging."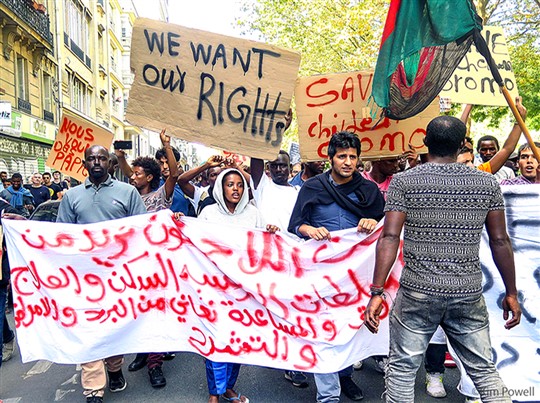 Migrant rally in Paris
© Kim Powell
In her 2012 Black Paris Profiles™ article, Powell discussed a book project based on the contemporary African American community. However, the project has been shelved, an outcome that Powell attributes to the sheer scope of the community.
"You find a lot of Black Paris projects stopped at a certain point and no one knows where they are – two of the main reasons are that a lot of people have left or have passed on. So perhaps it would be easier if I was a writer, and I found that as a photographer it just didn't work. We discovered that we didn't know how to do it. Again, what does it mean? What is the core point? What are you trying to say as opposed to a time when people were trying to escape... It was a different community, and not that it was homogenous, but the reasons for coming were more similar. Today, the stories are as different as you could possible think of."
Powell has found a way to combine her love for photography with her passion for serving the refugee migrant community in Paris. She is a member of the AAWE community-wide Refugee Taskforce. AAWE also happens to be the Parisian expat group of which Powell was the first African-American President for several years. A curated collection of her work will be presented at The Hague as part of a conference presentation the group will make.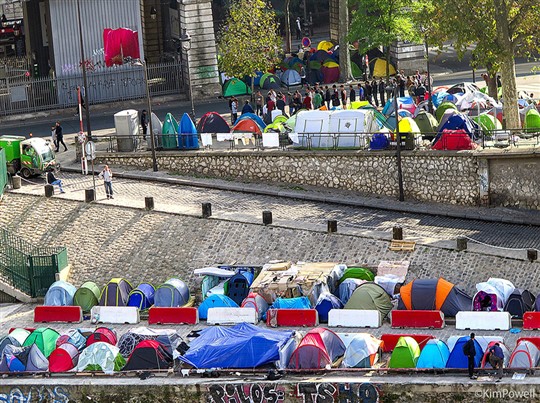 Migrant Camp in Paris
© Kim Powell
In addition to photography, Powell is still an avid traveler, splitting her time between the United States and Paris. Traveling is core to her identity, having spent the last three decades going back and forth for business and pleasure to countries all over the world.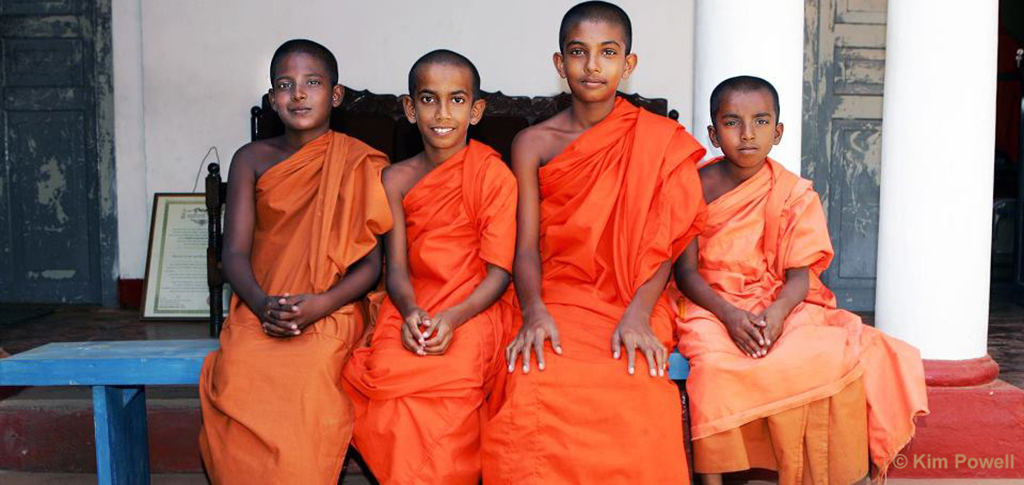 Sri Lankan youngsters
© Kim Powell
She recommends the same to other women:
"Just go for it. Because if it's not what you expected or the experience that you wanted, you're going to learn something anyway. And so many people talk about Paris, but they've never lived here longer than a week. Just go for it, do it. And if life takes you for longer than you expected or a lifetime, then that's what was supposed to have happened. You have nothing to lose, as long as your expectations are realistic."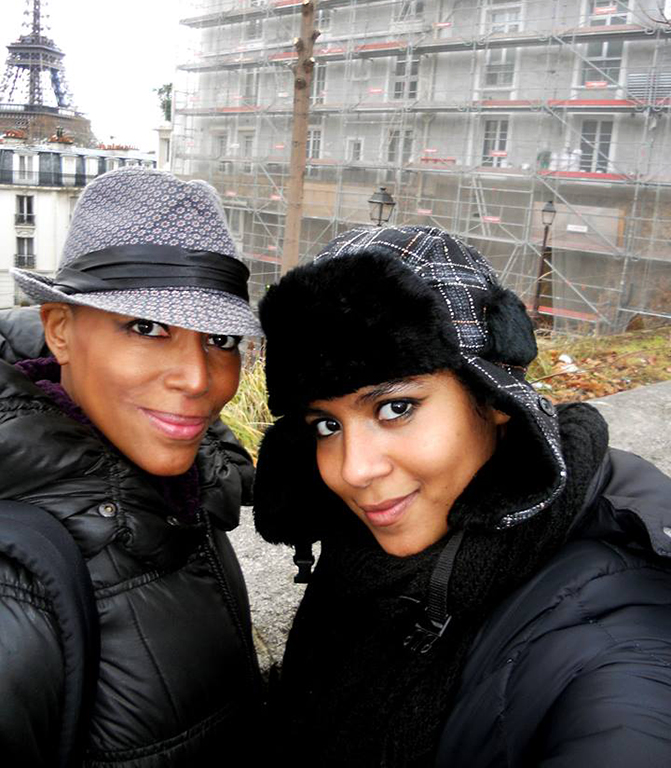 Kim Powell (left) and her daughter, Ava
Image courtesy of Kim Powell