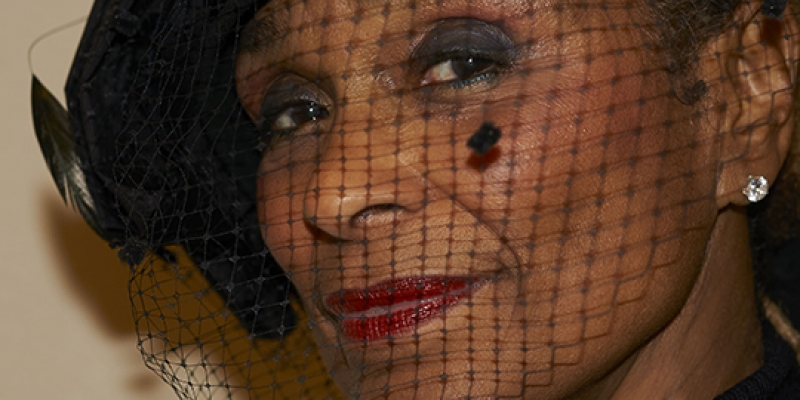 Thursday, April 5th, 2018
Black Paris Profiles™ Follow-up - Joan Minor
As reported in our blog post dated 1 March 2018, Fulbright scholar and Entrée to Black Paris intern Sonita Moss is conducting follow-up interviews with several of the women featured in our 2012 Black Paris Profiles™ publication. These interviews will serve as part of Sonita's research project on the long-term African-American expatriate's experience in Paris.

Find Sonita's interview with Black Paris Profiles™'s Joan Minor below.
Black Paris Profiles™ Follow-up - Joan Minor
By Sonita Moss
Joan Minor is not afraid to make bold moves. She took one path and then changed course after 25 years in a comfortable, white-collar position. She was a human resources administrator at Stanford University, one of the most prestigious universities in the United States. Still, her true passion, her "God-given purpose," was to perform. After years of performing gigs after work, calling her son to make sure he had finished his homework ("He was an honors student, and he needed to do his part"), Minor decided to sing full-time.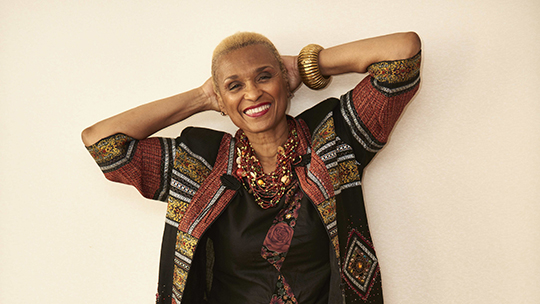 Joan Minor
Photo Paul Grayson
www.photeinos.com
It may seem like an endless void of terrifying unknown for some, but for Minor, she was merely relying on the confidence and faith that has been instilled in her as a child.
"I guess it was courageous as I look back, but I had a strong sense of confidence and faith. I thought if I had worked hard enough, saved enough, and prepared enough, I would succeed. And I thought if it didn't work out, I could do something else. Also, when you get some successes, it gives you more confidence."
Ms. Minor was raised in a segregated, but loving African-American community in Wichita, Kansas. In an unequal but protective neighborhood, her family sowed seeds of poise and hard work into her:
"I grew up in a place where the hood was the community. We were segregated and there were lines that you couldn't cross, so everyone Black lived in the communities from the doctors and lawyers to the junkies. There was a sense that you had to represent, and there was also a strong sense that you had to do well."
Minor's family also influenced her entrée to music:
"Some of it was hearsay because my grandmother didn't sing vaudeville when I knew her, but they said she did. My mother sang in choir and my brother was a professional guitarist."
Minor's brother, who was just indoctrinated in the Kansas Music Hall of Fame, introduced her to a lot of rock and roll and blues, while her mother loved classical music, jazz, and big band music.
Ms. Minor shared the following story about a visit to a neighborhood church:
"At seven years old, I walked into the church next door where I heard a choir singing. I said, 'Ooh, I wanna sing!' And they looked at me and said, 'Okay, welcome! What do you want to sing?' And I was so confident and just thought, 'I have the perfect song!' And I sang 'Oh lawdy, Ms. Claudie, you sure look good to me!'"
Since then, Minor sang and also played classical violin, studying Music Arts in college before switching to English and French.
Her diligence led to her career at Stanford, but even there she was constantly trying to push herself:
"Even before music my life was very full, but because of the ingrained confidence you think, 'That's life, I want to get as much out of this as I can and I want to do this.' Sometimes I would take breaks and just try to relax if I was overwhelmed, but I was very organized and on top of things. You must work smarter not harder and those other clichés. Being a mother as well, a single mother at the time, I made sure to instill that confidence in my son."
Minor moved from the U.S. to Paris after her son left the nest and began to form what is today known as the Joan Minor Quarter:
"I did sort of folk stuff because I never thought I had that big of a voice – but I liked to do more stuff where you could have more intimate associations with the guitar. So I had a group with guitar bass and drum. That evolved back to piano, bass, drum, and sometimes bringing in a saxophone as well. My current group is French guys. I've been with this group about 5 years now and it's been interesting to work with a group where you blend together as a family and try new things because I do a little of everything."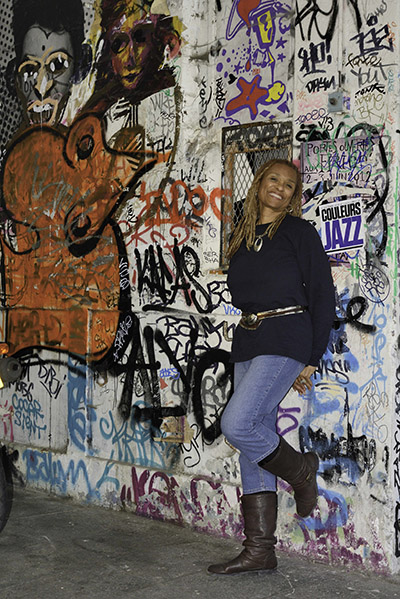 Joan Minor and graffiti
Photo Paul Grayson
www.photeinos.com
Minor met her husband in Paris, a Scotsman whom she had no intention of marrying; they have been married for 14 years. He has served as her partner and confidant, pushing her to continue her love even when she has faced the inevitable challenges of working for yourself:
"I once told him I was considering quitting and he said to me, 'You told me this is your calling, this is what God wants you to do and you do not have a right to stop doing it unless he has a different purpose for you' and I remember that I do this because I love it."
Minor remains busy, currently performing with her quartet, arranging a one-woman act, adding a surprise element to her act, and putting together a show that presents the evolution of music from the African diaspora.
There are practical tips that Mme Minor offers to young women with big dreams:
"Make to-do lists and cross things off. Exercise and try to eat well. As Oprah said, doing the work so you're prepared to meet the opportunity. You also need to love what you do."
And there are other things that one must work on mentally:
"Always remain a student because there's so much to learn. I also find that there's a balance that one needs to walk between feeling confident and being arrogant. You can't be a diva. You get a bad reputation and there's always someone better so focus on the work and have a good attitude. I've conducted lots of master workshops and I tell students to find their own uniqueness and go with that – only Whitney can be Whitney."
And only Joan Minor can be Joan Minor, which is a gift to anyone lucky enough to meet her.
Joan Minor online:
http://www.joanminor.com/
https://www.facebook.com/joanminorjazz/
https://www.youtube.com/user/JoanMinorinConcert
Joan's next performance:
Joan Minor Quartet
Wednesday 25 April, 2018
Cercle Suedois
Showtime 19h30 – 21h30
242 rue de Rivoli
75001 Paris
Metro: Concorde
Phone: 01 42 60 76 67
Reservations strongly recommended
http://www.cercle-suedois.com/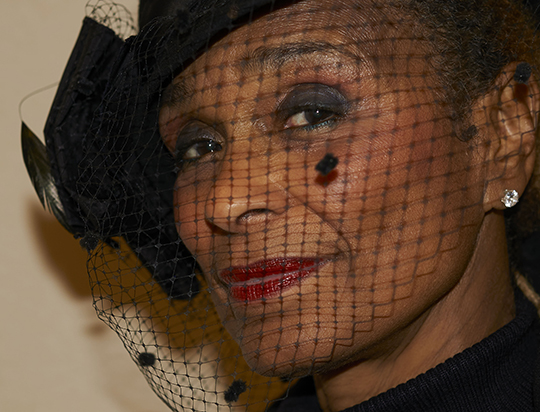 Joan Minor in hat and veil
Photo Paul Grayson
www.photeinos.com