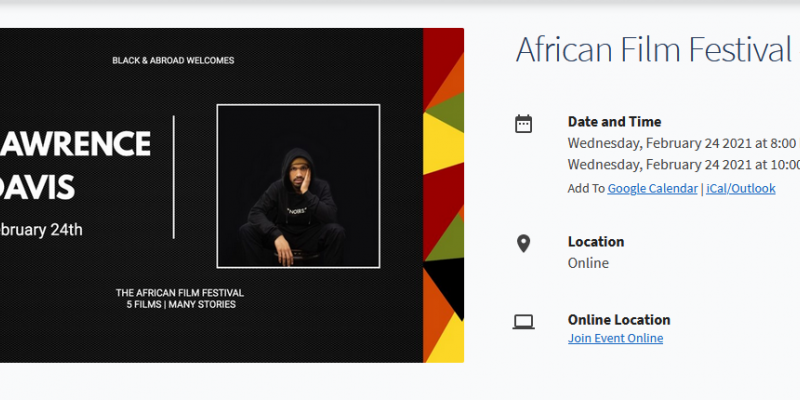 Thursday, February 25th, 2021
Black HIstory Month at the American University of Paris
Cover Image: Advertisement for African Film Festival
Screenshot from American University of Paris Website
The American University of Paris (AUP) is hosting the last of a robust series of online events for Black History Month this week.
The African Film Festival has been organized by the Southern African Student Committee of Black and Abroad, a student organization whose mission is "to create and establish a sense of community for all Black students attending the American University of Paris."
The goal of the festival is to "teach us the culture, history, and traditions of Africa through films."
The festival runs for five days, from February 24-28.
The films scheduled for viewing during the remainder of the festival (beginning today) are:
February 25 - Black Girl by Ousmane Sembène
February 26 - Inxeba by John Trengove
February 27 - Gangster's Paradise: Jerusalema by Ralph Ziman
February 28 - A Cemetery of Doves by Adé Sultan Sangodoyin

The entire month of Black History Month activities was organized by Black and Abroad. Other events included a discussion on the impact of Historically Black Colleges and Universities on higher education, a "paint and sip party" to enjoy music and art, a discussion of the culture, history, and traditions set around food in East African countries, and a conversation with members of the Environmental Protection Agency (EPA) on the topic of environmental justice.
Additionally, the club co-hosted Black History Month events with other student groups, such as RESISTERS (an organization that focuses on intersectional feminism), and the newly formed Black Alumni at AUP group.
Black and Abroad was founded by A'mari Bing-way, an AUP senior who took matters into her own hands when she could not find an organization on campus that focused on the needs and concerns of black students. She created a club whose purpose is to provide a safe space solely for Pan-African students, including those identifying as African-American, Afro-Latino/a, African, Afro-Caribbean, and biracial.

Black and Abroad's main objectives are to educate, advocate, and represent the Black student population at AUP. Its activities consist of weekly closed meetings and open public events.
Bing-way currently serves as AUP's first Diversity, Equity and Inclusion Communications Intern for university President Celeste M. Schenck.