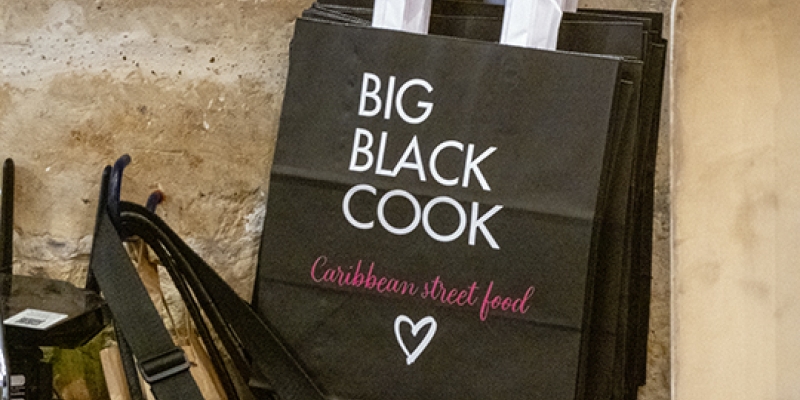 Thursday, September 14th, 2023
Big Black Cook - Part 1
Cover image: Big Black Cook take-out bags
© Entrée to Black Paris
Last week, one of my tour groups told me about a Caribbean restaurant that they happened to find after a somewhat difficult day. They raved about it, saying they couldn't recommend it highly enough, and they strongly encouraged me to try it.
When I asked for the name and location of the restaurant, they responded "Big Black Cook" and said they thought it was in Pigalle. I had never heard of it before, and I asked them if they knew how long it had been in existence. They thought it had been operational for about a year, perhaps a bit longer.
Because I am always intrigued by Afro-Caribbean offerings in Paris, I set out to research Big Black Cook. I learned that it began as a restaurant in Cormeilles-en-Parisis, a suburb located northwest of Paris in Ile de France, and that it opened at 7, rue Tiquetonne in Paris' 2nd arrondissement last June.
My husband Tom and I lunched at the Paris restaurant last week. We found that while the group's memory of the eatery being in Pigalle was not correct, everything else they said about the place was spot on!
The menu at Big Black Cook (BBC) is an index of traditional Caribbean dishes that sometimes include a twist.
For example, their short list of starters includes accras, which are traditionally made with codfish. But none of three varieties offered by BBC contain cod - instead, they are made with vegetables, sardines, or prawns.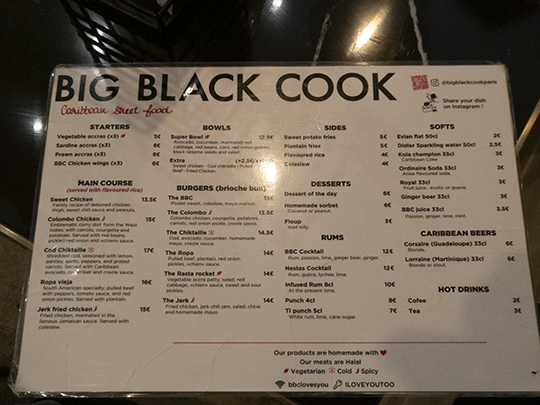 English-language menu at Big Black Cook
© Entrée to Black Paris
Their main dishes are comprised of three chicken, one fish, and one beef preparation. Sweet chicken tops the list, as it is a recipe handed down by the chef's mother. This may be a family recipe, but it is not one I have ever seen on other Caribbean restaurant menus.
BBC uses traditional seasonings for its chiquetaille (shredded cod), colombo chicken, and jerk chicken. But while jerk chicken is traditionally grilled, BBC deep fries its preparation. The only beef recipe, ropa vieja, comes from South America. It consists of pulled beef cooled with tomato sauce and peppers.
All the main dish offerings are also available as burgers. and BBC offers its vegetable accra as a patty on a burger bun as well. Its vegetarian "Super Bowl" is a large salad that can be supplemented with meat or fish if desired. Sides of sweet potato fries, fried plantains, flavored rice, and coleslaw round out the savory portion of the menu.
BBC offers three dessert options to provide a touch of sweetness at the end of your meal. Two flavors of homemade sorbet (coconut and peanut) and an iconic, prefabricated iced dessert from Martinique called Floup are always on the menu. The third selection is the dessert of the day, which by definition changes regularly.
Everything is available for take-out in these snappy paper bags.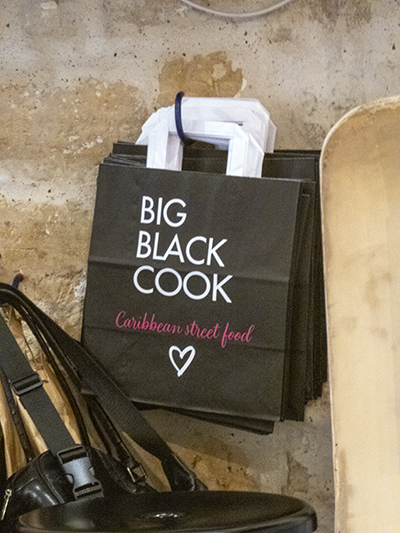 Take-out bags
© Entrée to Black Paris
Regarding beverages, customers have a choice between traditional rum-based punches and cocktails, infused rums (rhums arrangés), Guadeloupan and Martinican beers, and Caribbean soft drinks. Water, tea, and coffee are available as well, of course.
Huge containers of infused rums at the rear of the dining room attracted my attention, so I inquired about them. I learned that BBC changes its offering of infused rums according to season, and that the following flavors are currently available:
Apricot ginger
Mango, mint, and lime
Peach litchi
Pineapple, passion fruit, and chile pepper
Guava papaya
Melon vanilla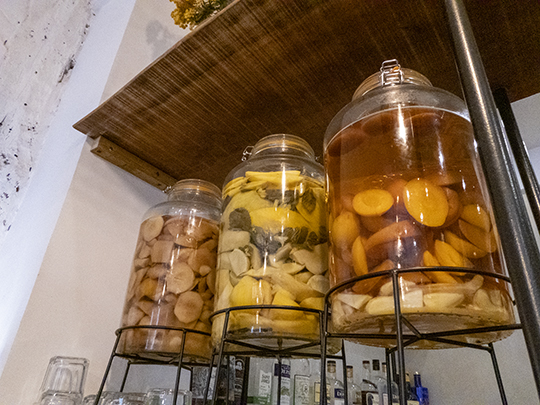 Rhums arrangés
© Entrée to Black Paris
Each preparation is marinated for at least three months to achieve optimal flavor.
A wide selection of pure rum is also available.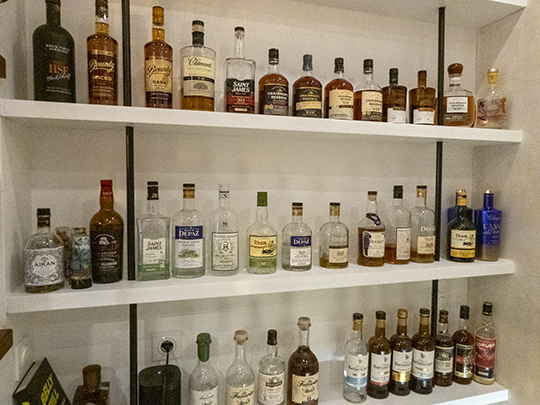 Bottled rums
© Entrée to Black Paris
As we lunched, we watched the restaurant fill with customers and saw even more customers enter to order take-out and wait outside the restaurant to collect their meals.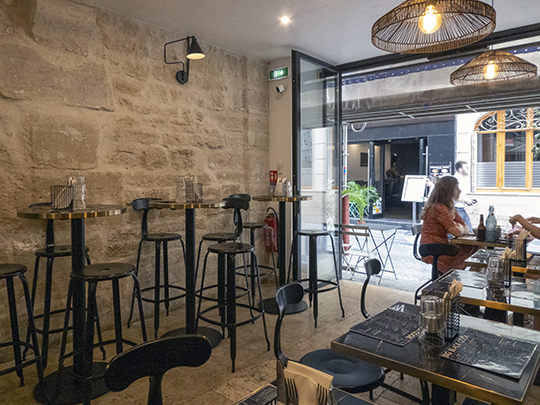 Big Black Cook dining room at the beginning of our lunch
© Entrée to Black Paris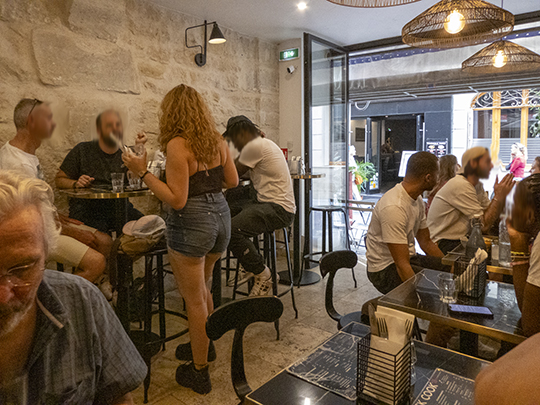 Big Black Cook customers later in our lunch
© Entrée to Black Paris
Come back next week to read about the meal Tom and I had at BBC!