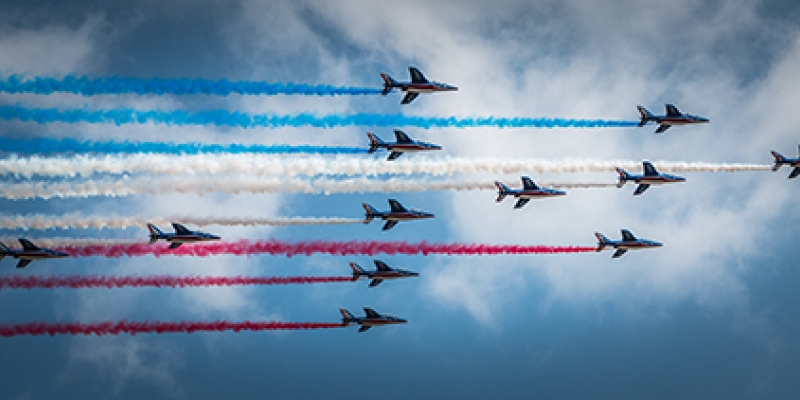 Tuesday, July 14th, 2020
Bastille Day 2020
Cover image: Military planes flying over Paris on Bastille Day
Image by Sergii Bozhko, Unsplash
Exceptionally, ETBP is publishing this weekly blog on a Tuesday.
Though Paris is officially "deconfined" after months of lock down due to COVID-19, things are not 100% back to normal.
This year's Bastille Day celebration is tangible proof.
The traditional parade on the Champs-Elysées will be replaced by a ceremony at Place de la Concorde that will pay tribute to civil servants and military personnel engaged in the fight against Covid-19. The number of spectators will be limited to 2,000, including 1,400 caregivers and representatives of civil society. The health ministers of four countries that welcomed French patients during the height of the pandemic - Germany, Switzerland, Austria and Luxembourg - will also be present.
The general public will be able to watch the ceremony on television beginning at 11 AM CEST.
Afterward, President Macron is scheduled to address the nation to reveal his vision for France's future under his administration.
The fireworks that are the hallmark of France's fête nationale will also take place this year. But people will not be allowed to gather near the Eiffel Tower to watch them. Instead, Parisians are invited to watch the televised display on France 2.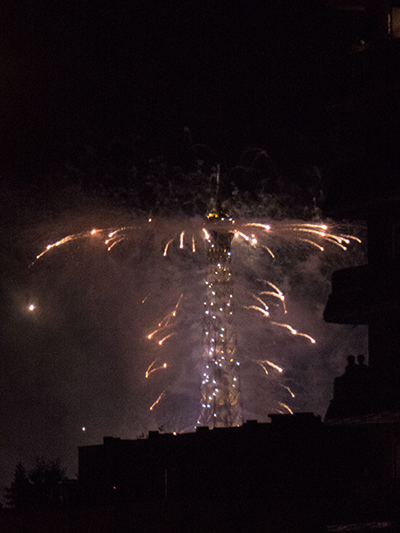 2016 Bastille Day Fireworks viewed from rue de Belleville
© Discover Paris!
The classical music concert that traditionally takes place at the foot of the tower prior to the fireworks display will also take place. It will be broadcast live beginning at 9:10 PM CEST in France on France Inter and France 2, and in over ten additional countries on UER-Eurovision. This year, will lead 65 musicians from the National Orchestra of France, the Maîtrise and the Choir of Radio France will be led by South Korean conductor Eun Sun Kim. International solo musicians will participate as well.
This year, the fireworks will honor those who have worked and continue to work to fight the COVID-19 pandemic and will serve to represent the resilience of France and its capital.
Coronavirus Update

With the exception of the overseas departments of Mayotte and Guiana, all of France remains "green" on the tracking map that health authorities are updating daily as a reflection of the four criteria used to determine the status of the nation's public health.
But concerns are rising that a second wave of infections will result from residents' increasingly laxity with regard to practicing social distancing and wearing masks. There is already evidence that the infection rate is rising, albeit slightly.