Thursday, September 29th, 2022
Art Inspires Reflection on Slavery, the Slave Trade, and Their Abolition
Cover Image: Monique Y. Wells and Fabrice Hyber at Le Cri, L'Ecrit
© Entrée to Black Paris
A painted bronze sculpture called Le Cri, L'Ecrit has graced the pathway lying between the Royer Collard gate and the esplanade of the Luxembourg Garden since 2007. Standing between Velleda, a sculpture by Hippolyte Maindron, and Le Marchand de Masques, a sculpture by Zacharie Astruc, it was inaugurated on the 10th of May of that year – the second National Day of Reflection on France's history of slavery, the slave trade, and their abolition.
Le Cri, L'Ecrit has become a focal point of Entrée to Black Paris' Black History in and around the Luxembourg Garden walking tours.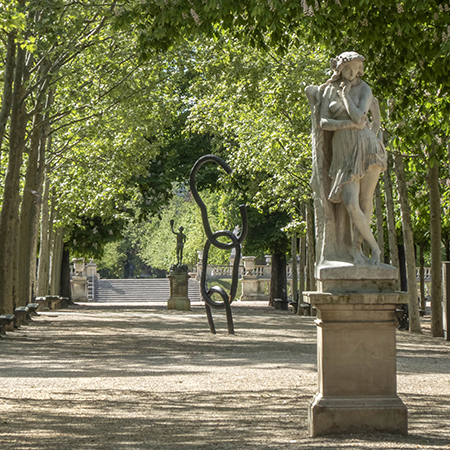 Le Cri, L'Ecrit (center) viewed from Porte Royer Collard
© Entrée to Black Paris
Over the years, my husband and business partner Tom and I have fielded many questions about this work, which was created by award-winning sculptor Fabrice Hyber. The sculpture provoked many questions in our minds as well.
Tom began photographing Le Cri, L'Ecrit to study the numerous words and images embossed on the surface, understanding that they directly related to the title of the sculpture. We prefer to translate Le Cri, L'Ecrit into English as "The Cry, The Written," as opposed to "The Cry, The Writing".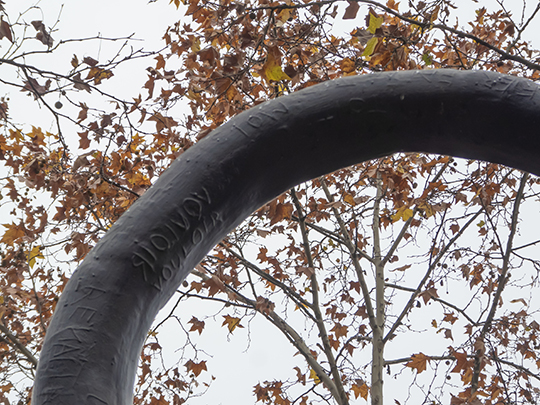 Le Cri, L'Ecrit - close-up of upper ring
© Entrée to Black Paris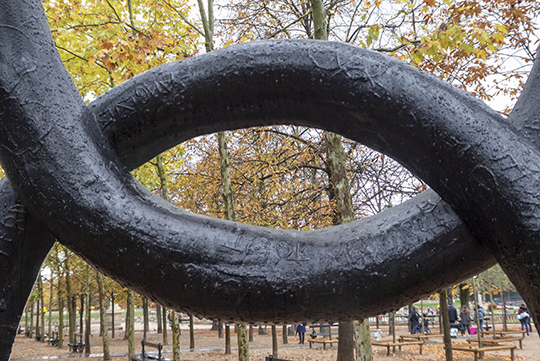 Le Cri, L'Ecrit - close-up of upper and middle rings
© Entrée to Black Paris
Le Cri, L'Ecrit - close-up of middle and lower rings
© Entrée to Black Paris
This June, I walked through the garden with a group of passionate educators from the Fulbright Teachers for Global Classrooms Program (Fulbright TGC) and had some of the most stimulating conversation about the sculpture ever. I explained my philosophy that even when you know what an artist intended when creating a work, your thoughts about it and reactions to it stem from the sum of your personal experiences.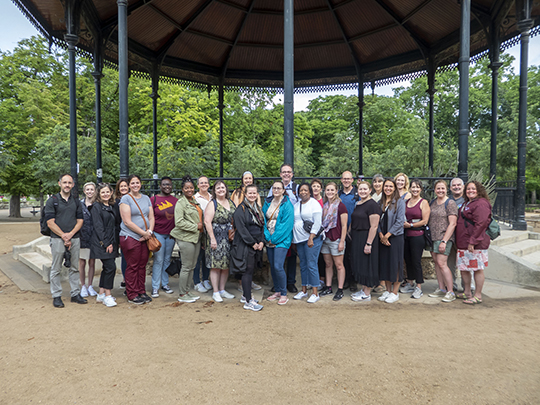 Fulbright Teachers for Global Classrooms
© Entrée to Black Paris
I also told them that I had very little information about the artist's intent and lamented that Tom and I had never gotten around to trying to contact him to ask about it.
One of the Fulbright TGC educators in this group was George Hademenos, a physics teacher from Richardson High School in Richardson, Texas. He was so inspired by the group's reaction to Le Cri, L'Ecrit that he took it upon himself to research the work and possible ways to contact Hyber. He sent us an email presenting his results, including four different avenues for reaching out to the artist.
Two of these four avenues yielded fruit, and in August, we succeeded in communicating directly with Hyber. He was gracious enough to meet Tom and me at the garden last week, and he spent 40 minutes with us, responding to our questions.
Among the many things we learned, I believe that the following points are the most noteworthy:
Hyber responded to a public, international call for submissions for a commemorative work commissioned by the French government with his proposal for Le Cri, L'Ecrit. He consulted with black people in multiple countries as he worked to formulate it.
While the sculpture appears to be fragile, it is supported by a 5-ton pedestal buried in the earth beneath it. Hyber asserted that his sculpture is more robust than the many stone statues populating the garden.
Hyber intended to portray fragility with this work – he said it reflects the fragility of the law, of societal constructs, of humanity itself.
The artist acknowledged that the use of a chain for a monument that commemorates slavery, the slave trade, and their abolition is a cliché, but he broke the cliché in a surprising way – he split the chain longitudinally, allowing the viewer to look inside at a fictional structure composed of vascular elements that evoke intersections of life.
Le Cri, L'Ecrit invites critical reflection on many levels, which I believe is what art for social causes should do.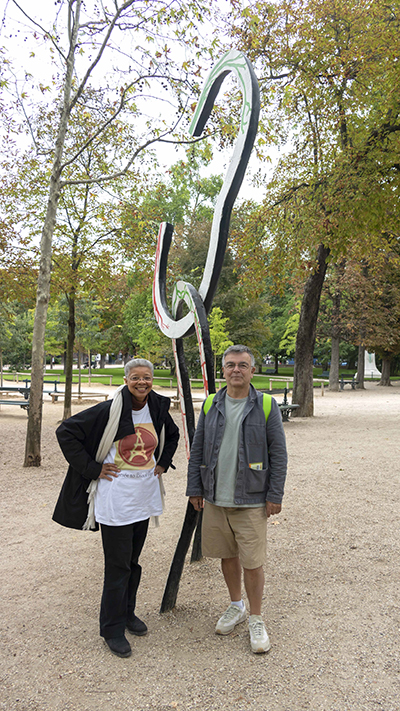 Monique Y. Wells and Fabrice Hyber
© Entrée to Black Paris
To learn about Fabrice Hyber, click HERE.