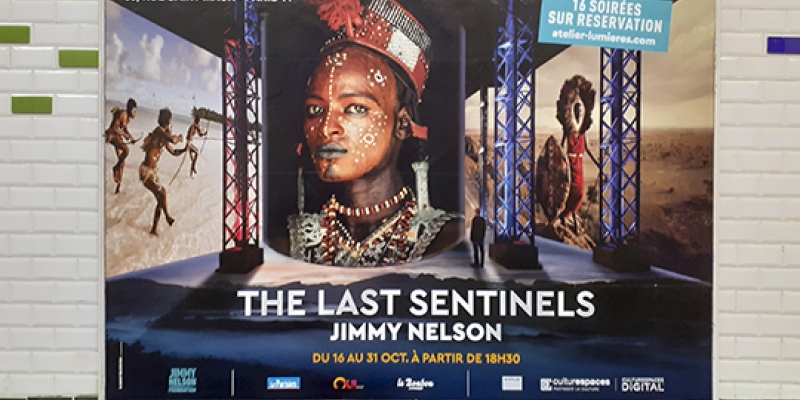 Thursday, October 29th, 2020
Art Happenings
Cover image: Metro advertisement for The Last Sentinels
© Entree to Black Paris

There are some fantastic art happenings to be explored in Paris over the next few weeks to months!
THE LAST SENTINELS
The Last Sentinels is a immersive exhibition mounted at the Atelier des Lumières in the 11th arrondissement. Fine art photographer Jimmy Nelson takes viewers on a journey through the heart of the last indigenous cultures and landscapes around the world with hundreds of digital images and videos in this two-week show.
The Atelier des Lumières is the first digital art center in Paris. Every two years, it offers an immersive exhibition as part of its Save the Planet series. The Last Sentinels follows in the proverbial footsteps of the 2018 exhibition by Yann Arthus-Bertrand as the second offering in the series. Created by the Specter Lab studio, it celebrates the diversity of these peoples who live in harmony and with nature.
This exhibition will only be on display through November 15, so make haste if you'd like to see it.
Online reservations are mandatory: https://atelier-lumieres.tickeasy.com/en-GB/home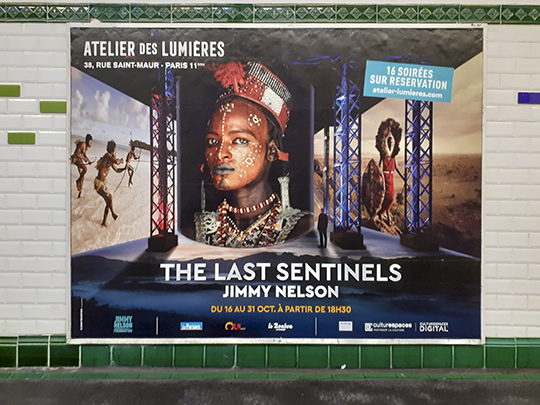 Metro advertisement for The Last Sentinels
© Entree to Black Paris
Atelier des Lumières
38, rue Saint Maur
75011 Paris
Telephone: 01 80 98 46 00
Metro: Voltaire, Saint-Ambroise (Line 9), Rue Saint-Maur (Line 3), Père Lachaise (Line 2)
Hours: 6:30 PM to 8:15 PM (last entry at 7:30 PM)
Entry fees:
Full price: 13€
Senior discount: 14€
Student discount: 10€ (5-25 years)
Free for children under the age of five
ALSO KNOWN AS AFRICA
The art and design fair Also Known as Africa (AKAA) returns to Paris in November.

Usually held at the Carreau du Temple, the fair will be held under the skylights at l'Atelier Richelieu this year.
Using a smaller and more intimate format designed to focus on art market sustainability, the fifth edition will welcome twenty galleries from November 13-15, 2020. The organizers are planning several events throughout the fair to enhance the visitor experience.
Noel W. Anderson, an African American who currently serves as Area Head of Printmaking in NYU's Steinhardt Department of Art and Art Professions, will expose a work in this show. Untitled 2020 is a stretched jacquard tapestry that represents Anderson's focus on exploring black masculinity and celebrity.
L'Atelier Richelieu
60 rue Richelieu
75002 – Paris France
Metro: Bourse, Quatre-Septembre (Line 3), Richelieu-Drouot (Lines 8, 9)
Website: https://akaafair.com/
Hours:
Friday: 12pm-8pm
Saturday: 12pm-8pm
Sunday: 12pm-7pm
Access to AKAA 2020 is by invitation only. For all requests, send e-mail to contact@akaafair.com.
KINSHASA CHRONIQUES
Kinshasa Chroniques will open at the Cité de l'Architecture at Trocadero on November 14, 2020 and run through January 11, 2021.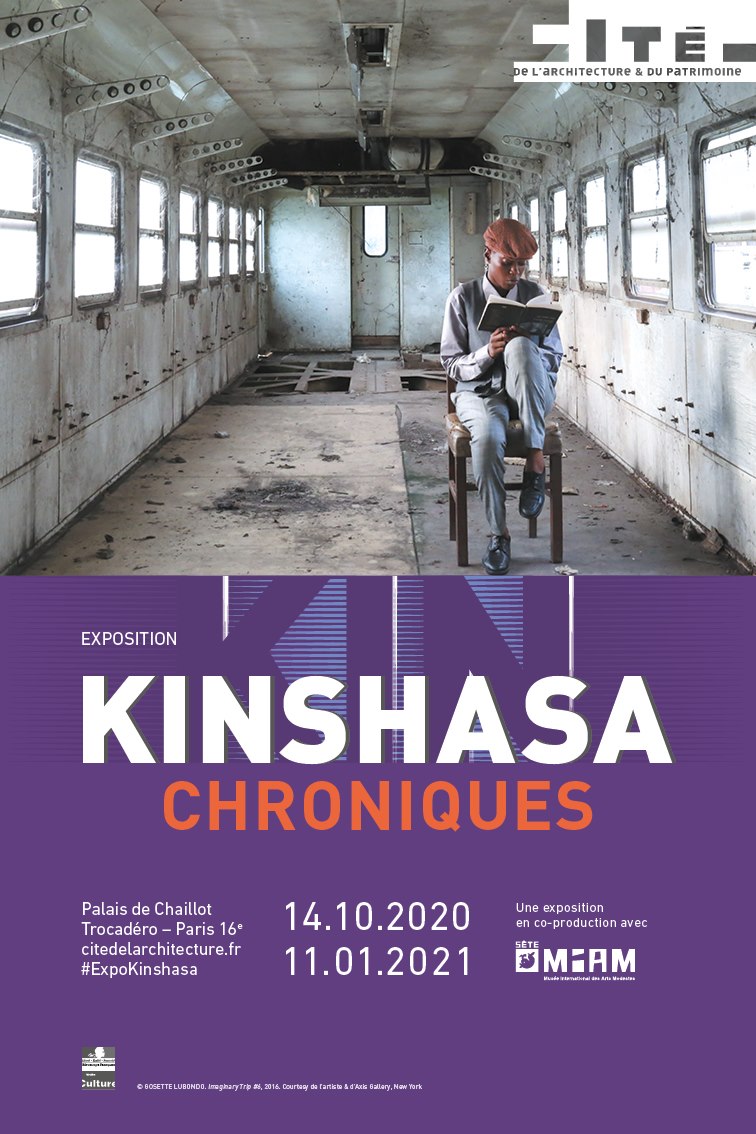 Flier for Kinshasa Chroniques
Kinshasa is Africa's third largest metropolis (only Cairo and Lagos have more inhabitants). Seventy contemporary artists who are native to the Democratic Republic of Congo explore it through nine "chronicles": performance art, sports, fashion, music, the economy, religion, resourcefulness (DIY), the future, and memory (history). Visitors can expect to see photography, comics, video, painting, slam poetry and other forms of artistic expression.
This exhibition is organized in collaboration with the Musée International des Arts Modestes de Sète. Free entry and activities will be offered on opening day, Saturday November 14, from 7-11 PM.
Find details of the program at https://citedelarchitecture.fr
Cité de l'Architecture et du Patrimoine
Palais de Chaillot
1 place du Trocadéro
75116 Paris
Metro: Trocadéro, Iéna (Line 9)
Hours:
Open daily except Tuesdays: 11 AM - 7 PM
Thursday evenings: open until 9 PM
Entry fees:
Permanent Collections
Full price: 12€
Reduced rate: 9€
Free entry first Sunday of each month