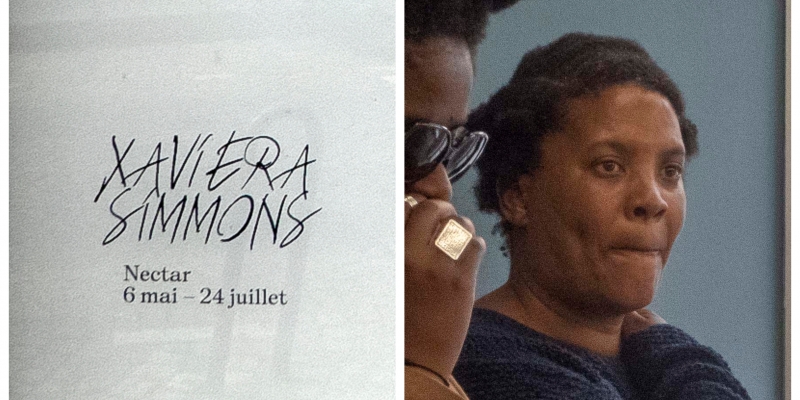 Thursday, June 30th, 2022
Art and Food Pairing™: Kadist and Carajás - Part 1
Cover image: Collage - Nectar signage and artist Xaviera Simmons
Images and collage © Entrée to Black Paris
Kadist is a non-profit organization dedicated to affirming contemporary art's relevance within social discourse and supporting systemic change alongside artists already engaged in the fight for equity and justice. Its Paris and San Francisco galleries present exhibitions and events, organize residencies and educational initiatives, and produce projects online and via social media.
I recently learned about Kadist when I met Savannah Wood, executive director of the Baltimore, MD-based nonprofit organization called Afro Charities, in Paris.
Wood and I met over coffee after she experienced the ETBP Black History in and around the Luxembourg Garden walk, and as we talked, we found that we have a friend and many interests in common. She told me that she was organizing a spring-summer art exhibition in Paris that would provide a creative opportunity for the public to engage with the archives of the AFRO American Newspapers (for which Wood serves as archives director), and that she'd be sure to send me an invitation for it.
That exhibition is called Nectar. It is on display at Kadist through July 24, 2022.
Xaviera Simmons is the artist featured in Nectar. One of over 1100 artists whose work is represented in Kadist's collection, Simmons was commissioned to developed a new body of work in response to her research into AFRO American's archives. Her solo exhibition at Kadist presents photographs of the artist dressed in various costumes and holding props while also holding selected photos from the archives.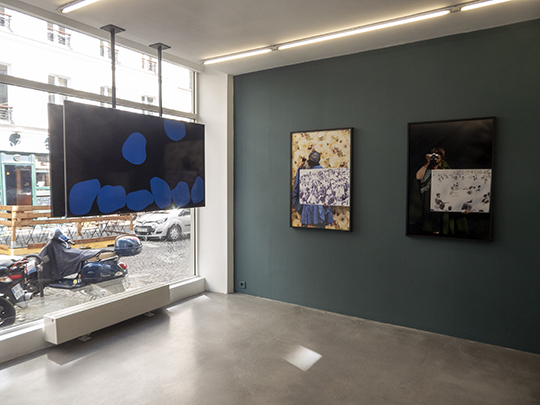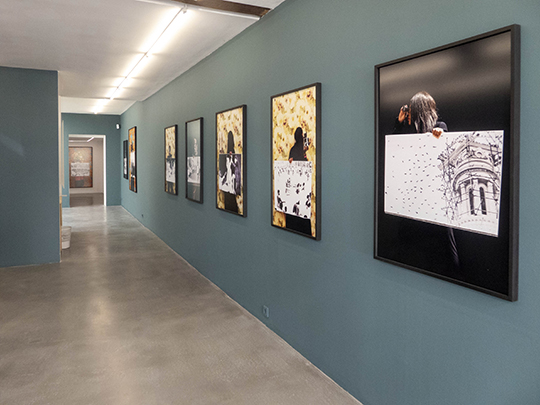 Nectar - display of works by Xaviera Simmons (2 images)
© Entrée to Black Paris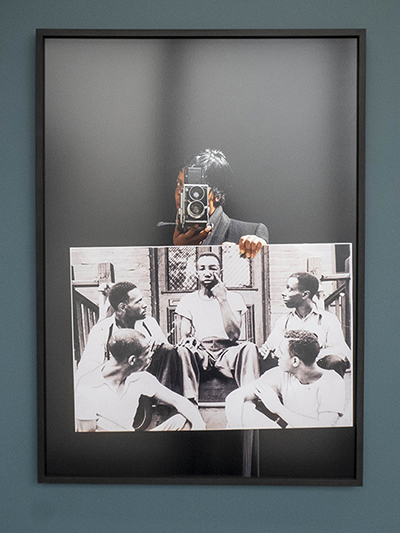 Nectar - work by Xaviera Simmons
© Entrée to Black Paris
In addition to her photographs, Simmons also created a lengthy silent video of graphics that portray various aspects of the African-American experience. This is displayed on a screen in front of the gallery's main window.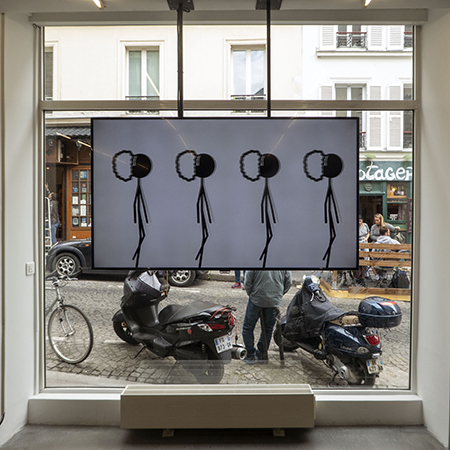 Nectar - video display
© Entrée to Black Paris
In the second room of the exhibition, two screens silently present the history of AFRO American Newspapers through text and images written and selected by Wood.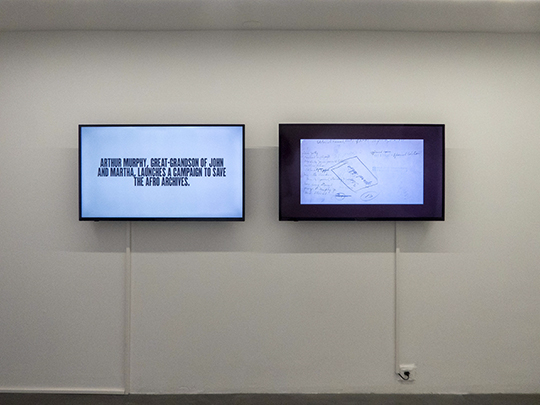 History of the AFRO American newspaper - video display
© Entrée to Black Paris
One of the text screens indicates that the AFRO American archives contain close to three million photographs.
Relevant to the exhibition on display, another text indicates that the way a photographer interprets the archive collection will differ from the way other professionals do.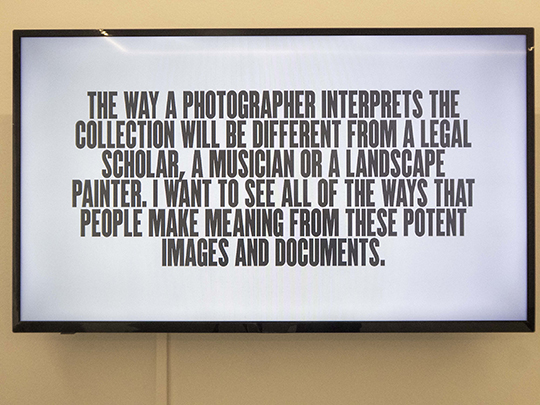 How professionals interpret the AFRO American archive collection - video display
© Entrée to Black Paris
Wood, Simmons, and gallery director Emilie Villez were present at the exhibition opening in May.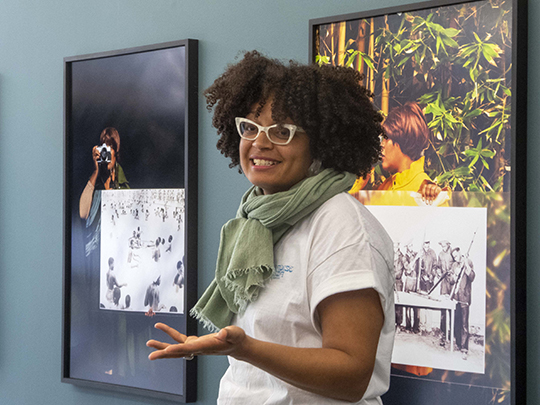 AFRO Charities founder Savannah Wood
© Entrée to Black Paris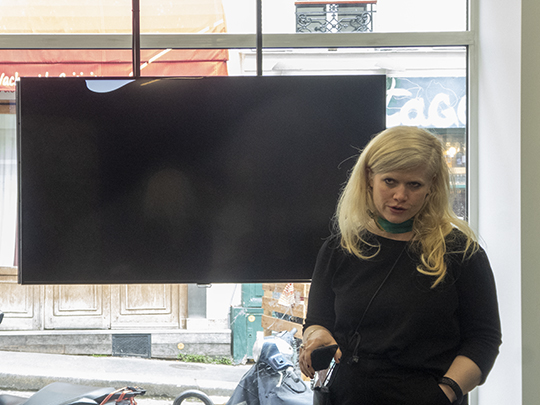 Kadist gallery director Emilie Villez
© Entrée to Black Paris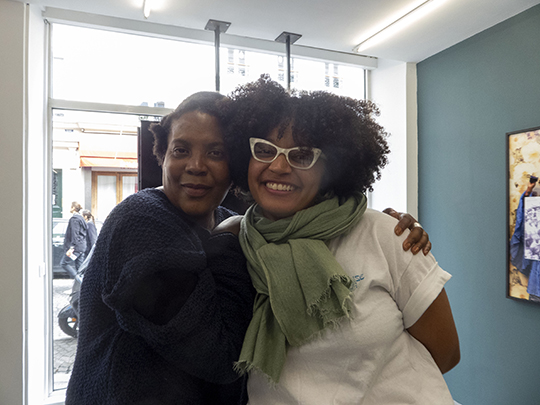 Artist Xaviera Simmons and Afro Charities founder Savannah Wood
© Entrée to Black Paris
On June 15, the gallery hosted a round table discussion on efforts to establish Black archives in Europe. Wood moderated this discussion, which examined the question "How do we make Black archives within western contexts?" Panelists were Marie-Julie Chalu (Afropea), Rhoda Boateng (Black Cultural Archives), Julian Isena (Black Queer Archives NL), and Ulrika Flink (Black Archives Sweden). The house was full and the discussion lively. Conversation continued over refreshments afterward.
Kadist welcomes visitors from Thursday–Sunday between 2 PM and 7 PM. The gallery will be closed on July 14, 2022.
Prior to attending the opening for Nectar, I enjoyed a lovely traditional Brazilian meal at a restaurant almost directly across the street from Kadist. Look for my review of Carajás in Part 2 of this article, to be published next week.
Kadist
19bis/21, rue des Trois Frères
75018 Paris
Telephone: 09 67 18 95 90
Website: https://kadist.org/paris/
Metro: Abbesses (Line 12)