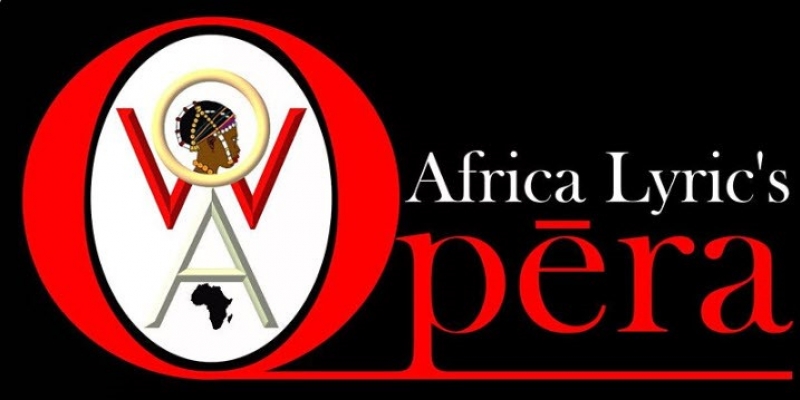 Thursday, April 21st, 2022
Africa Lyric's Opéra in Paris
Cover image: Eventbrite banner for Africa Lyric's Opéra competition (detail)
I'm so sorry to have missed "Les Grandes Voix Lyriques d'Afrique" at the Théatre des Champs-Elysées last Saturday!
The nonprofit organization called Women of Africa is behind this project, which was launched in 2007. Its purpose is to promote classical music - opera music in particular - and enhance diversity in the world of opera by recognizing, encouraging, and supporting the development of the talents of persons of African origin who embrace this field.
From April 7-9, the final selection of singers for the first international competition of the great lyrical voices of Africa took place at the Museum of Immigration History in the Palais de la Porte Dorée in the 12th arrondissement. Applicants needed to be African, of African descent, or be a citizen of an African nation.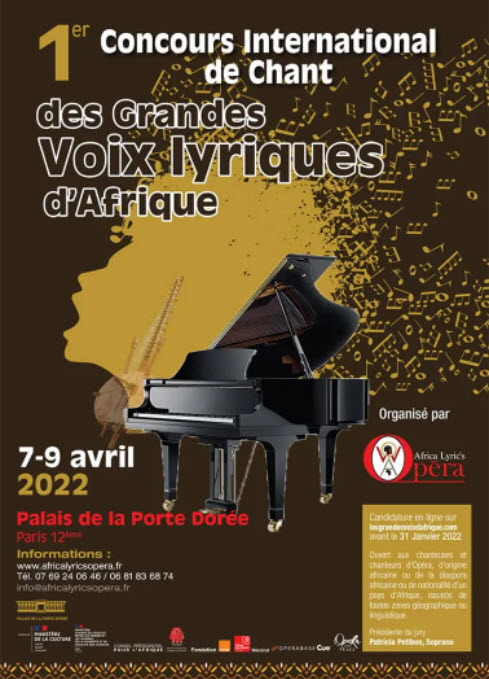 Flier for international singing competition
The event was sponsored by the French Ministry of Culture and the French National Commission for UNESCO.
Twenty semi-finalists from thirteen countries - ten sopranos, two mezzo-sopranos, two tenors, four baritones, and two basses - were welcomed at the museum on April 7. They performed before a jury of fourteen opera professionals, several of whom were black. The eleven singers who were selected to advance to the finals performed at the museum on April 9.
The public attended both sessions at no charge.


Banner for Eventbrite ticketing page for finals competition
The prizes awarded on April 9 were as follows:
Opera: 1st prize - Adriana Bignani-Lesca (mezzo-soprano, Gabon; 1500€); 2nd prize - Suzanne Taffot (soprano, Cameroon; 1000€); 3rd prize - Maurel Endong Kouosseu (bass-baritone, Cameroon; 500€)
Melody and Lieder: 1st prize - Suzanne Taffot (soprano, Cameroon; 700€); 2nd prize Adriana Bignani-Lesca (mezzo-soprano, Gabon; 500€); 3rd prize - Judith Ankoué (soprano, Ivory Coast; 300€)
Young Hope Award: co-awardees - Franciana Noguès (soprano, Haïti) and Darmel Bula Tshiyoyo (bass, Congo)
African Language Aria Award: Arnaud B. Fonguen Kong-Ngoh (tenor, Cameroon)
The winners will be invited to perform in recitals in the opera houses of Montpellier, Rouen and Tours during the next season.
Women of Africa subsequently invited the public to attend a gala at the Théatre des Champs-Elysées on Saturday, April 16. Mezzo-soprano Adriana Bignani-Lesca, winner of the April 9 session of the singing competition, performed along with several additional soloists. All were accompanied by the Garde Républicain Symphony Orchestra and the Choir of the French Army.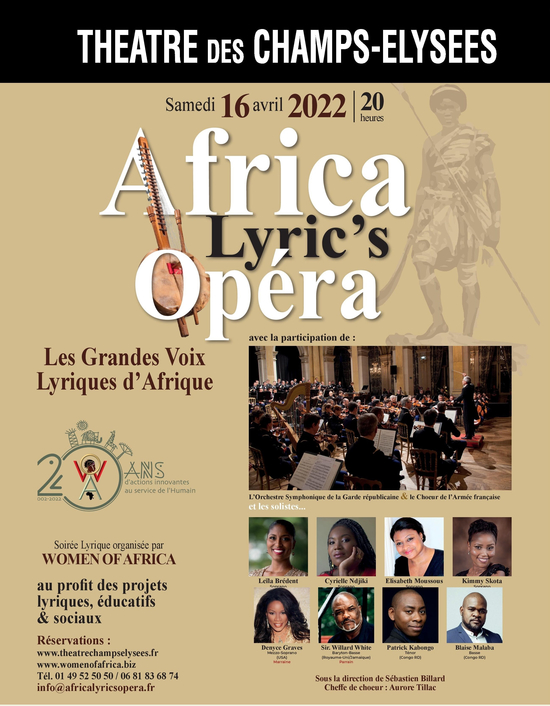 Other operatic events organized by Women of Africa in Paris consist a lyrical recital at the Salle Cortot in September 2020 and a concert held at the Théâtre des Champs Elysées in September 2016.