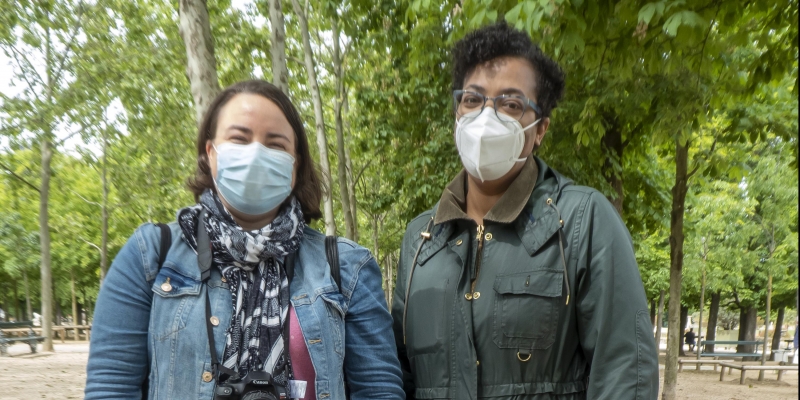 Thursday, June 10th, 2021
A Lovely Testimonial by a Fellow Travel Professional
Cover image: Laura Moore and Amanda Williams at the Luxembourg Garden
©Entrée to Black Paris
A few weeks ago, Tom had the pleasure of providing Laura Moore and her friend Amanda Williams with our "Black History in and around the Luxembourg Garden" tour.
Based on Laura's email address, we learned that she is a Paris tour guide and writes a blog called Story of a City. We never imagined that she'd write such an enthusiastic review of our walking tour!
Laura has graciously allowed us to publish an excerpt from her post, which was published on Tuesday, June 8. Read it below:
Paris may have re-opened last month, but France's borders remained closed. However, that's all about to change. Starting tomorrow, travel will be allowed for fully vaccinated tourists from select countries. No quarantine required. This is incredible news for the tourism industry, as we are all ready and waiting to welcome visitors back to Paris. Especially us tour guides. There are so many incredible tour companies and guides who are just waiting to tell you the stories of Paris, so if you plan on visiting in the coming months, I hope you will consider taking a tour of the city. Today, I'd like to talk about one of your incredible options: Entrée to Black Paris.
Entrée to Black Paris was originally called Discover Paris! (love the emphasis!), and was founded in 1999 by husband and wife Monique Y. Wells and Tom Reeves [sic]. Discover Paris! was a travel planning business catering primarily to Americans. However, over the years, they received so many requests for Black history in Paris, Monique and Tom eventually decided to re-brand the company and focus on the history, culture, and contemporary life of African Americans and the larger African diaspora in Paris. Thus, in 2018, Entrée to Black Paris was born.
I was thrilled to take a tour with this company last month after a chance visit to their website revealed that they were already offering walking tours, despite the still-closed borders. Entrée to Black Paris had been on my list of tours to take for a while, so naturally, I emailed them right away. To my delight, they had an English tour available the following week. A friend and I signed up, and when we arrived at the scheduled starting point, we discovered that we were incredibly lucky to have one of the company's founders, Tom, as our guide.
L to R: Laura Moore and Amanda Williams
©Entrée to Black Paris
The tour that we took was Black History in and Around the Luxembourg Garden, but Entrée to Black Paris offers many more, including several private tour options if you're not quite ready to mingle with others just yet. I can't speak for the rest of the tours, but ours was fantastic. Tom was a veritable encyclopaedia of knowledge, and I loved how the tour focused on the stories of people. People like Richard Wright, James Baldwin, and Chester Himes. Black Americans who moved to France to escape the racism of their home country.
Read the entire story on Laura's Website here:
Around Town - An Exploration of Black History with Entrée to Black Paris